Healthy Malaysian Curry With Pilau Rice
This recipe for Malaysian curry with red pepper and chicken is one of Stuart's favourites. It not only looks good but it is really quite straightforward to make too. Full of colour and just as tasty reheated, it could become one of your family favourites.
Making this recipe with Quorn
I have made it with Quorn before too and it really is as simple as swapping the chicken to Quorn. As it doesn't take as long to cook Quorn though, I would just omit the initial step of cooking the chicken and add it later on in the recipe when you re-add the chicken.
It is really easy to adapt this recipe to use Quorn, as a vegetarian myself I do it often. It is always worth remembering that Quorn takes less time to cook when substituting it for chicken.
Check out my selection of Quorn recipes, all perfect for all the family whether vegetarian or not, some are vegan too.
Why you need vegetables to lose weight
Everyone knows vegetables are good for you, don't they? They are healthy and filling for very few calories!
The best vegetables are those with low-calorie density. Basically, we are talking about the healthier vegetables – potatoes don't count but butternut squash is much healthier for example!
This means if you eat 100g of spinach, for example, it is just 23 calories and obviously, 100g of anything would fill you up significantly. On the other hand, 100g of crisps, which would be just as filling, is around 536 calories!
Find more tips about the best vegetables for weight loss here.
Healthy Lunches
If you are eating healthily then you may have difficulty in finding lunches for work. This Malaysian red pepper and chicken curry recipe is just one of many amazing Slimming World lunch ideas I have found so do check out my other recipes for more ideas. It heats up really easily and smells delicious so the whole office will be jealous!
If you take lunch with you then you are so much less likely to buy food which inevitably will be less healthy. Taking a variety of food throughout the week to work keeps your lunchtimes interesting and stops you from getting bored.
Even if, like me, you work alone at home it can make such a difference having your food already prepared for you. Why not give it a go and make sure you build a variety of lunches into your weekly meal plan.
Eating this Malaysian curry on a diet
If you are following a diet then this could be a great recipe for you to try. It is predominantly vegetables and chicken and cooked healthily so you shouldn't have a problem with most weight loss plans.
If you follow Slimming World, Weight Watchers (WW), Noom or any other weight loss plan you can usually count the ingredients within this recipe in your allowances. It is of course important to check yourself any plan you follow and remember all nutritional information and ingredients are found in the recipe card below.
On Slimming World the only syns in this recipe are usually the cornflour which you can make the recipe without, the sauce will just be a little runnier.
Comfort eating
It is easy when you are trying to lose weight to fall into the trap of comfort eating when you are feeling down. Finding low syn or syn free snack alternatives can help you avoid weight gain. You do not need to just snack on fruit and vegetables to be healthy, there are so many other alternatives.
If you find that you are regularly feeling down and snacking then maybe you need to address this as possible depression and consider seeing your GP. We all have struggles every now and then so it really isn't something to be ashamed of.
Another option instead of eating at all could be to find something else to do when you are feeling down. Give it some thought and see if you can come up with any strategies to help yourself.
More recipes you may like
If you don't fancy this but would like another recipe with rice check out my huge selection of rice recipes here and check out my tips for cooking the perfect rice!
You can find more recipes with chicken here.
If you are a curry fan then do check out this post full of curry tips and recipes.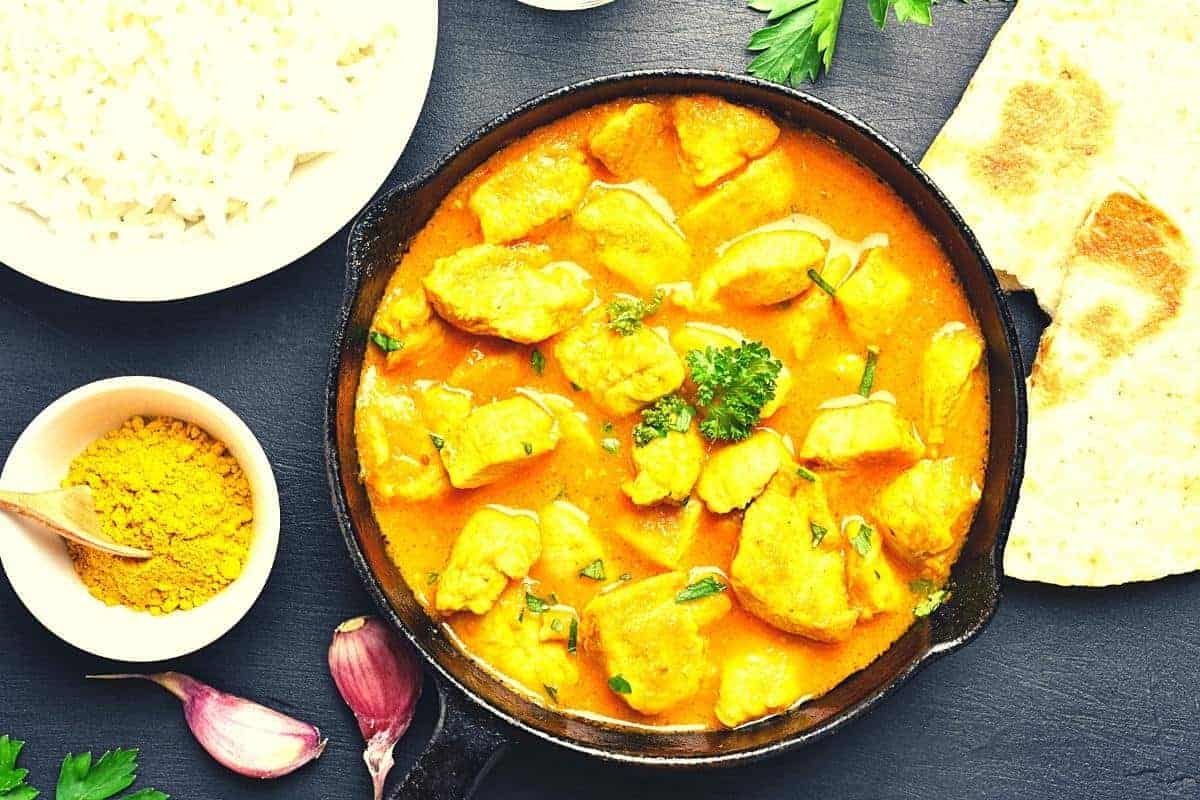 Weight loss and Exercise Support
I have a lot of weight loss guides and support if you want to exercise including if you have a condition like fibromyalgia.
Have a good look around and see how I can help you achieve your weight loss goals. Request my free resources to get you started too!
Print
clock iconcutlery iconflag iconfolder iconinstagram iconpinterest iconfacebook iconprint iconsquares iconheart iconheart solid icon
---
Description
This Malaysian red pepper and chicken or Quorn curry is full of flavour and will soon become a family favourite. It is easy to make and you will love it.
---
---
In a medium saucepan place rice, boiling water, cinnamon stick and pilau rice seasoning and cook over a medium heat. Bring to the boil then reduce the heat and leave to simmer for 25 minutes or until all water is absorbed and the rice looks cooked.
In a large bowl whisk the stock, soy sauce, tomato puree, cider vinegar, sweetener, curry powder and cornflour and set aside.
Spray a large frying pan with the low-calorie cooking spray and place over a high heat. Add the chicken or Quorn and stir fry for 6-8 minutes (less for Quorn) until just cooked through. Transfer to a plate and keep warm.
Wipe out the pan with kitchen paper and re-spray with low calorie cooking spray. When hot, stir fry the peppers for 2-3 minutes then stir in the ginger and cook for a further 30-40 seconds.
Pour in the stock mixture, return the chicken/Quorn to the pan and add the onions and tomatoes.
Cook, stirring continuously, for 10-12 minutes until the sauce has thickened and the chicken is tender and hot throughout.
Scatter over the spring onions and serve the rice which should be done around the same time immediately. Taste and then season with salt and pepper if needed.
---
---
Keywords: Slimming World, low syn, Malaysian, rice,
Recipe Card powered by
My amazing freebies
I know how hard it can sometimes be to stick to a plan and follow a new routine. Planning is key so here are some weight loss resources that should really help you with that.