Homemade low-calorie dip recipes – unofficial Slimming World dips
When you are planning a buffet the vegetable sticks, dips and sauces are a perfect element that could be made healthily without too much trouble. Here I will share with you a selection of low-calorie dip recipes and similar which should help you when planning a party buffet.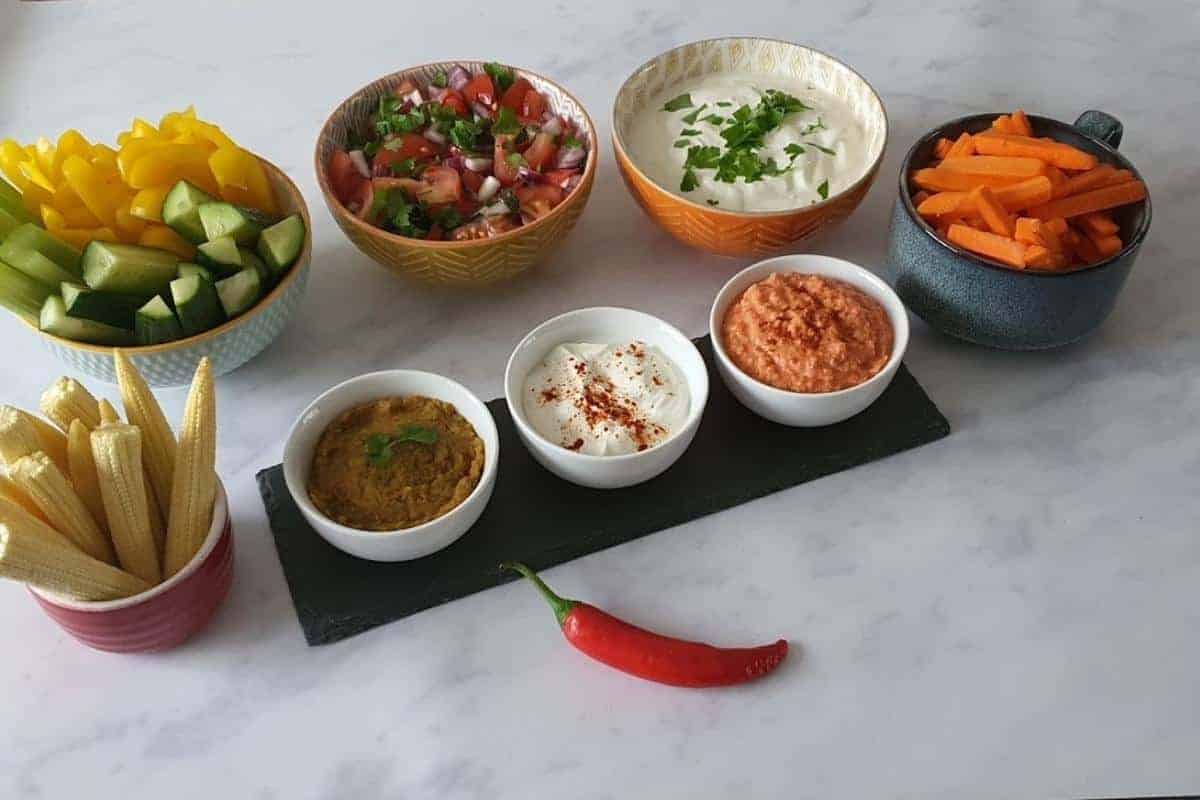 This website is in no way affiliated with Slimming World, Weight Watchers, Noom or any other weight loss plan and no contributors have been trained by them or worked for them. It is the reader's responsibility to check syn values, points and allowances themselves on the appropriate website or app as those given are approximate.
Garlic low-calorie dip
This garlic dip is a great lower-calorie alternative to garlic mayonnaise on Slimming World or Weight Watchers as it is lower calorie and lower fat whilst still being creamy and tasty!
Check out my Garlic dip recipe here
Mushroom Pate
This easy recipe is perfect for a low-calorie dip, sandwich filling or even for on a jacket potato. Great on Slimming World, Weight Watchers and other diets because it is predominantly mushrooms.
Check out my mushroom pate recipe here
Spicy lentil low-calorie dip
This tasty flavoursome lentil dip is slightly spicy but great to accompany other dips for a buffet or party for a unique addition.
Check out the Spicy lentil dip recipe
Coleslaw as a low-calorie dip
This recipe is perfect for all the family and so easy to make. It is great served with dips or as an alternative in burgers, with picnics or at a BBQ. It is a great low-calorie alternative.
Check out the coleslaw recipe here
Roasted Red Pepper Houmous
Syn Free on Slimming World, great on Weight Watchers and other diets too is a really easy red pepper houmous recipe you should try.
For an alternative try this green split pea hummus.
Tangy chilli salsa
An easy tangy chilli salsa recipe perfect for those who like a bit of hot salsa and a low-calorie dip for all the family!
Garden fresh salsa
This is a tasty garden fresh salsa that is easy to make and some of the ingredients you might even grow yourself in the garden!
Tomato, herb and lime Salsa
Delicious low-calorie tomato, herb and lime salsa recipe.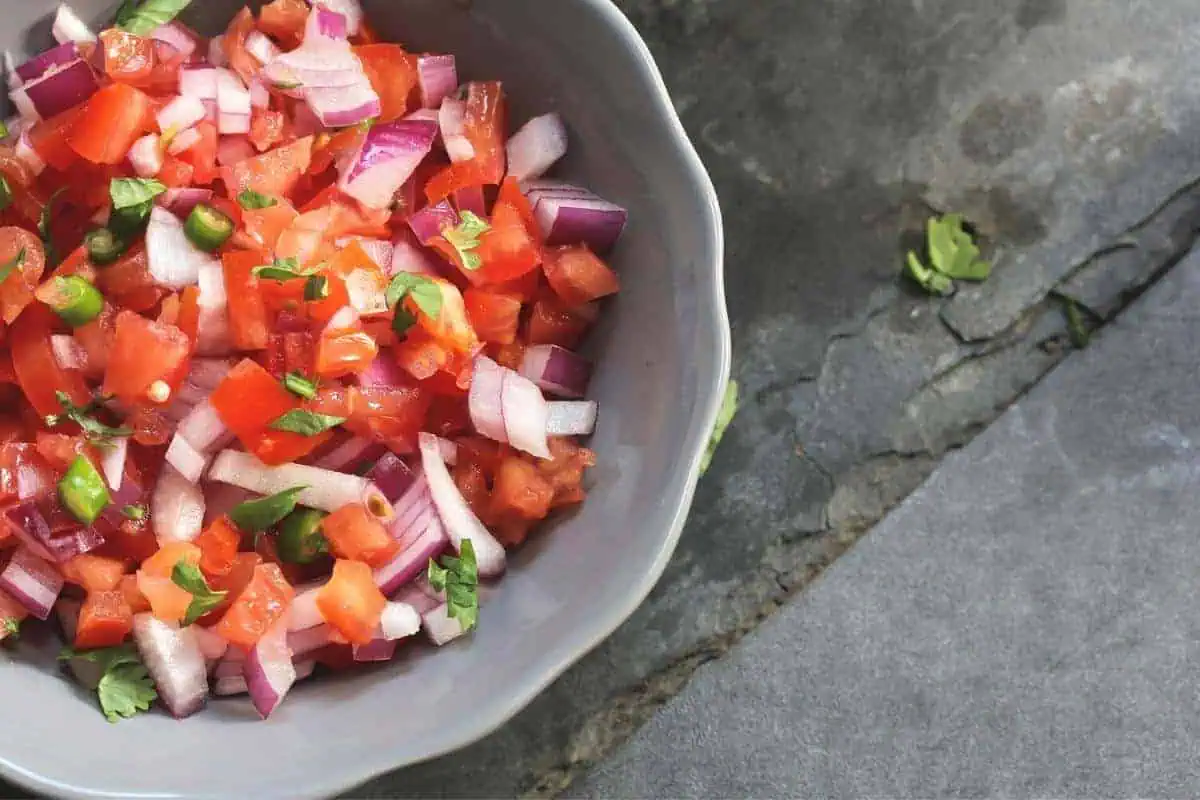 "Sour Cream"
200g Quark
100g Fat-Free Natural Fromage Frais
One lime
Put the Quark, fat-free natural fromage frais and the juice of one lime into a small bowl. Whisk with a fork until smooth and cover. Leave to stand in the fridge for at least 2 hours before serving.
This low-calorie dip recipe is great for a variety of weight loss plans and is usually syn free on Slimming World.
If this has made you realise you should use quark more and are looking for more recipes with it check out my ultimate quark recipe guide.
Guacamole
This guacamole recipe is easy to make in minutes and full of flavour for your dip table.
Avocados are syns on Slimming World but can be free on other weight loss plans. Each avocado is around 14 syns on the plan. Depending on how much of the dip you have syns can be calculated accordingly.
Chunky BBQ Sauce
This easy chunky BBQ sauce recipe is perfect hot or cold as a dip. Full of vegetables it is great for a variety of weight loss plans.
Salsa Verdi
Check out the Salsa Verdi dip recipe and see what you think.
If you are following Slimming World, syns are negligible with the whole recipe being only half a syn. Other weight loss plans may be different so do check.
Vegetables to Dip
As an alternative to crisps vegetables are much healthier to dip, choose your favourites or at least some low-calorie crisps!
Some ideas of vegetables to dip are:
Babycorn
Carrot Batons
Cucumber sticks
Sugar Snap Peas
Spring Onion
Pepper Strips
Cherry Tomatoes
What do you like to dip? Do you have any favourite dips you could share the recipe of?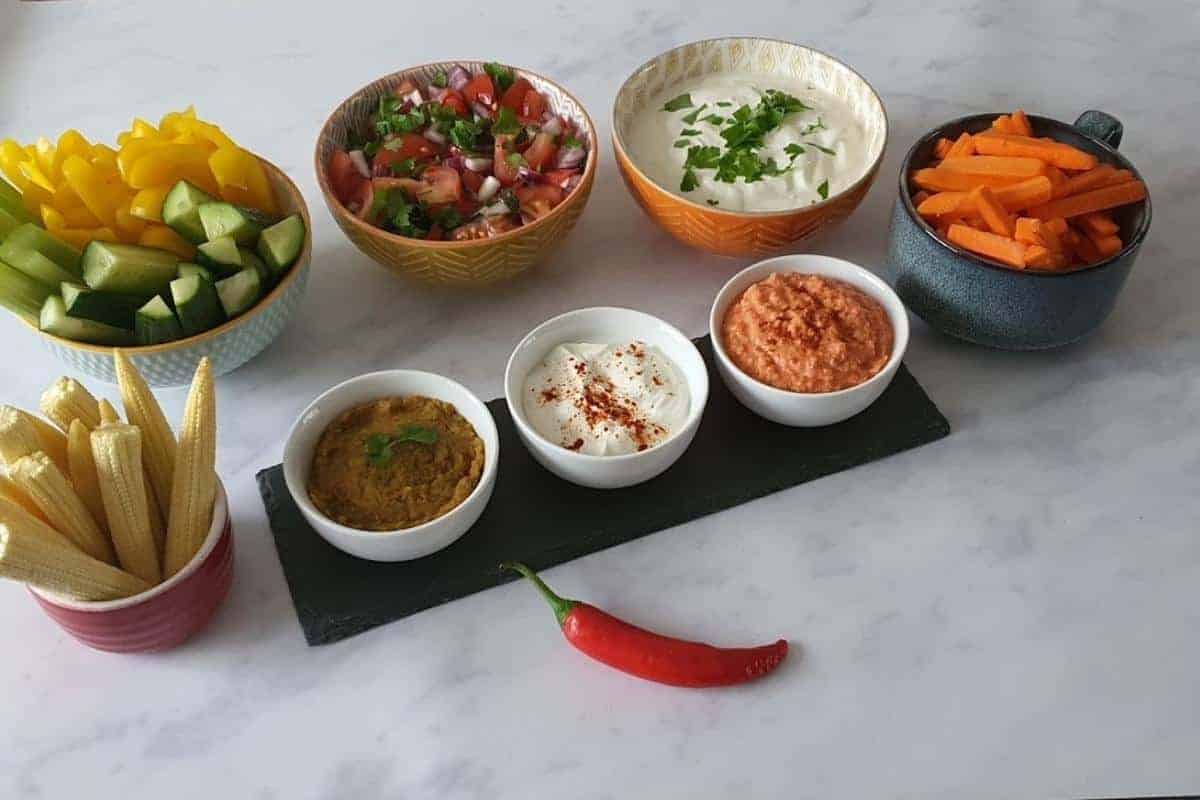 Other low-calorie recipes you may enjoy
If you have found this page looking for dips then maybe you have a BBQ or party coming up and are looking for some ideas to make it healthy? If that is the case here are some posts you will love.
Fancy 4 weeks of healthy lunches already planned out for you? Check this lunch plan out.
Weight loss and Exercise Support
I have a lot of weight loss guides and support if you want to exercise including if you have a condition like fibromyalgia.
Have a good look around and see how I can help you achieve your weight loss goals. Request my free resources to get you started too!
My amazing freebies
I know how hard it can sometimes be to stick to a plan and follow a new routine. Planning is key so here are some weight loss resources that should really help you with that.