Marry Me Chicken | Easy Dinner Recipe
Marry Me Chicken tastes like a meal straight out of a high-end restaurant. Incredibly flavorful with juicy chicken, creamy sauce, briny bits of sun-dried tomatoes and the fresh aroma of basil to tie it all together. This 30-minute easy dinner recipe is guaranteed to get you a marriage proposal!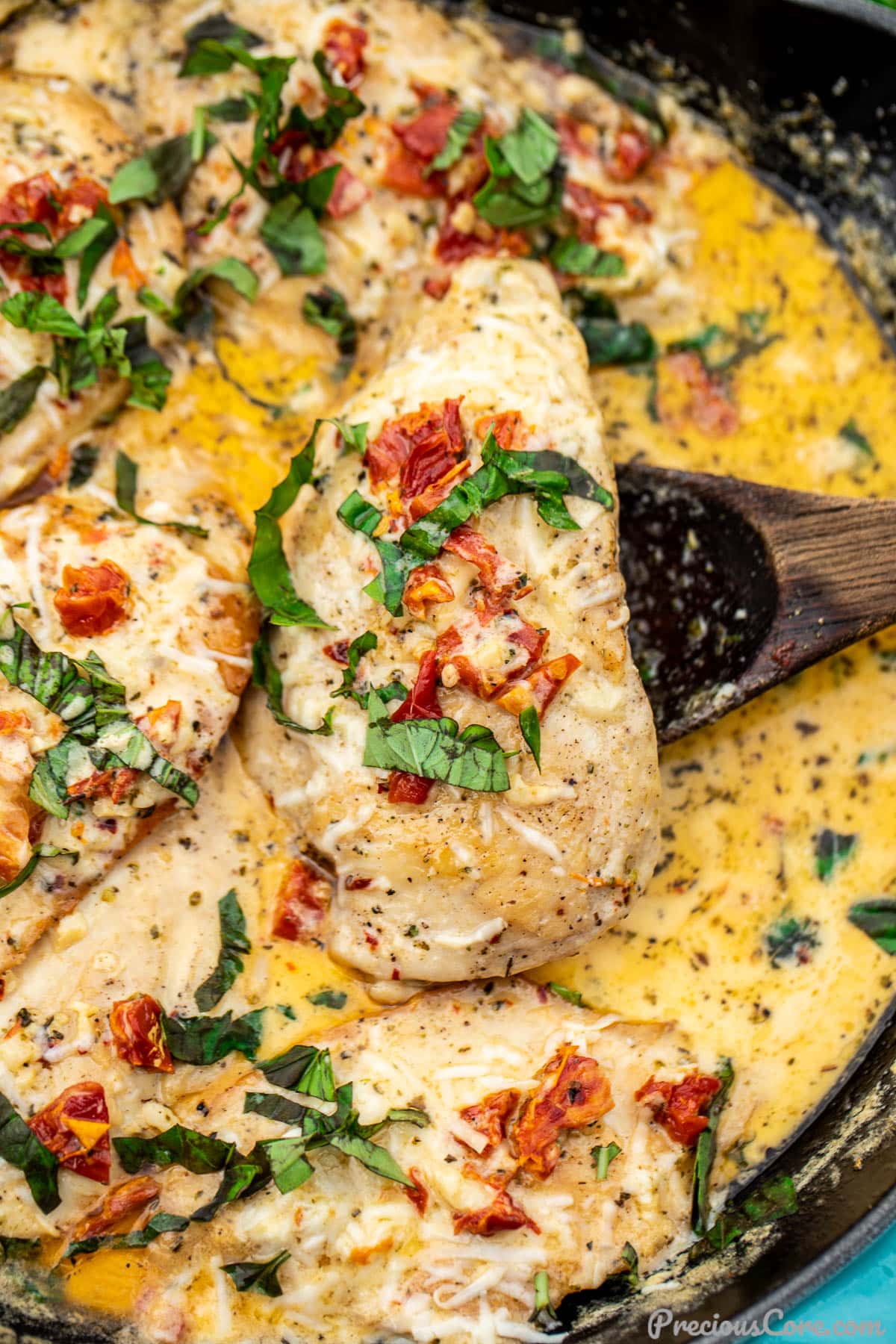 We always love easy dinner recipes and a creamy chicken meal perfectly fits the bill!
From chicken in white sauce to chicken drumsticks in a creamy sauce, you can't go wrong with a creamy chicken dinner!
Jump to:
What is Marry Me Chicken?
Marry Me Chicken is a creamy, quick and easy chicken breast recipe that includes garlic, heavy cream, sun-dried tomatoes, and parmesan cheese. This chicken dinner is so tasty that it is said making it for your partner will make them want to marry you, that's if you're not married already.
It is a dish that is so good, it is worthy of a marriage proposal.
Ingredients
Here are the ingredients you need for Marry Me Chicken.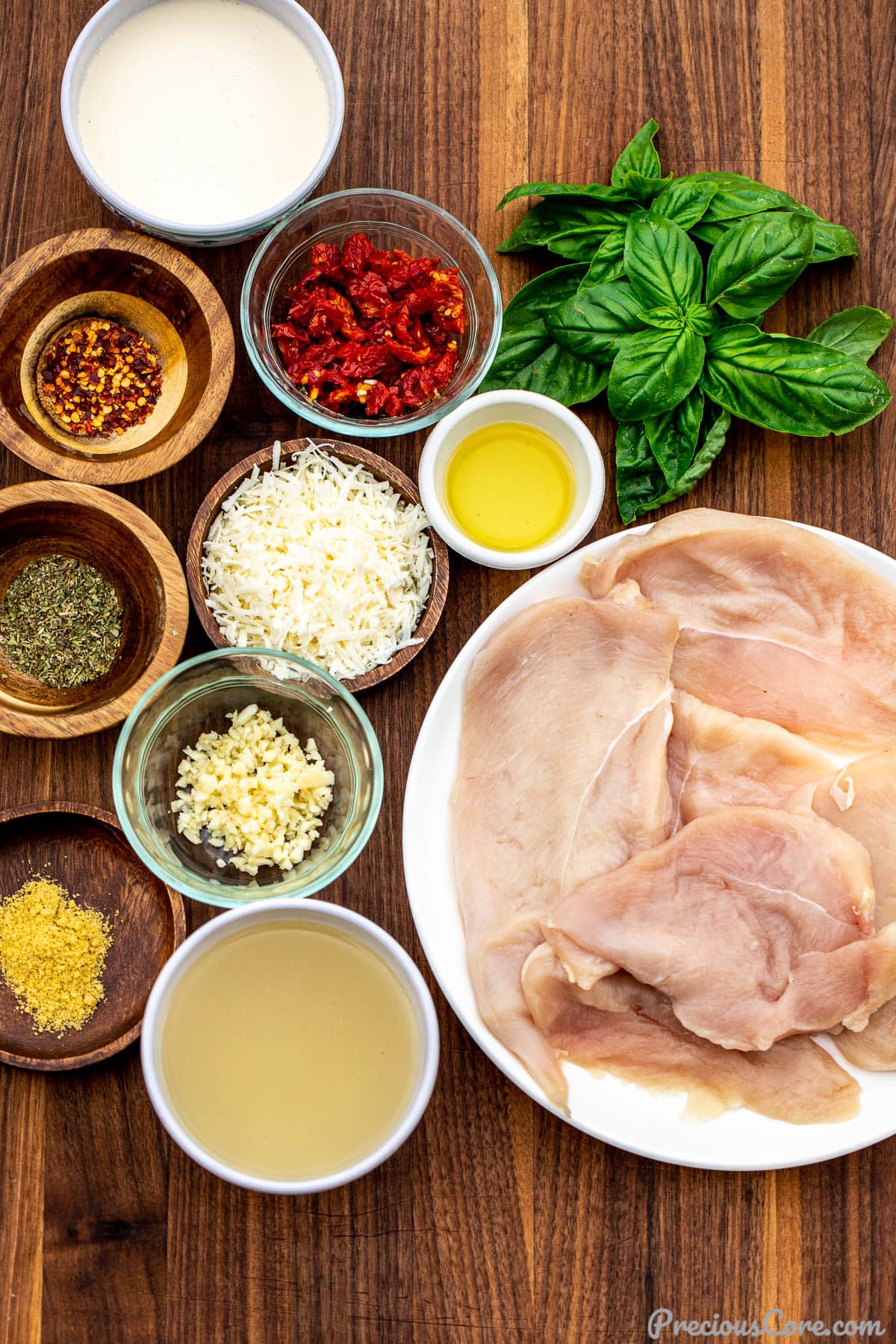 Chicken Breasts: Each chicken breast should be cut in half so the chicken cooks faster.

Salt and Pepper

: For seasoning the chicken.
Chicken Bouillon Powder: This really ups the flavor of the chicken.
Minced Garlic: Very Important for flavor.
Chicken Stock: Consider using low-sodium chicken stock so you can have better control over the amount of salt that gets into the dish.
Heavy Cream: Avoid using light or single cream as you want cream that is nice and thick.
Sun-Dried Tomatoes: Sun-dried tomatoes are tomatoes that have been sprinkled with salt, dehydrated, and mostly packed in olive oil. This ingredient makes the dish truly special as the tomatoes have a concentrated flavor. The tomatoes also provide pops of red, making Marry Me Chicken a bright and colorful dish. And, sun-dried tomatoes are rich in antioxidants, vitamins, and minerals. I use the kind packed in oil for this recipe. It is important to chop the sun-dried tomatoes before adding them to the dish.
Italian Seasoning: This really amplifies the flavor profile of Marry Me Chicken.
Red Pepper Flakes: For heat and to help balance the richness of the dish.
Fresh Basil: For a pop of color and freshness plus that flavor of fresh basil makes the dish a true masterpiece. I used basil from my herb garden. I always get excited when cooking with an ingredient from my garden!
See the recipe card below for the quantities of each ingredient.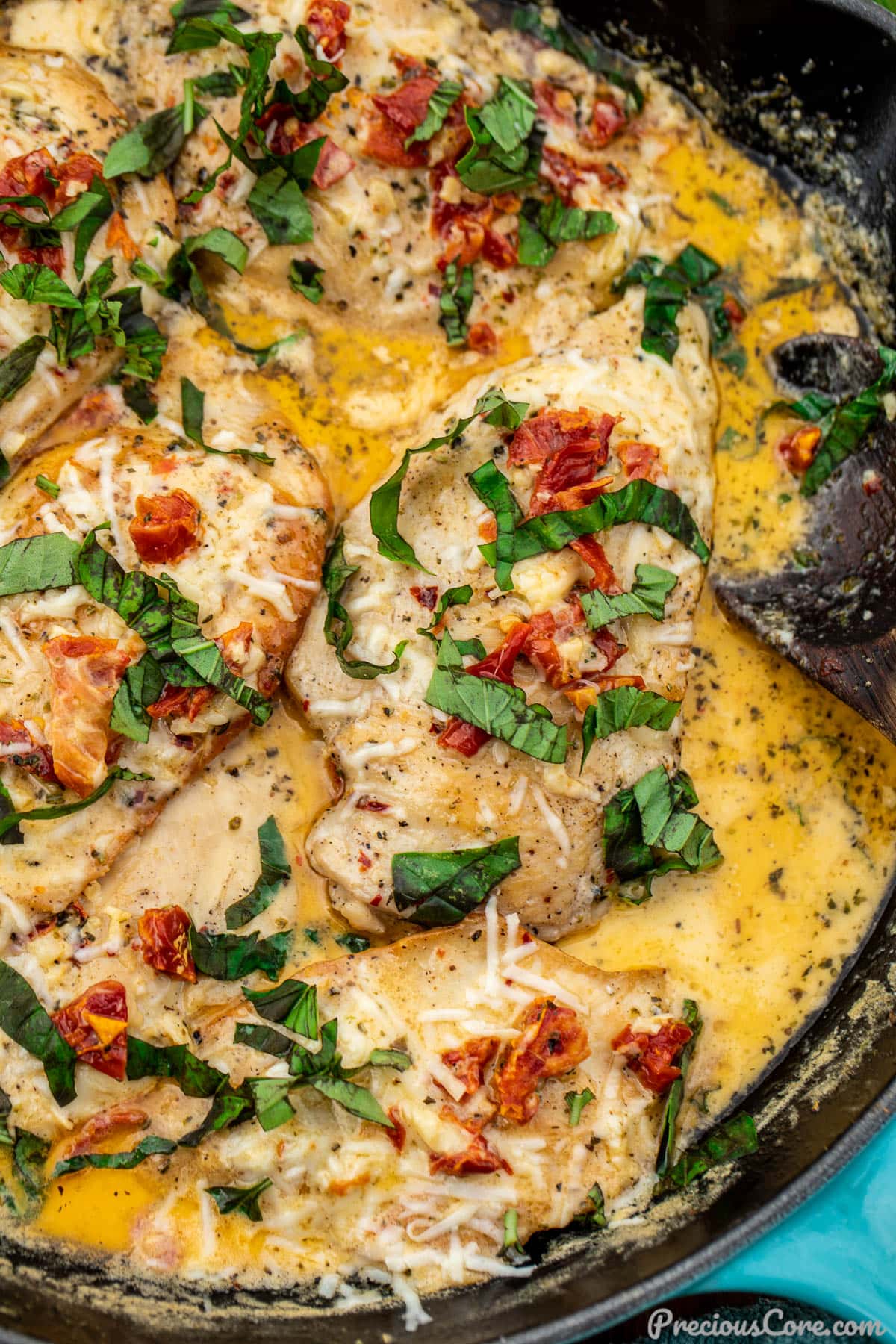 Substitutions and Variations
Here are substitutions and variations you could try for Marry Me Chicken.
Chicken Part – Try making this dish with other parts of chicken like chicken thighs (bone-in or boneless), chicken drumsticks or chicken tenders. This will really work well with chicken tenders!
Roasted Red Pepper – replace the sun-dried tomatoes with roasted red pepper if you like.
Vegetables – add vegetables like mushrooms or spinach for more nutrients.
Thicker Sauce – If you want a thicker sauce, mix together cornstarch and water and add to the sauce.
Asiago Cheese – Substitute parmesan cheese with Asiago cheese which has a similar flavor profile to parmesan and is a bit nuttier and creamier.
Sun-Dried Tomatoes Oil. Consider using the oil from the jar of sun-dried tomatoes to saut the garlic, to really amp up the flavor of Marry Me Chicken.
Also, check out this chicken drumsticks in creamy sauce recipe which is so similar.
How To Make Marry Me Chicken
Here is how you can make Marry Me Chicken in 4 easy steps! It is a really easy recipe!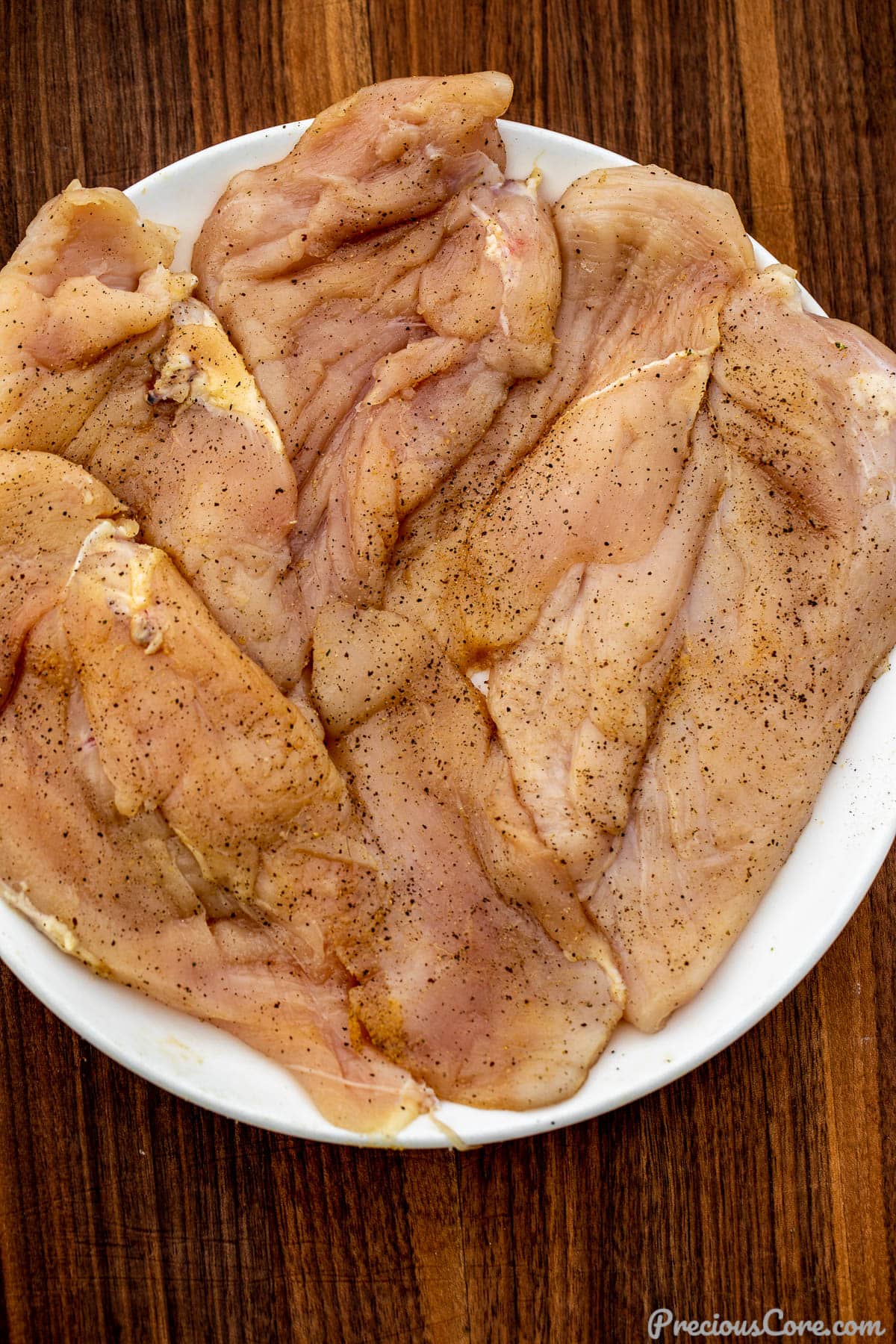 Season the chicken with salt, pepper, and chicken bouillon powder.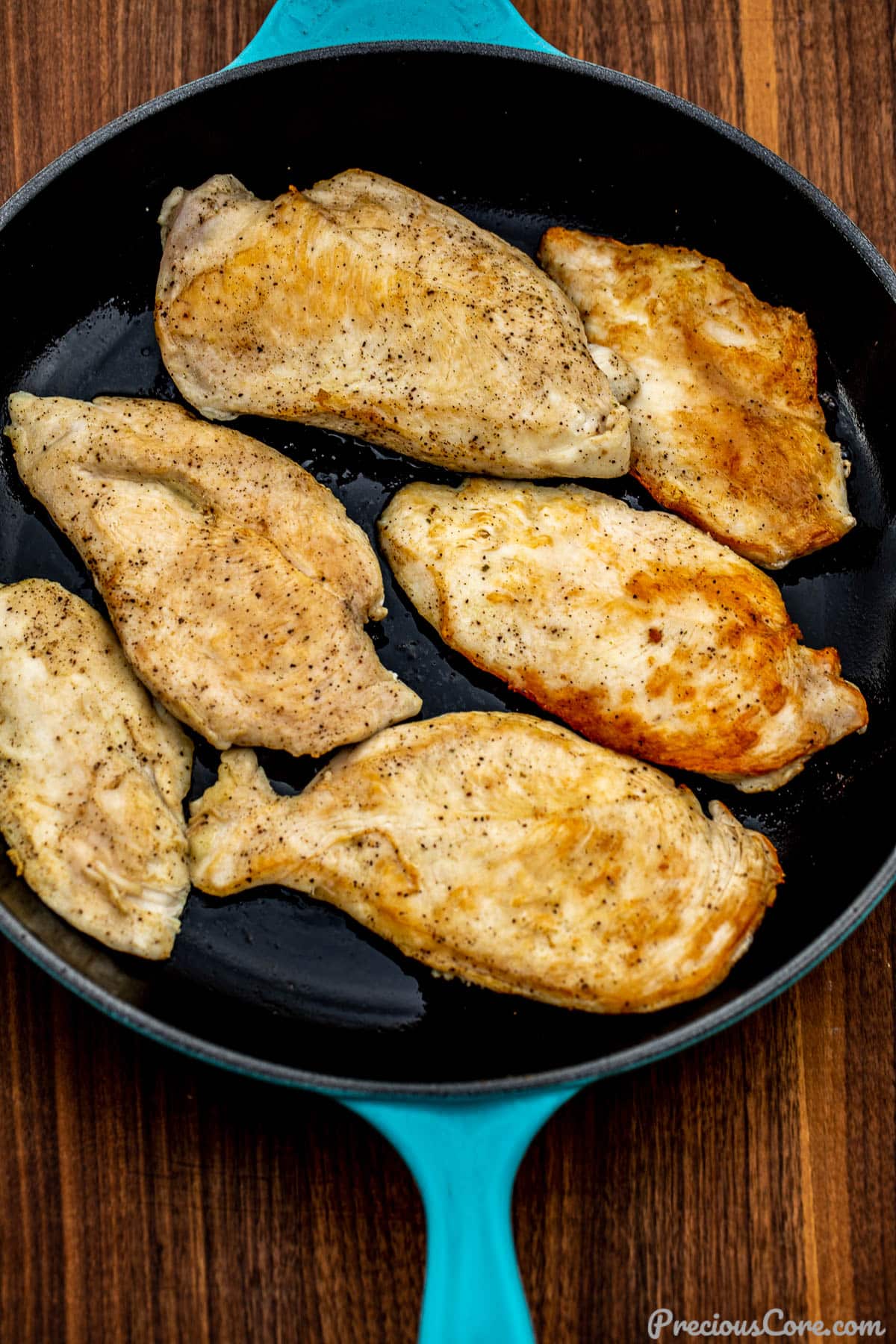 2. Heat oil in a large skillet and pan-sear the chicken on both sides. Remove the chicken from the pan.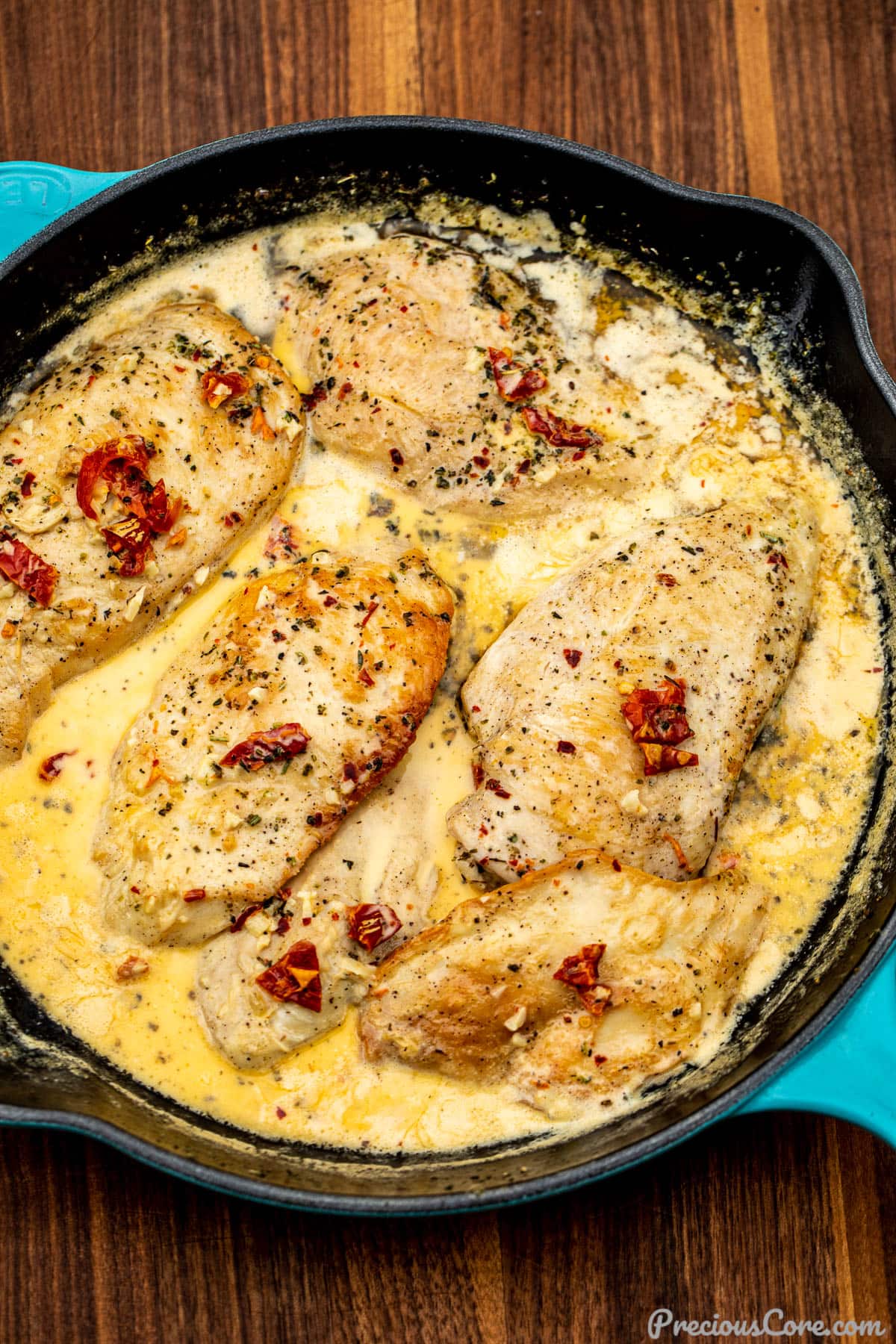 3. Saute garlic in the pan, then add all other ingredients for the sauce except the basil, and half of the parmesan cheese. Let everything simmer until the chicken is done.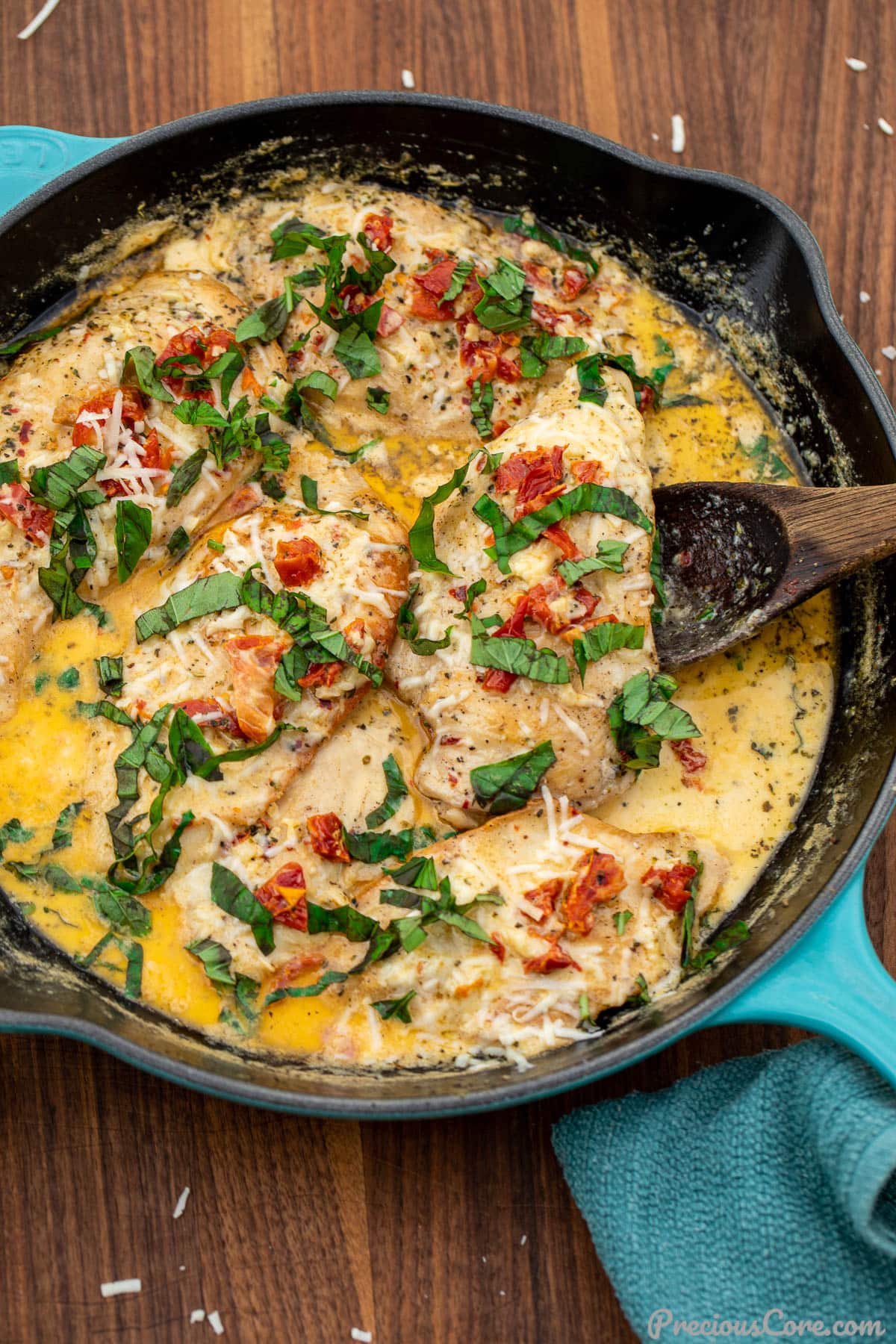 4. Top with the remaining parmesan cheese and fresh basil.
Hint: Use a digital meat thermometer to ensure that the chicken is done. Insert the thermometer into a chicken breast. If it reads 165 degrees Fahrenheit or above, then it is done.
Large Skillet: You need a wide spatula for the chicken.
Fish Spatula: Makes flipping the chicken and other pan-seared foods a breeze!
Meat Thermometer: Important for ensuring that your meat is cooked properly!
Storage
Store Marry Me Chicken in an airtight container in the fridge for up to 3 days. Do not freeze as creamy sauces do not freeze well.
How To Serve It
Serve Marry Me Chicken with your favorite pasta. Pasta like spaghetti, linguine, or penne goes well with this dish! You could also serve Marry Me Chicken with some coconut rice and some crusty bread to soak up the sauce! For a low-carb meal, serve Marry Me Chicken with zoodles.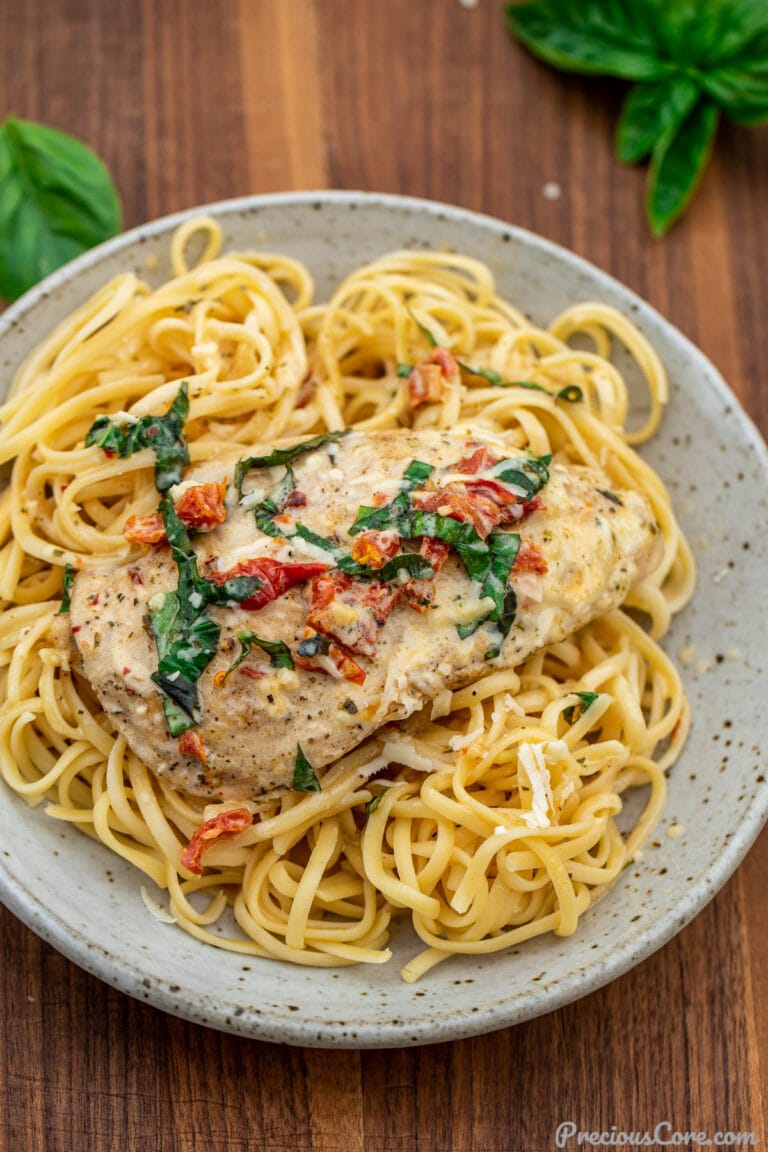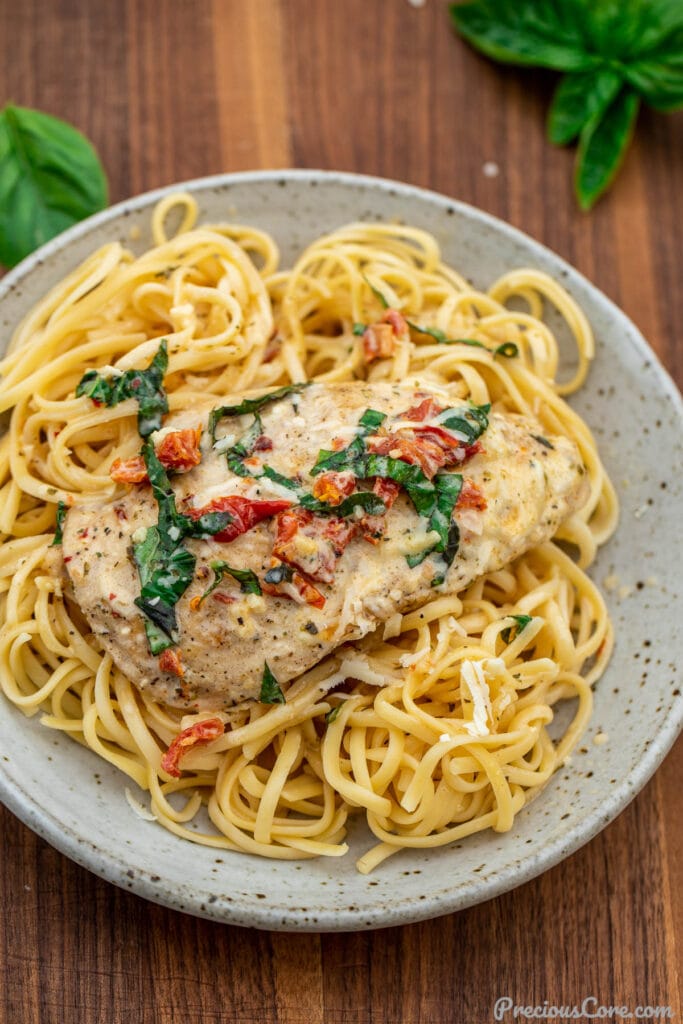 Also, consider pairing Marry Me Chicken with our buttermilk mashed potatoes which is so good!
If you make this Marry Me Chicken, please share a picture on Instagram and tag me @preciouscore or hashtag it #preciouscore. I love to see your creations!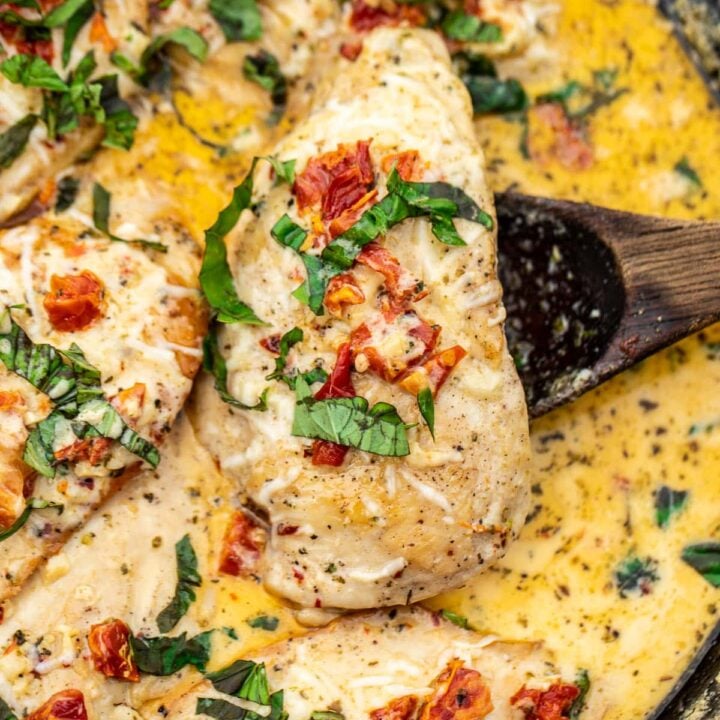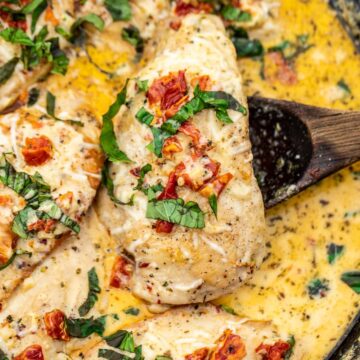 Marry Me Chicken
The deliciousness of this Marry Me Chicken will leave you craving for seconds and thirds. Ready in 30 minutes, this recipe is perfect for weeknights or for entertaining. And as the name suggests, this meal could really get you a marriage proposal.
Servings: 4
Calories: 677kcal
Instructions
Season Chicken. Using a very sharp knife, cut each chicken breast horizontally in half. Pat the chicken dry with paper towels. Sprinkle the salt, pepper, and chicken bouillon powder evenly on both sides of the chicken.
Pan Sear Chicken. Place a 12-inch skillet on medium-high heat. Add the olive oil to the skillet and let it heat up for 2 minutes. Add the chicken to the skillet and cook for 3 minutes then flip to the other side and cook for another 3 minutes. Remove the chicken from the pan.
Saute Garlic. Add the minced garlic to the pan and stir. Let it saute for 3o seconds until fragrant.
Deglaze Pan. Add the chicken stock and stir to deglaze the pan.
Simmer Sauce. Add in the heavy cream, sun-dried tomatoes, ¼ cup of the parmesan cheese, the Italian seasoning and red pepper flakes. Stir to combine. Add the chicken back to the pan. Bring to a simmer and let it simmer for about 5 minutes until the chicken is completely cooked through. Insert a digital meat thermometer into a chicken breast if it registers at least 165°F then the chicken is cooked through.
Add Toppings. Sprinkle on the remaining grated parmesan and the sliced basil leaves.
Serve. Serve with pata, mashed potatoes or rice.
Notes
Chicken. Feel free to use other cuts of chicken light thighs or even drumsticks. Chicken thighs are great because it's hard to overcook them.
Skillet. A 12-inch skillet or wide pan (like a cast iron braiser) is best for this recipe if you have one. If you do not have a large skillet and use a smaller skillet, make sure you cook the chicken in batches so you do not overcrowd the pan.
Herbs. Instead of the Italian seasoning use, you could use a combination of your favorite herbs. Herbs like thyme or rosemary would work well here. Also, you could use parsley in place of basil.
Storage. Store Marry Me Chicken in an airtight container in the fridge for up to 3 days. Do not freeze as creamy sauces do not freeze well.
Nutrition
Calories: 677kcal | Carbohydrates: 15g | Protein: 64g | Fat: 41g | Saturated Fat: 19g | Polyunsaturated Fat: 4g | Monounsaturated Fat: 15g | Cholesterol: 225mg | Sodium: 897mg | Potassium: 1125mg | Fiber: 6g | Sugar: 3g | Vitamin A: 1333IU | Vitamin C: 11mg | Calcium: 523mg | Iron: 16mg