Nigerian Beef Stew | Precious Core
Nigerian Beef Stew is a vibrant tomato beef stew made with bell peppers, tomatoes, and aromatics. Serve this spicy stew with a side of rice, sweet fried plantains, and coleslaw for a true Nigerian dining experience.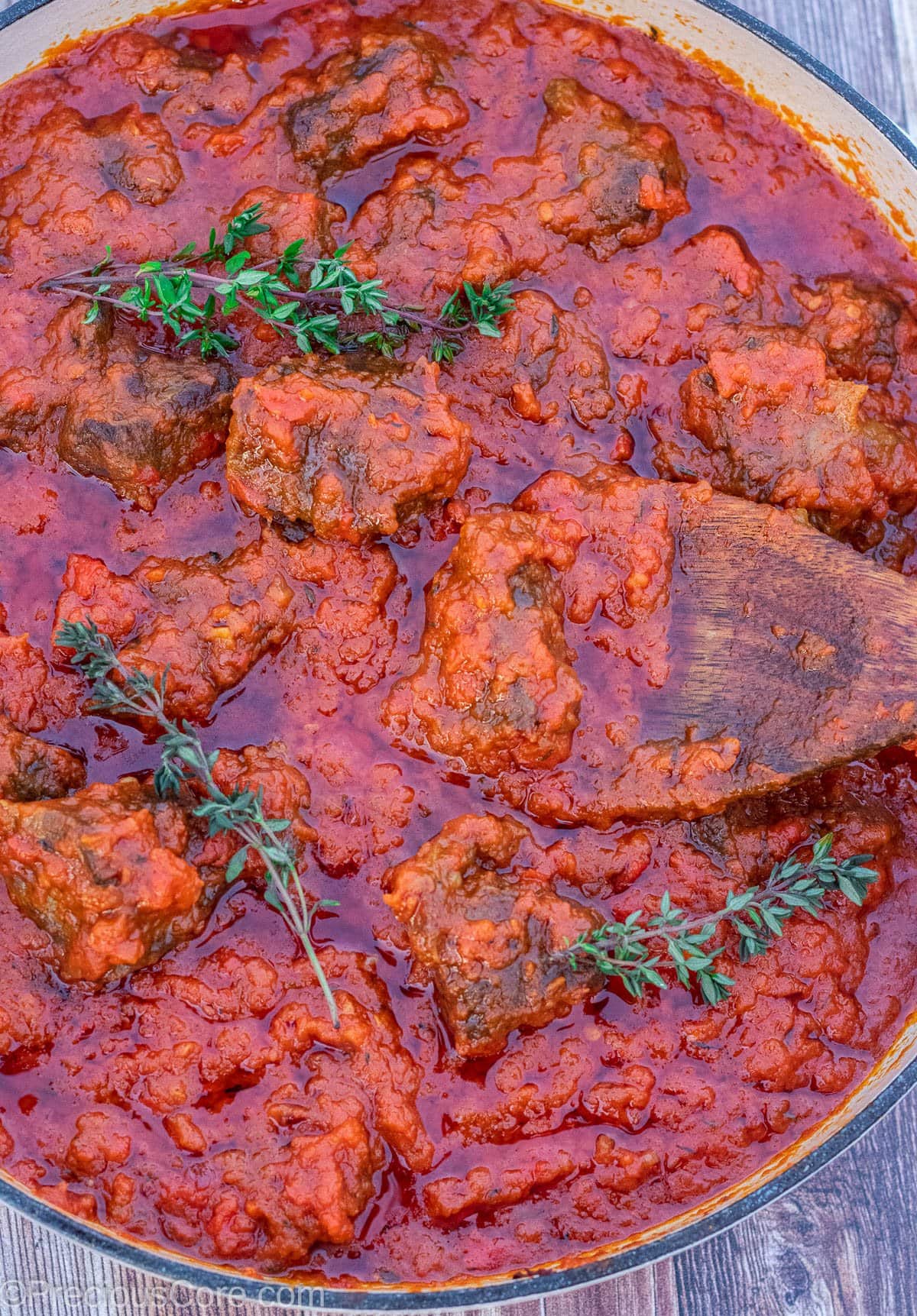 Tomato-based stews are well-loved across West and Central Africa. In several Nigerian households, this beef tomato stew frequently makes an appearance, especially on Sundays, served with hot fluffy rice.
It also makes an appearance on Christmas day alongside other Nigerian Christmas classics like Jollof Rice or Fried Rice.
This recipe is quite similar to my African Chicken Stew and Tomato Fish Stew. This beef stew is so versatile and can be paired with so many different side dishes like rice, pasta, and African yams. You'll love this recipe whether for dinner or for special occasions.
After spending time in Nigeria with friends, and watching them cook their versions of stew, I learned what makes a great Nigerian stew. And this post will show you all I've learned.
Jump to:
Ingredients For Nigerian Beef Stew
You need a total of 11 ingredients for tasty Nigerian Beef Stew. Every ingredient here is common and accessible, which means most people can make this stew. Here are the ingredients you need: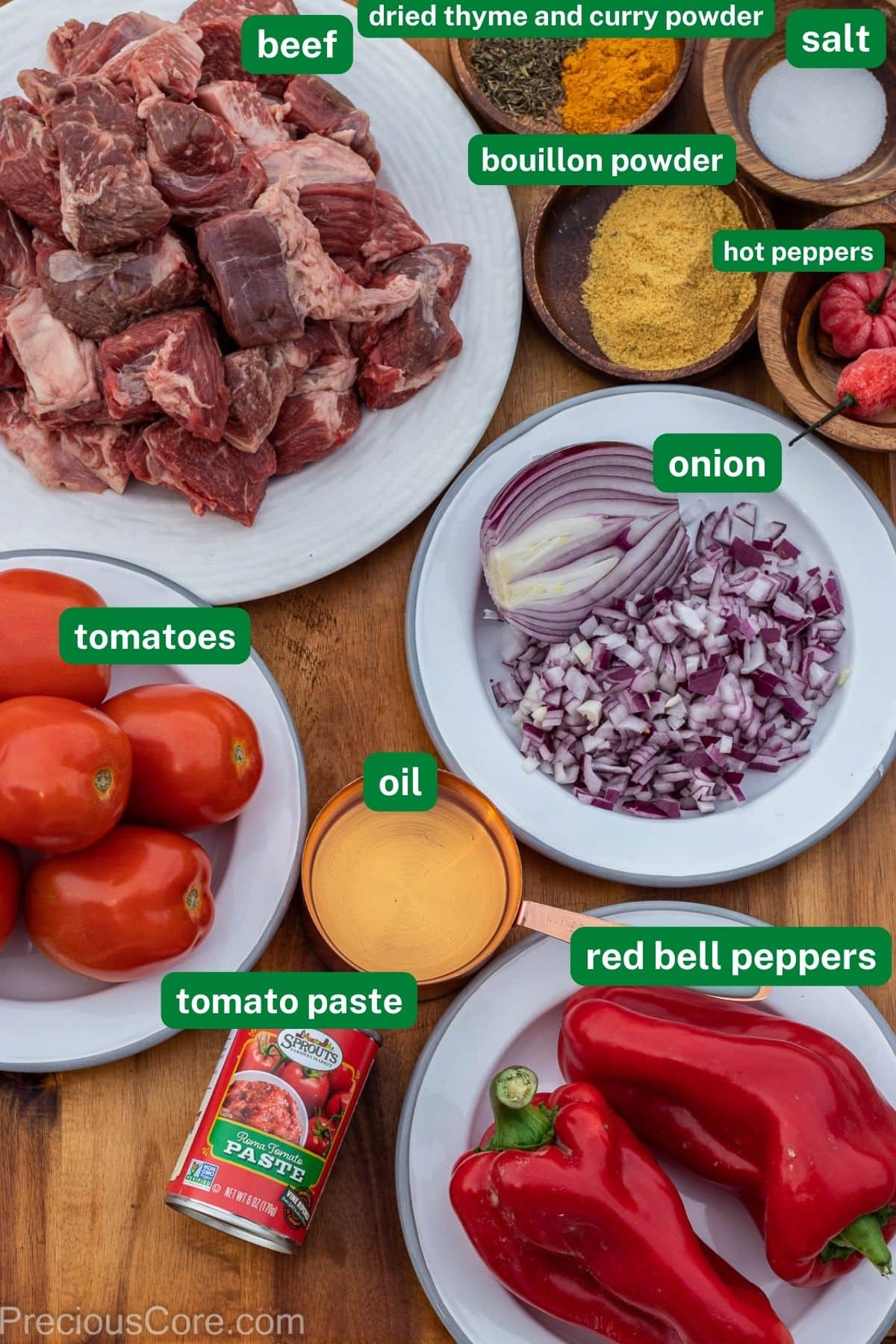 Some notes on key ingredients:
Red bell peppers: Red bell peppers combine with tomatoes to lend to the stew its signature red color. It is a commonly used ingredient in Nigerian stews and Nigerian Jollof Rice.
Curry powder and thyme: These 2 ingredients are classics when it comes to Nigerian cooking. Dried thyme and curry powder come together to give this stew its unique taste. I should add that these 2 ingredients contain enough aroma that makes for a tasty stew.
Beef: Chuck roast is the preferred beef to use here as it offers good flavor and a good amount of fat. And this cut of beef is inexpensive, compared to other cuts. If using another cut of beef, use one with enough fat marbling for great flavor.
Bouillon powder or seasoning cubes: Most Nigerian recipes call for seasoning cubes which are basically the same thing as bouillon powders. For this recipe, I used Knorr Chicken Bouillon powder. This ingredient adds that extra taste that just makes West African food, West African food.
See the recipe card below for quantities.
How To Cook Nigerian Beef Stew
Here is how to make Nigerian Beef Stew in 6 easy steps! Be sure to check out the recipe card at the bottom of this post for the detailed recipe. Here are some key steps involved in making the stew: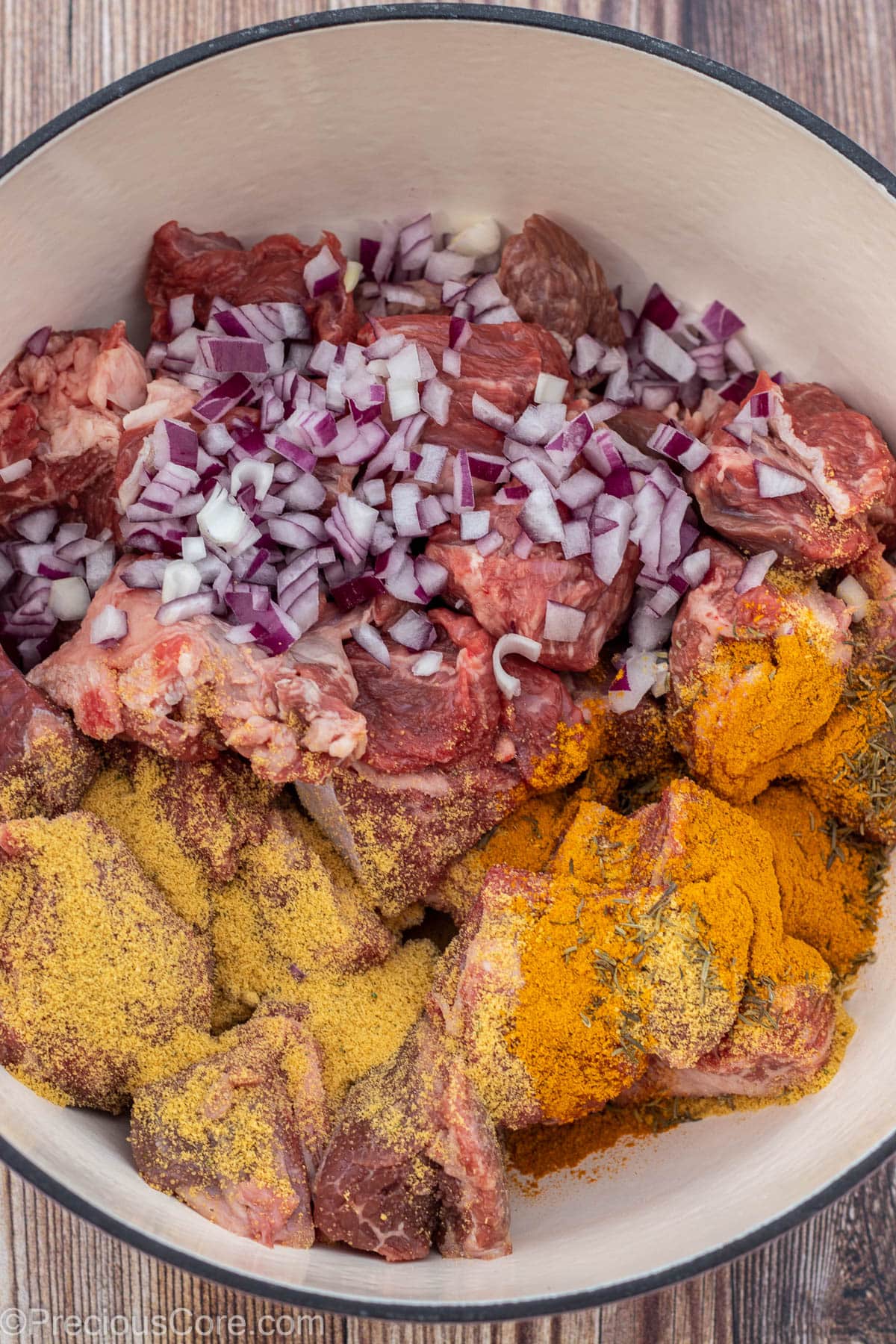 1. Combine beef, diced onions, and seasoning in a medium pot.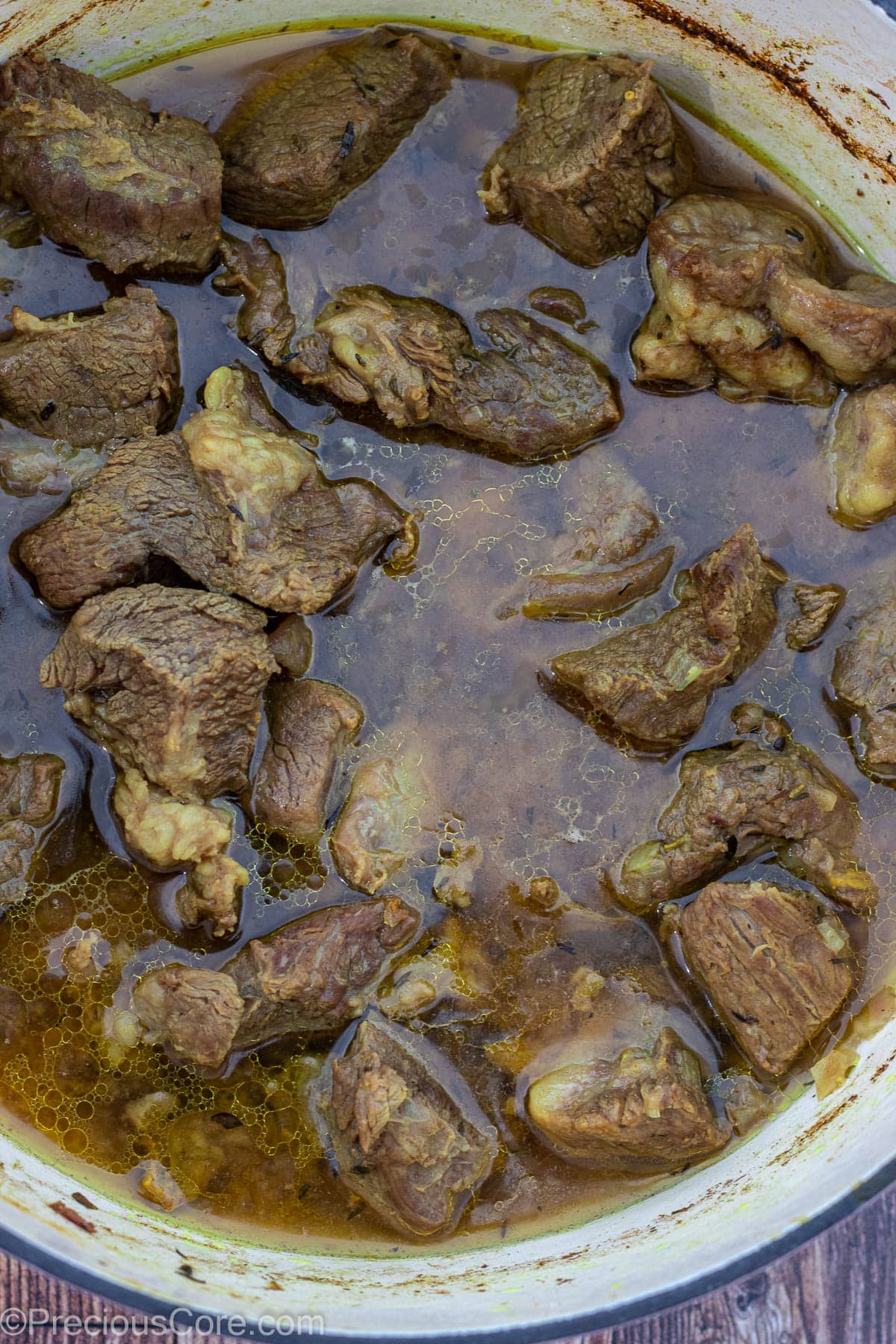 2. Cook beef until tender.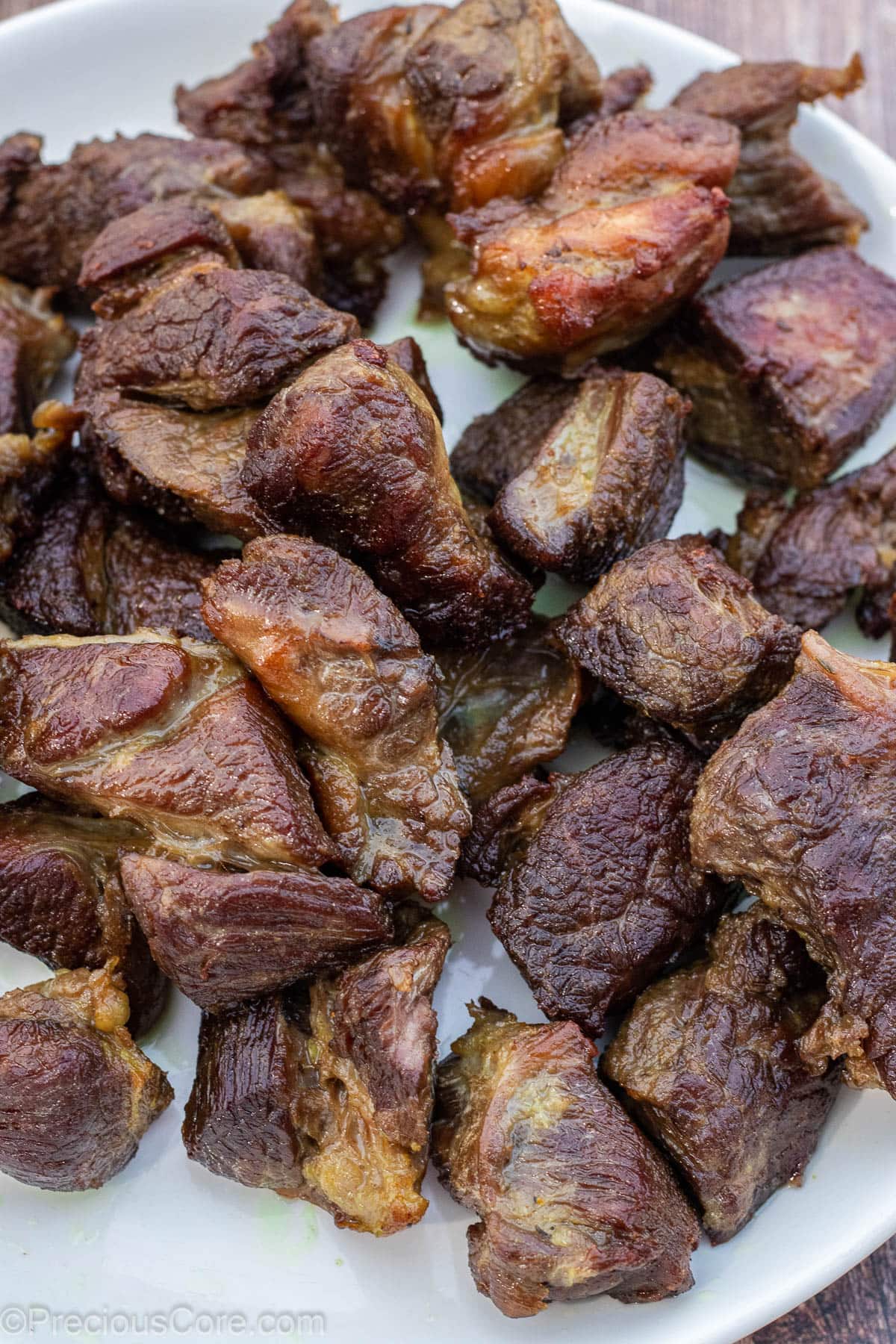 3. Fry beef in oil until brown all around.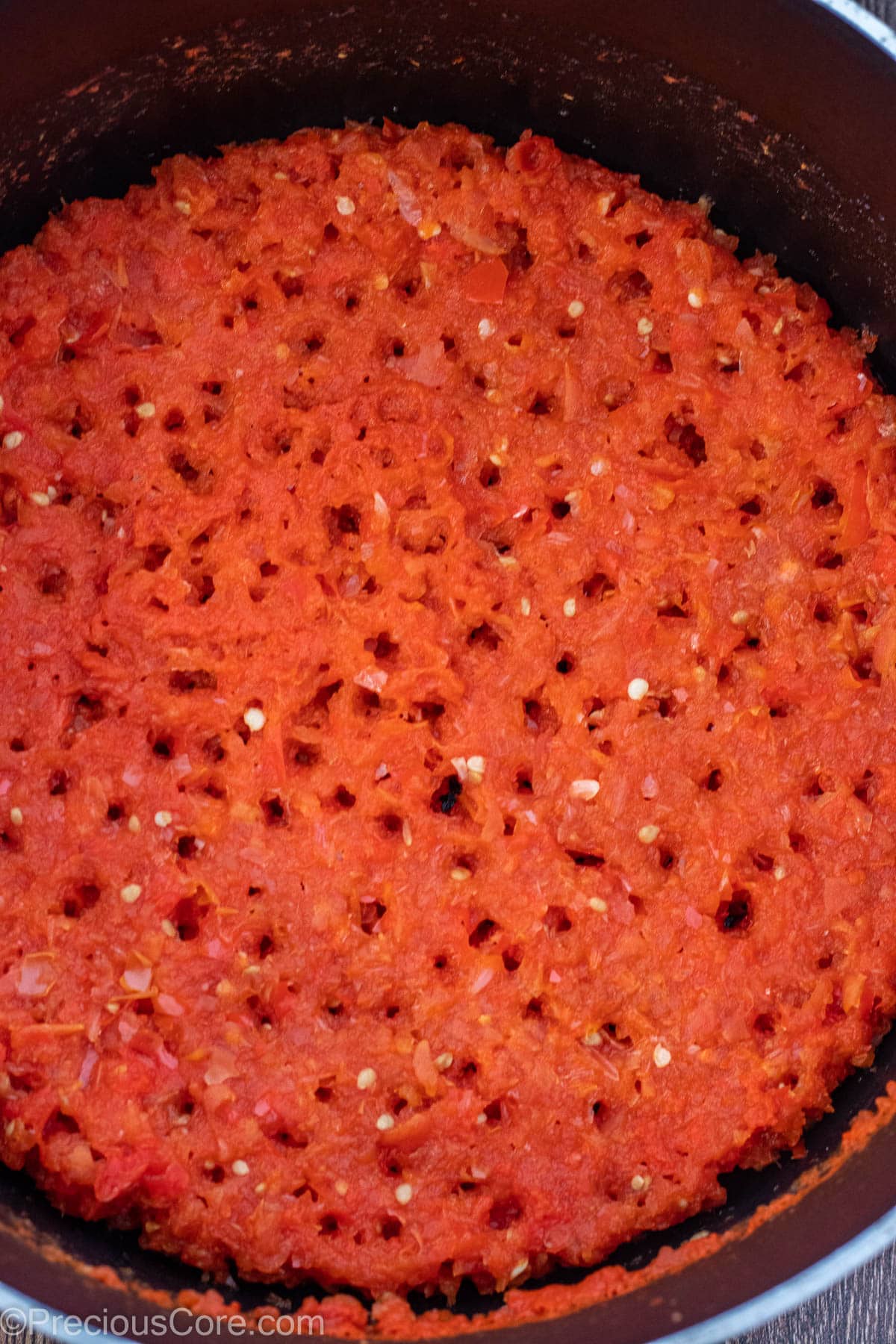 4. Blend together fresh tomatoes, onion, bell peppers, and hot pepper then cook down until reduced.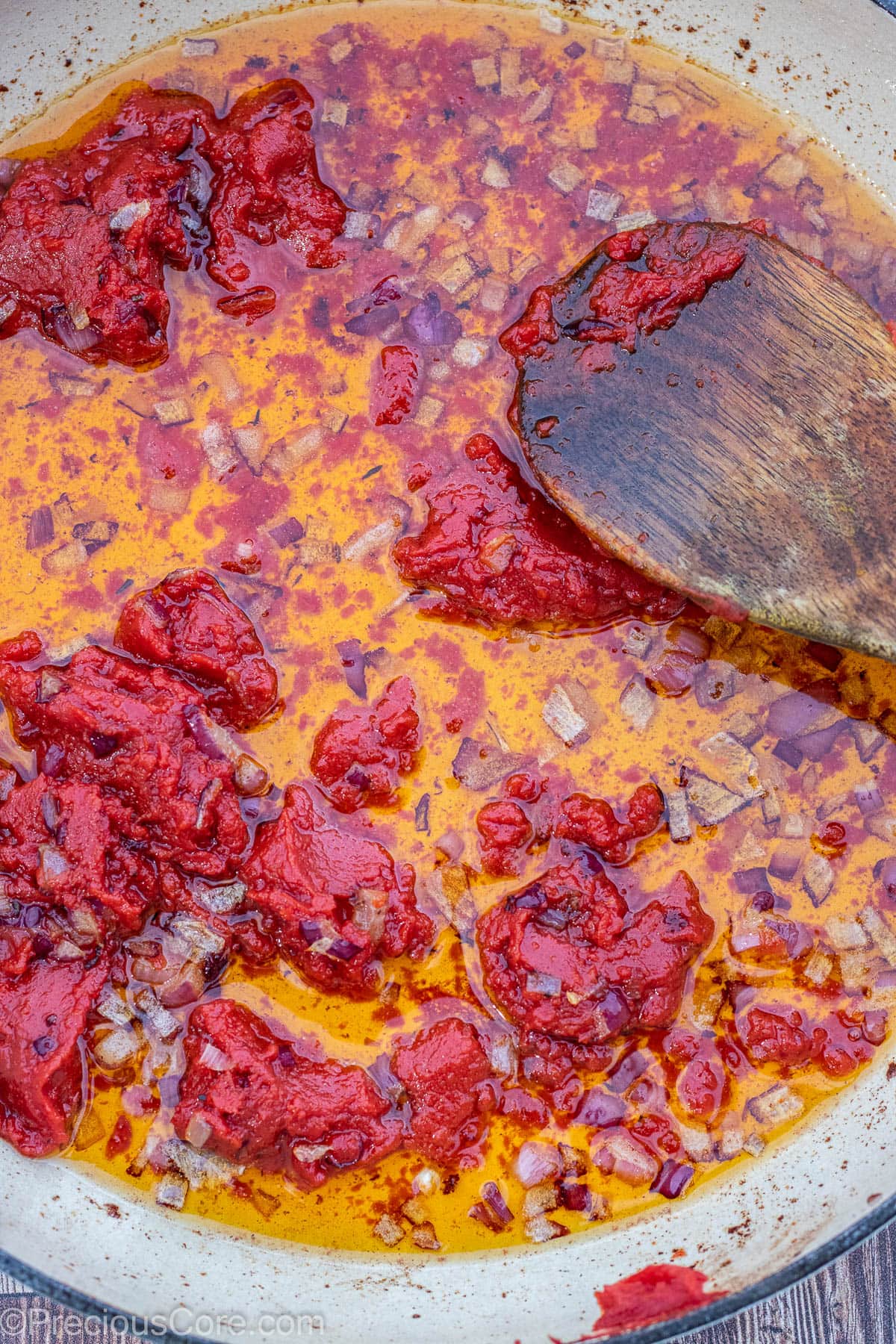 5. Saute diced onions and cook tomato paste in the same oil used in frying the beef.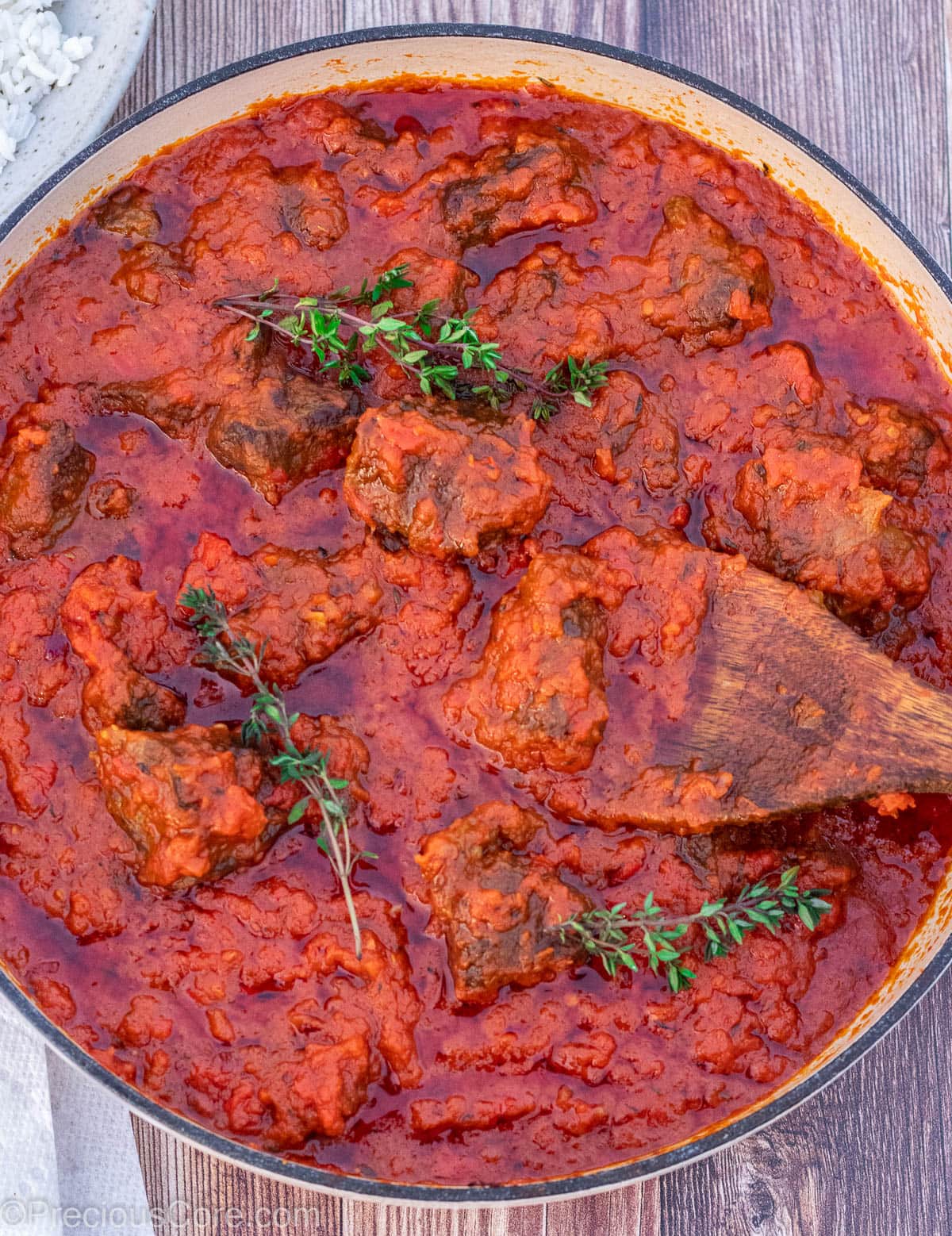 6. Add the cooked-down tomato mixture, remaining spices, seasoning, and beef stock, to the pot, and cook together to make the stew.
Hint: This stew calls for a significant amount of oil. If you are worried about the quantity of oil used, skim the excess oil after cooking. It is important to use the amount of oil called for because oil is needed to cook the tomatoes properly until they go from sour to mellow. Then you could store the oil for other use.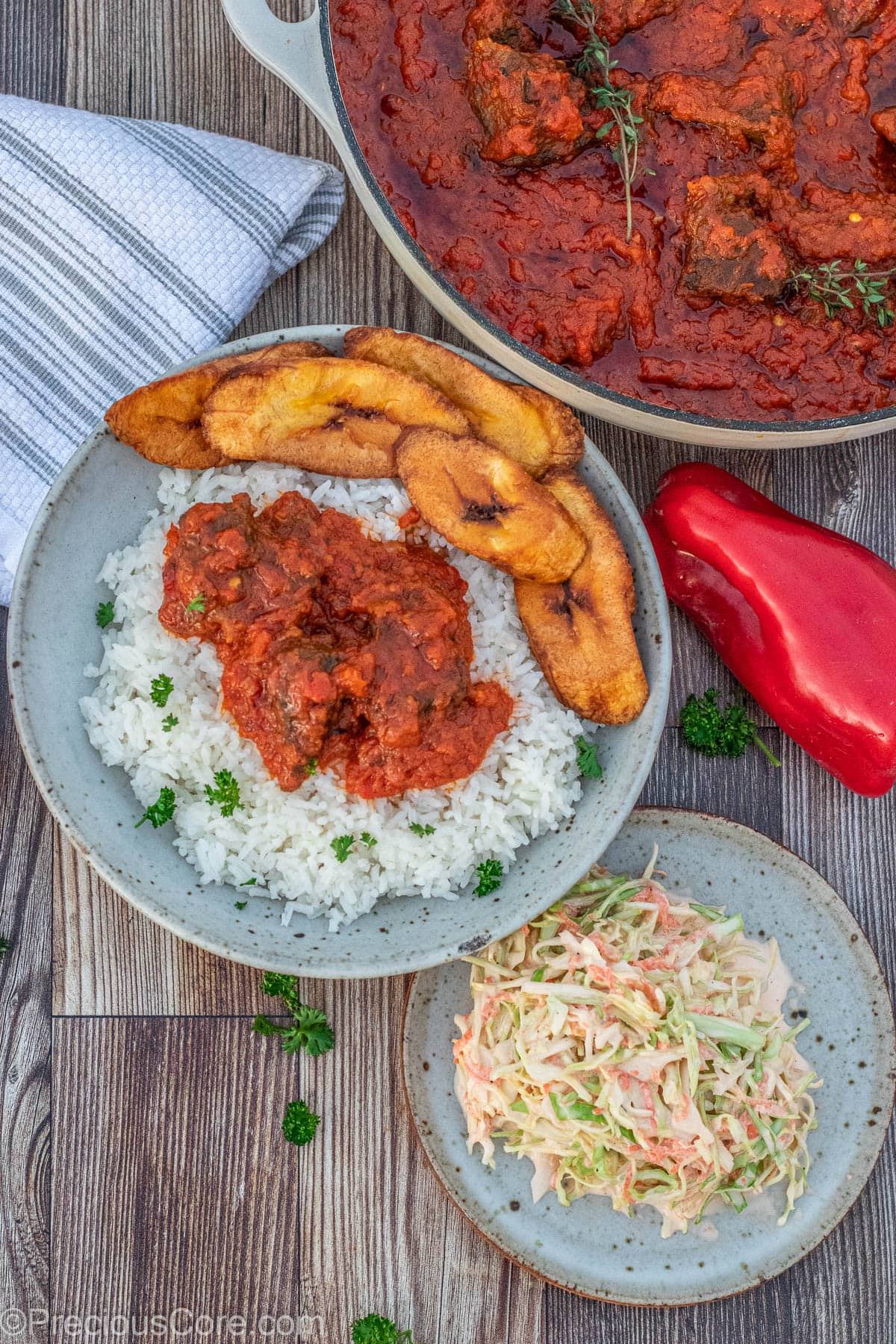 Substitutions
Here is how to switch up this Nigerian Beef Stew to suit your preferences or to use up other ingredients you might have on hand.
Chicken – use chicken instead of beef. Dark meat chicken like drumsticks and thighs would work well here.
Tomato sauce – use tomato sauce instead of paste for a lighter stew. You could also substitute the tomato paste with crushed tomatoes.
Vegetarian – the beef could be replaced with mushrooms for a vegetarian option.
Variations
Nigerian Beef Stew is typically a spicy stew but you could switch it in different ways.
Less Spicy – reduce the number of habanero peppers to make it less spicy. You could use just half a habanero pepper to give it some heat. Note that, this stew works well with heat as it balances out the sweetness of the bell peppers.
Vegetables – try adding vegetables like carrots and green beans towards the end of cooking for extra crunch and nutrients.
Ginger and garlic – add ginger and garlic paste to the stew for more flavor.
One pot method – add all the ingredients into the pot and cook until the beef is tender for a tasty easy stew.
Check out this version of African Beef Stew all cooked in one pot. It is delicious!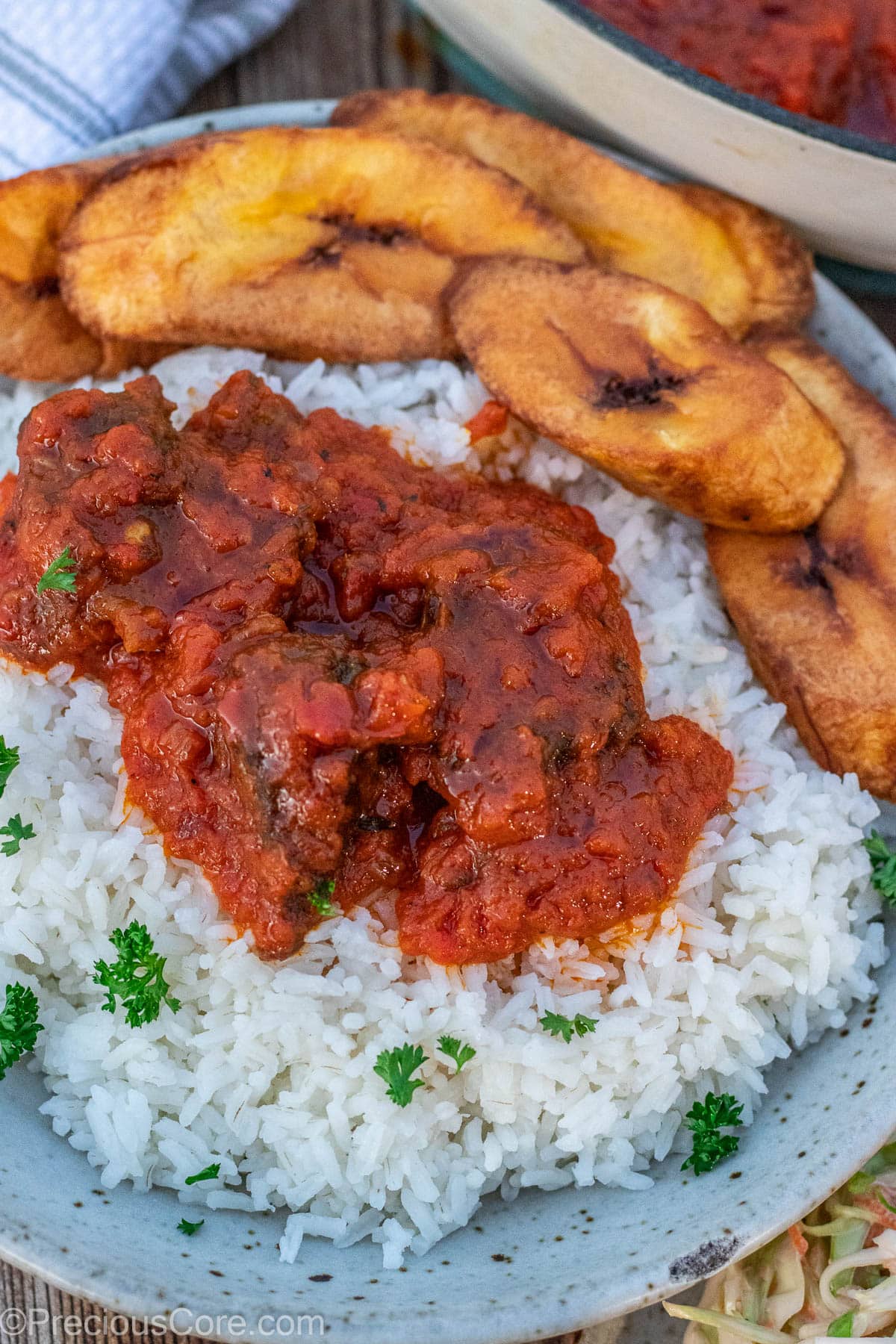 Storage
Store Nigerian Beef Stew in an airtight container in the fridge for up to 5 days or for up to 2 months in the freezer. Thaw the stew and bring it to a simmer to reheat. You could also reheat the stew in the microwave.
Expert Tips For Nigerian Beef Stew
Choose a cut of beef that has a good amount of marbling from fat. That fat is going to lend much flavor to the stew.
To prep ahead, make the tomato-pepper blend and cook it down then store it in the fridge until ready to use in the stew.
The tomato-pepper blend also makes a great base for Jollof Rice. So you could make a big batch and store it for use in both Jollof Rice and tomato stew.
Do not stir the tomato-pepper mixture when cooking it down before frying. This technique helps prevent the mixture from splattering.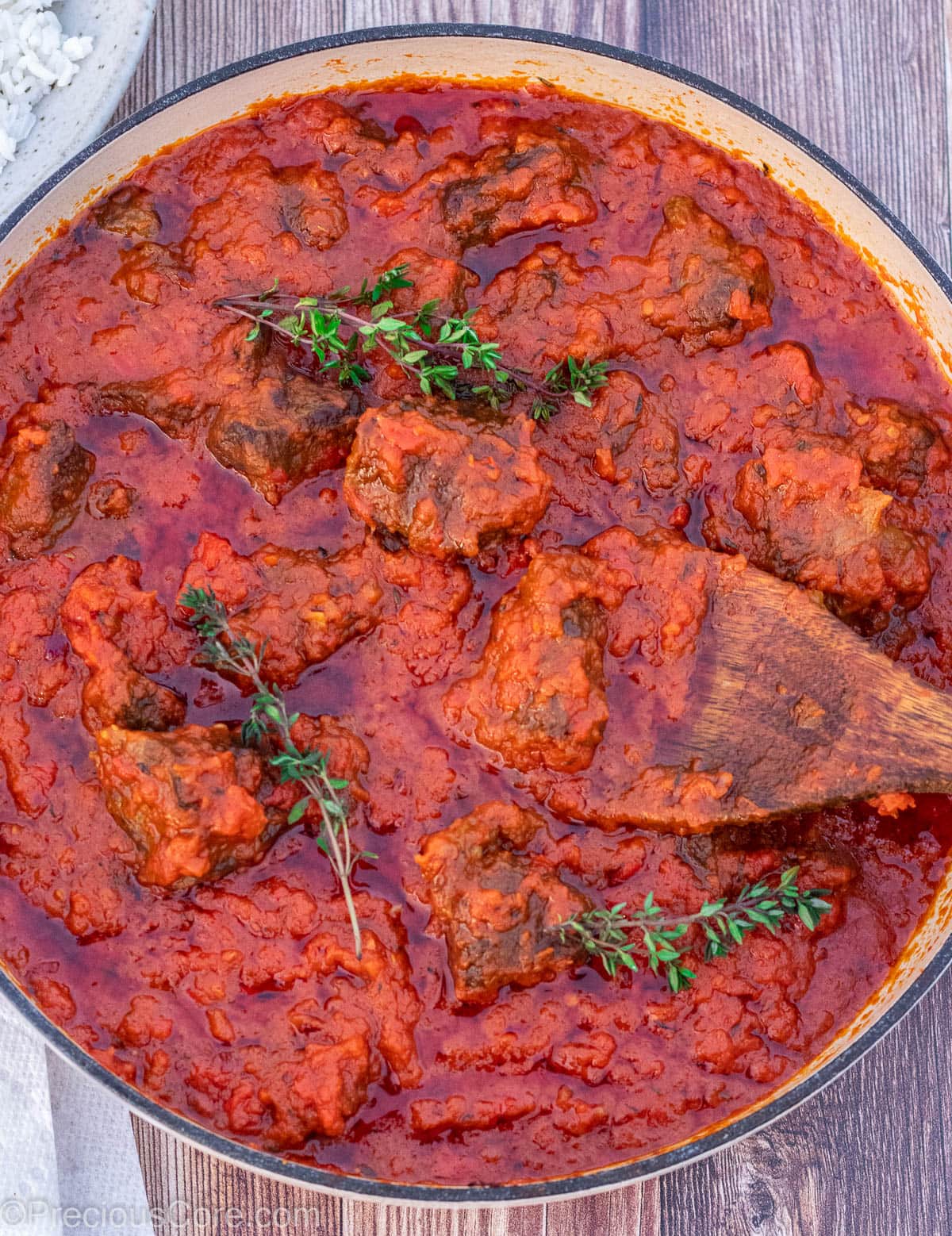 Recipe Frequently Asked Questions
What is Nigerian stew made of?
Nigerian stew is made of tomatoes, red bell peppers, onions, curry, and thyme. Most Nigerian stews contain either chicken, beef, or fish or a blend of various kinds of meats, referred to as "assorted meats".
What is the secret to good stew?
The secret to good stew is a great use of herbs and spices and time. The stew should contain a great combination of herbs and spices and it should be cooked long enough so that the flavors meld.
What are 3 popular foods in Nigeria?
3 popular foods in Nigeria are Egusi Soup, Pounded yam, and Jollof Rice.
Looking for other African Dinner recipes like this? Try these:
Pairing
These are some of my favorite side dishes to serve with Nigerian Beef Stew:
If you make this Nigerian Beef Stew recipe, please consider leaving a star rating and comment below. Also, consider sharing it on Instagram and tagging me @preciouscore. I love hearing from you!
Recipe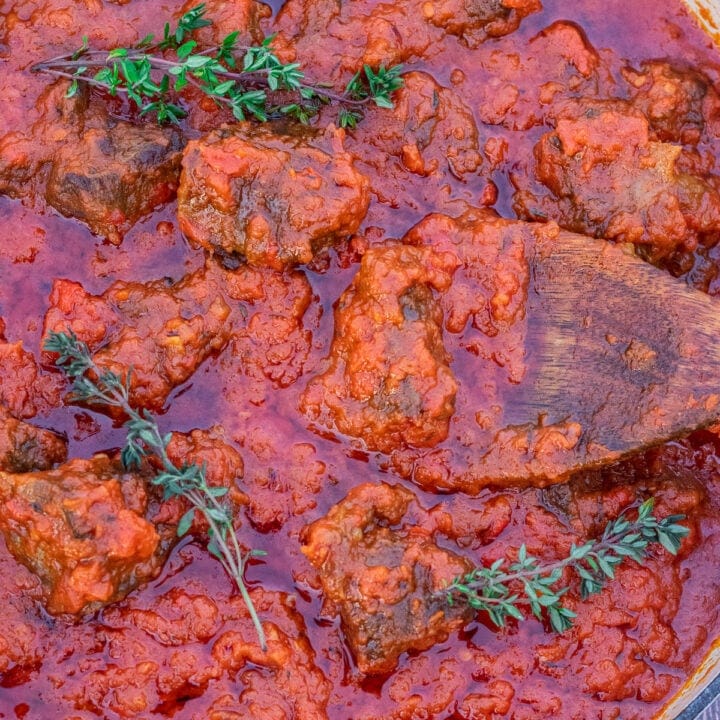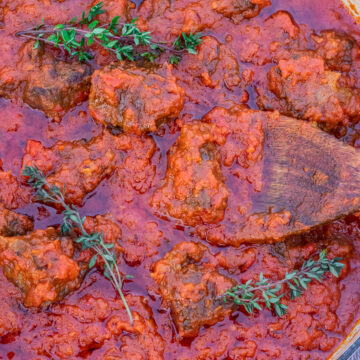 Nigerian Beef Stew
Nigerian Beef Stew is a vibrant tomato beef stew made with bell peppers, tomatoes, and aromatics. Serve with a side of rice, sweet fried plantains, and coleslaw for a true Nigerian dining experience. This recipe makes a big pot of stew so feel free to scale the recipe if you want a smaller quantity.
Servings: 12 servings
Calories: 396kcal
Instructions
Boil the beef: Place the chunks of beef into a medium pot. Add half of the diced onions, the salt, 2 teaspoons of chicken bouillon powder, half a teaspoon of thyme, and half a teaspoon of curry powder. Stir to combine. Place on medium heat and bring to a simmer. Let the beef cook together with the seasoning for 5 minutes. Add 2 cups of water, cover the pot and let it cook until the beef is tender. Start checking the beef for tenderness after around 15 minutes. Once the beef is done, drain it from its stock. Reserve the stock.
Blend the tomato-pepper mixture: Cut the tomatoes into chunks and place them into a blender. Cut and deseed the bell peppers and place them into the blender. Add the chunks of onions and habanero peppers. Blend into a smooth paste or a chunky sauce. A chunky sauce will lend more texture to the stew.
Cook down the tomato-pepper mixture: Place the tomato-pepper blend into a medium pot on medium heat. Bring to a simmer and let it cook until most of the liquid evaporates. About 10 minutes. Do not stir while cooking.
Fry the beef: Place a large pot on high heat and add the oil. Let the oil heat up then add half of the beef. Let it brown on one side then flip to the other side and let it brown. Remove the beef from the pot and also fry the remaining beef.
Cook the stew: Turn the heat down to medium. Add the remaining diced onions to the pot and saute until translucent. Add the tomato paste and cook for five minutes while stirring continuously to prevent burning. Add the reduced tomato-pepper mixture and cook while stirring from time to time for about 15 minutes. Add the remaining curry powder, thyme, and bouillon powder. Then add the stock from cooking the beef and the fried beef. Stir to combine and let everything simmer together for about 5 minutes. It might splatter at this point so cover the pot as needed. Taste to adjust seasoning.
Serve. Serve warm over steamed rice.
Notes
Additional Spices: Add garlic and ginger paste to the stew for more flavor. 
Beef Parts: Apart from chuck roast, other parts of beef you could use include sirloin steak, or flank steak. You could also use beef for stew.
Substitute for frying beef: Instead of frying the beef, you could broil it in the oven on low broil.
Excess oil: Consider skimming the excess oil after cooking if the oil is too much for you.
Nutrition
Calories: 396kcal | Carbohydrates: 7g | Protein: 23g | Fat: 31g | Saturated Fat: 8g | Polyunsaturated Fat: 3g | Monounsaturated Fat: 20g | Trans Fat: 1g | Cholesterol: 78mg | Sodium: 597mg | Potassium: 704mg | Fiber: 2g | Sugar: 4g | Vitamin A: 1190IU | Vitamin C: 35mg | Calcium: 38mg | Iron: 3mg