Pan Seared Shrimp | Precious Core
This Pan Seared Shrimp has amazing flavor! Just season some shrimp and sear in a hot skillet and you will have an amazing meal ready in under 15 minutes from start to finish!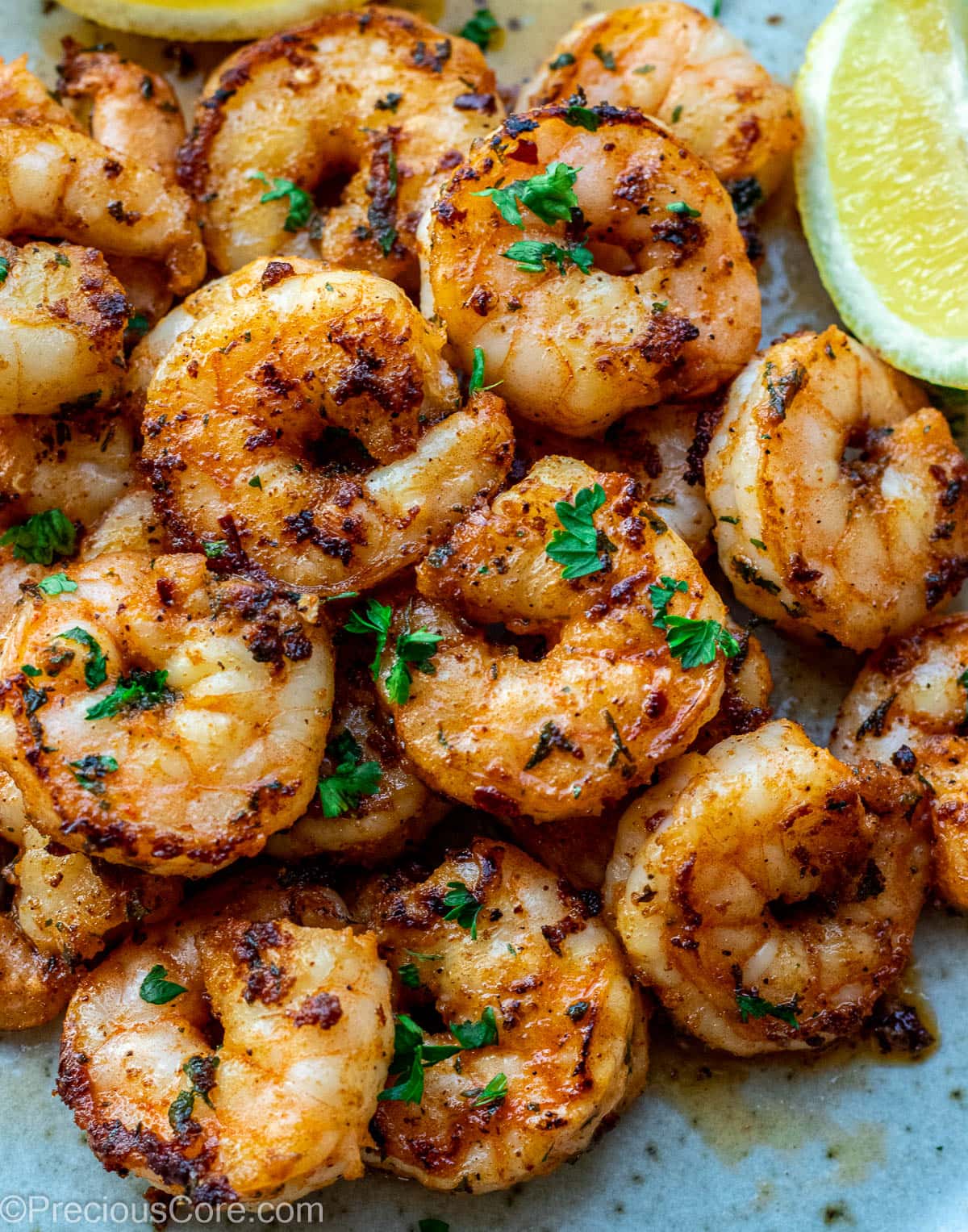 Cooking shrimp in a hot skillet creates a sear on the outside which adds great flavor to the shrimp. This is a quick and easy recipe as the shrimp cook in 4-6 minutes total depending on the size of shrimp you use.
Pair these caramelized juicy shrimp with some Lettuce Salad, Easy Coconut Rice, or Buttermilk Mashed Potatoes.
Why This Recipe Works
Quick and easy: This recipe is quick and easy as shrimp take very little time to cook. If your shrimp is frozen, you could thaw them for 30 minutes in cold water, changing the water every 10 minutes.
Great flavor: With the blend of spices used on the shrimp, the shrimp are so tasty. No bland boring shrimp here!
Family-friendly: This is an easy shrimp dinner to please the whole family! Feel free to scale the recipe as needed.
Pan Seared Shrimp Recipe
The recipe for Pan Seared Shrimp is one to have on your dinner rotation. You'll be in and out of the kitchen in no time!
If your shrimp are still frozen, there's no need to worry. You can quickly defrost shrimp in cool water. It's one protein that defrosts quickly!
Check out the full recipe at the bottom of this post but don't miss all the important tips in the post.
The Ingredients
The 3 main ingredients for Pan Seared Shrimp are shrimp, seasoning, and fat (oil, butter, or ghee). Here are the ingredients you need: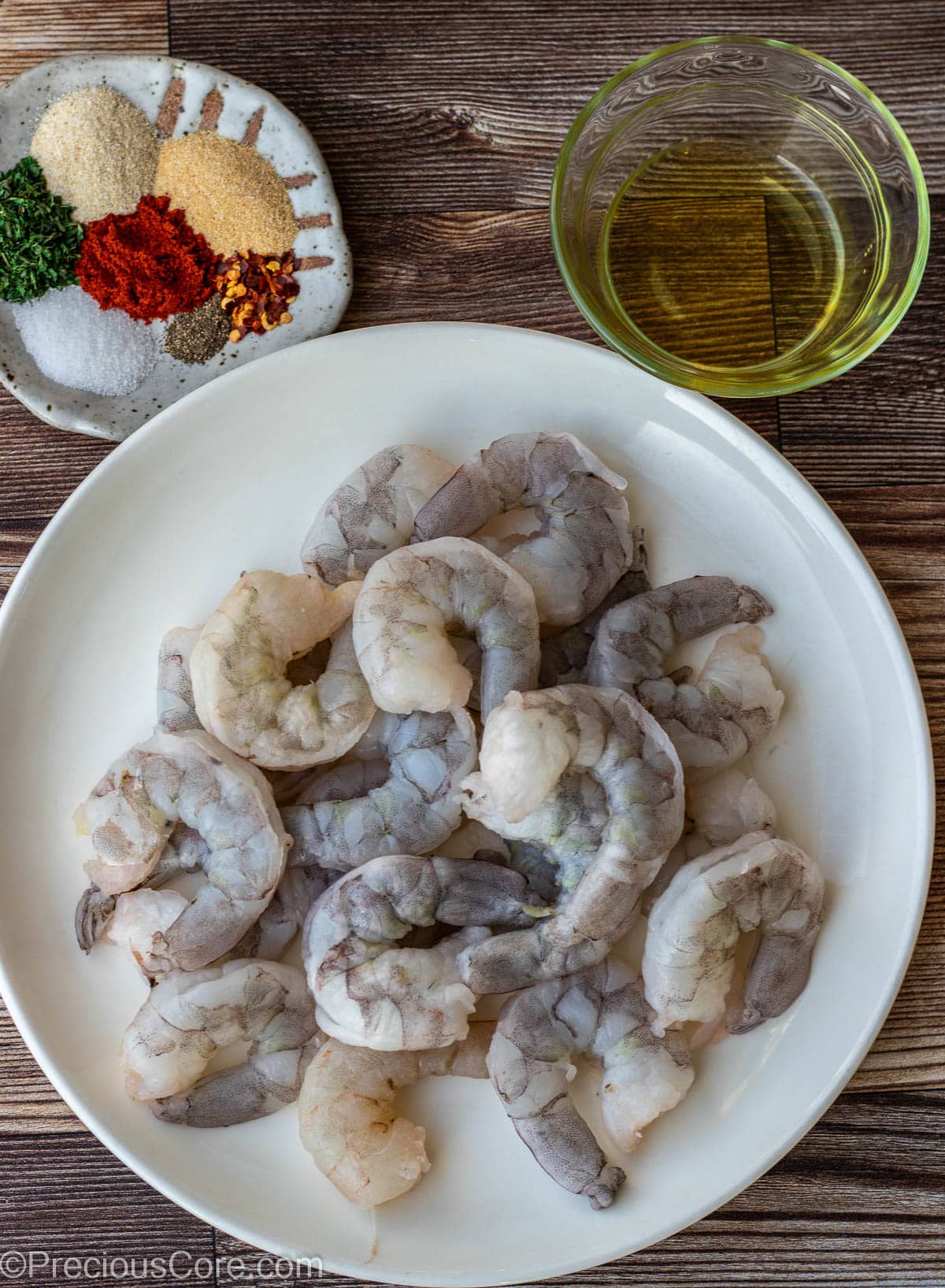 Shrimp: You could use any size of shrimp you have on hand. I used jumbo shrimp – it takes 16 to 20 jumbo shrimp to make a pound which is the amount the recipe calls for. Wild-caught shrimp or farm-raised shrimp work well in this recipe.
Seasoning: A combination of garlic powder, onion powder, parsley flakes, red pepper flakes, paprika, salt, and pepper, yields great-tasting and inviting-looking shrimp. A simple combination of garlic powder and onion powder will add great flavor to the shrimp.
Oil: Use olive oil or ghee to sear the shrimp. You could also use butter but note that butter burns quickly so it is not the best choice. Olive oil has a higher smoking point which makes it ideal for pan searing. You could add butter after the shrimp are cooked for buttery flavor.
Variations
Here are variations you could try with your shrimp:
Seasoning: Use a seasoning blend like Italian seasoning, cajun seasoning, or fajita seasoning to season the shrimp. Be sure to use salt-free seasoning or omit the salt in the recipe if the seasoning blend includes salt.
Spicy: Add cayenne pepper to the shrimp for a spicy kick!
Air fryer: Season the shrimp as the recipe states and cook them in an air fryer.
Also check out these recipes for Pan Seared Chicken Tenders and Pan Seared Tilapia.
How To Pan Sear Shrimp
Here is how to pan-sear shrimp in 4 easy steps. Use peeled and deveined shrimp. If your shrimp aren't peeled and deveined yet, start by peeling and deveining them.
Step 1: Begin by patting dry the shrimp with paper towels or a clean kitchen towel. This is crucial in ensuring that the shrimp gets a nice sear on the outside once it hits the hot skillet. More sear equals more flavor.
Step 2: Sprinkle the seasoning over the shrimp and toss well to combine.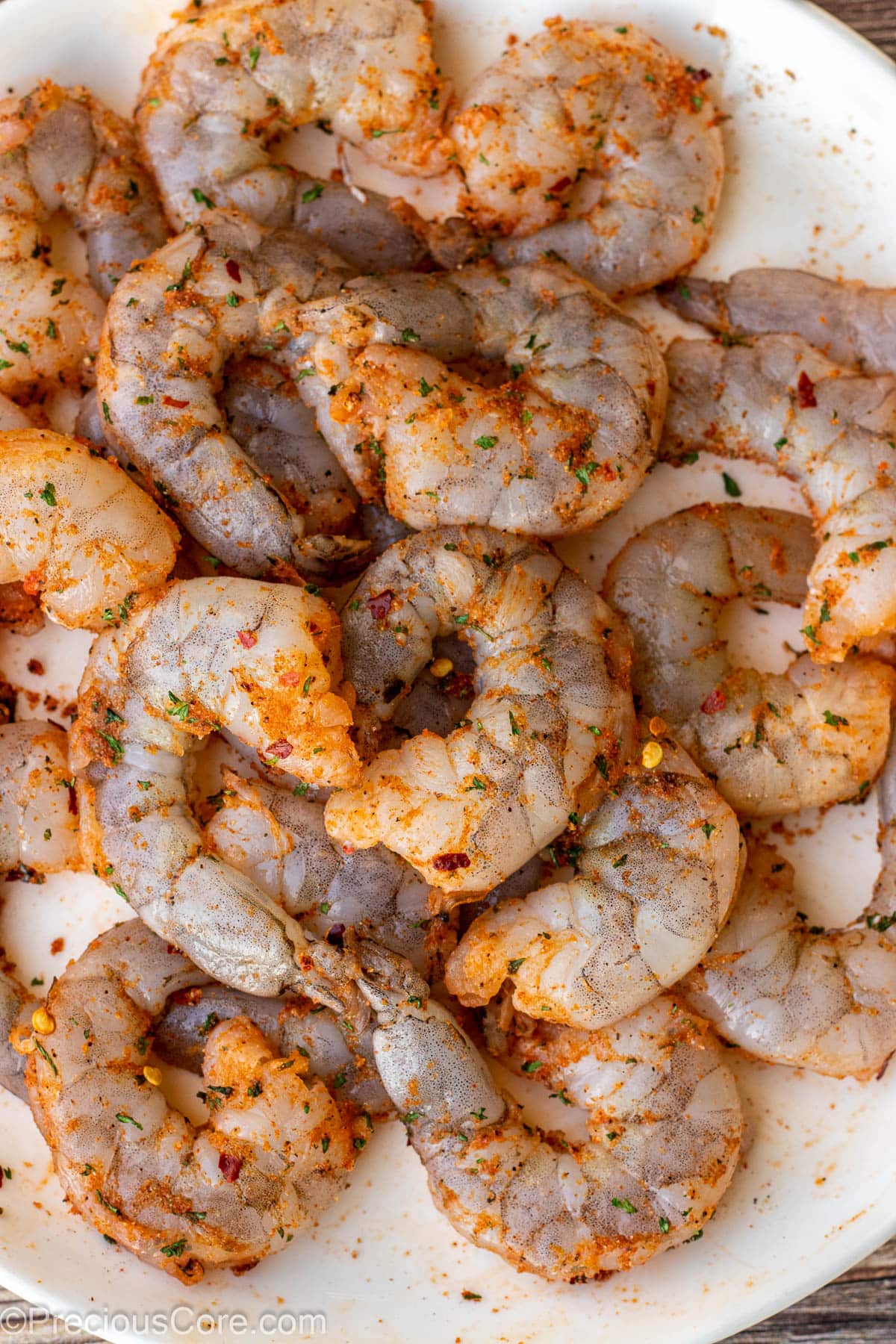 Step 3: Heat a 12-inch skillet on medium-high heat until smoking hot. A cast iron skillet works well here! Add olive oil to the pan and let it heat up for a minute then add the shrimp to the pan in a single layer. If your skillet is small, cook the shrimp in 2 batches.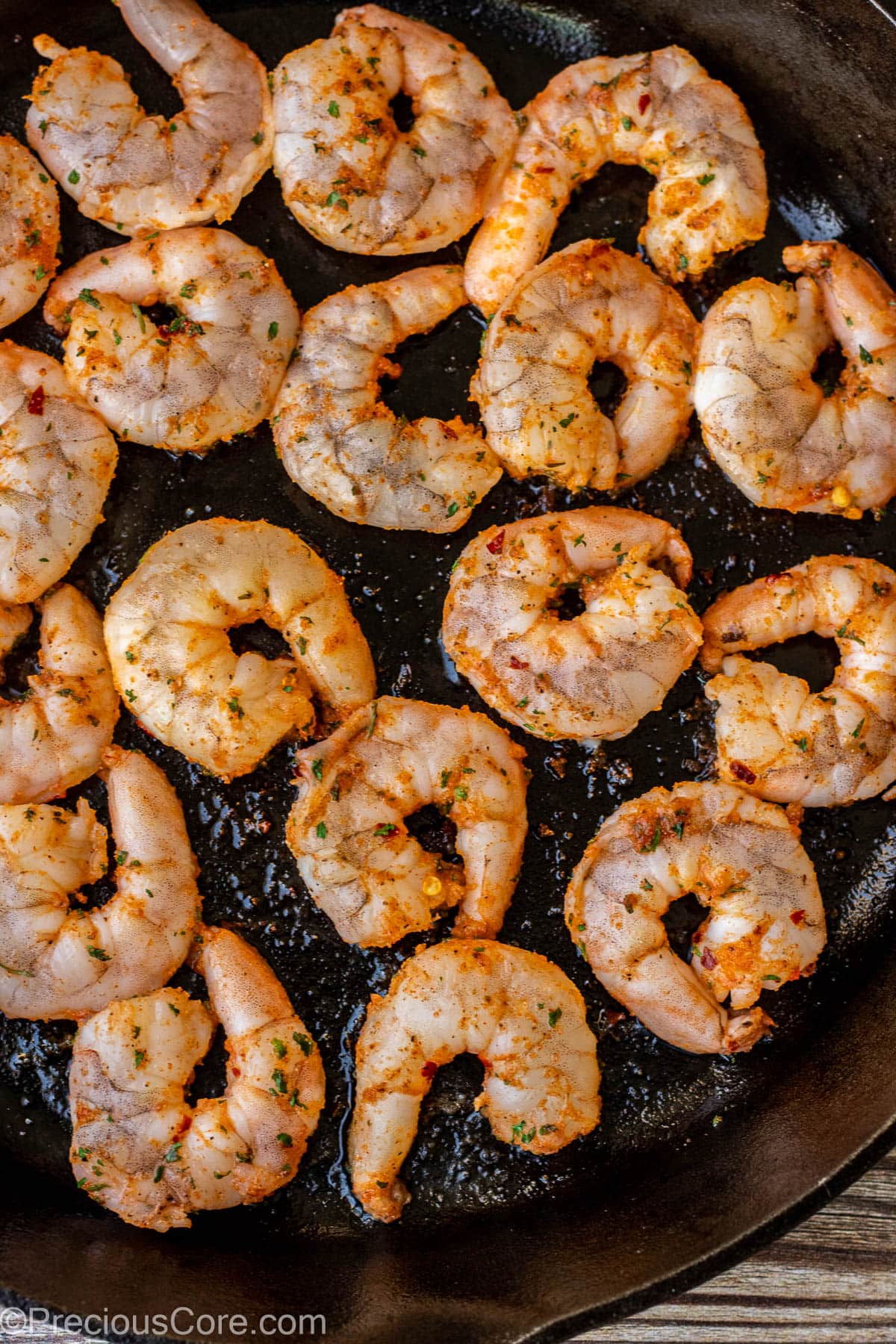 Step 4: Let the shrimp cook on one side for about 3 minutes until they turn from translucent to opaque then flip the shrimp to the other side and let them cook for another 2 to 3 minutes.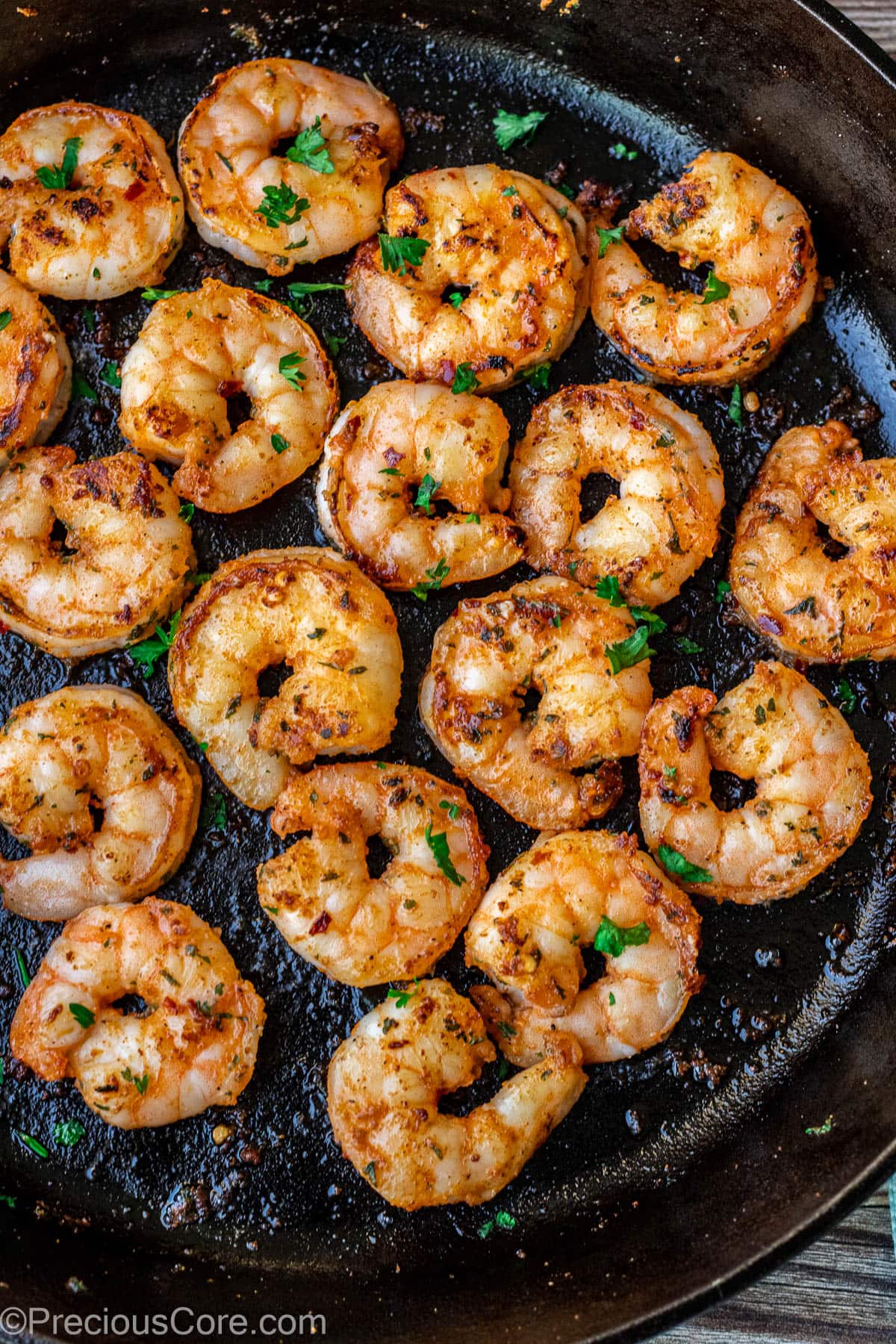 Garnish with fresh minced parsley or chives and serve. Fresh herbs add a lovely flavor to shrimp.
An optional finish to take your pan seared shrimp to the next level is to add two tablespoons of unsalted butter to the pan once the shrimp are done cooking.
Let the butter melt then spoon the butter over the shrimp. Squeeze fresh lemon juice over the shrimp and serve. The butter adds a buttery flavor that makes the shrimp even more enjoyable!
Always pan-sear shrimp in a single layer so the shrimp actually sear. Layering shrimp on each other will make them steam instead of searing. Use a large skillet so it's easier to cook the shrimp in a single layer or cook in a smaller skillet in 2 batches.
How Long To Pan Sear Shrimp
Shrimp cooks really fast. Once the shrimp goes from translucent to opaque, it is done. Remove from the heat immediately. Overcooked shrimp will be rubbery instead of soft and juicy.
Pan-sear jumbo or extra jumbo shrimp on medium-high heat for about 3 minutes per side and pan-sear smaller shrimp on medium-high heat for about 2 minutes per side.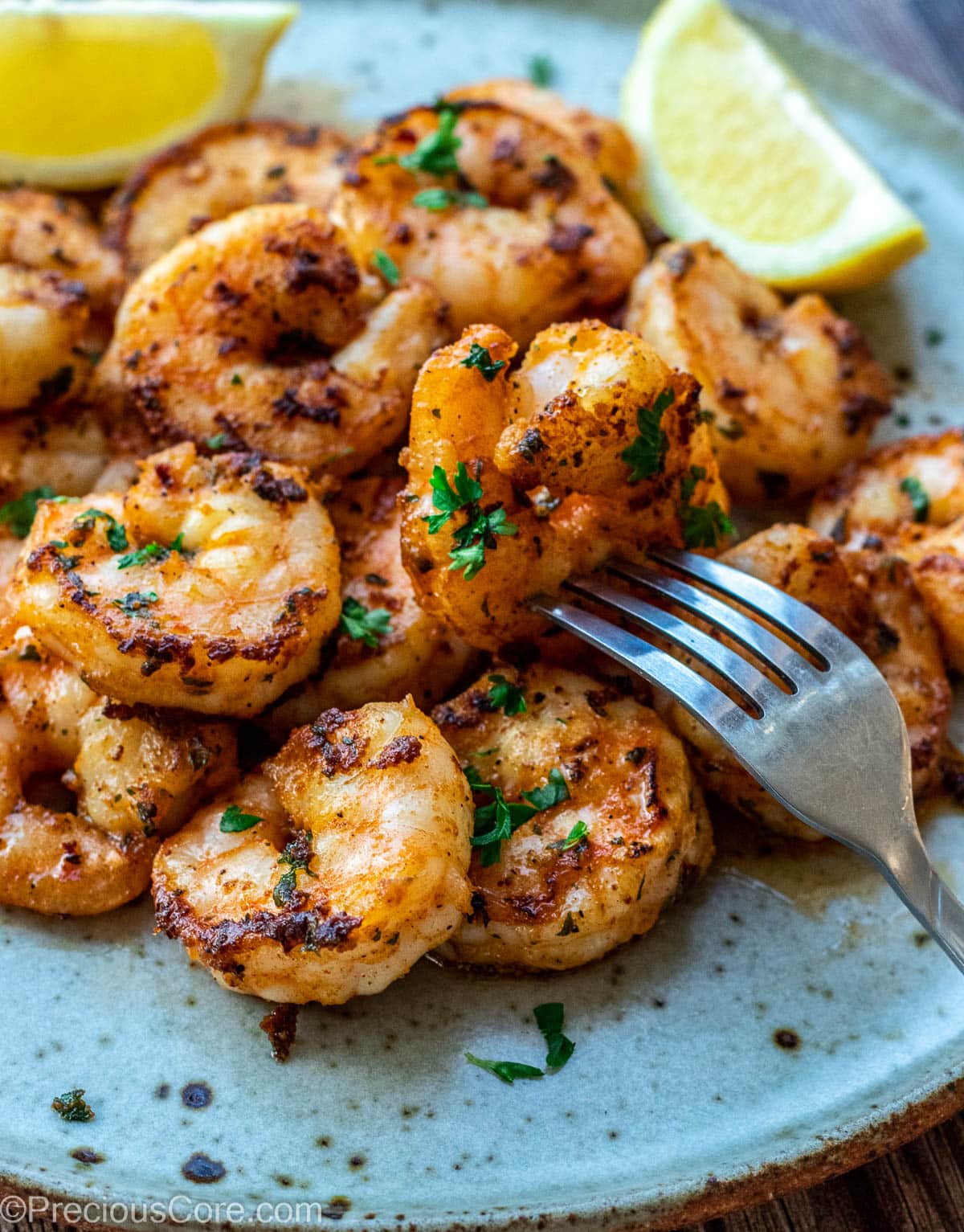 Serving Shrimp
Serve shrimp with lemon or lime wedges and vegetable or carby side dishes. Here are some favorite side dishes to serve with Pan Seared Shrimp:
Recipe Frequently Asked Questions
How do you cook shrimp and keep it moist?
You keep cooked shrimp moist by not overcooking it. Remove the shrimp from the heat once it turns opaque.
Do you season shrimp before or after?
It's best to season shrimp before cooking it.
How do you make shrimp more flavorful?
Coat the shrimp in loads of seasoning before cooking in ghee or oil. A squeeze of fresh lemon juice before serving elevates the flavor of shrimp or any seafood.
More Shrimp Recipes
If you love shrimp, check out these other shrimp recipes:
More Easy Dinner Recipes
Love easy-to-make dinners? Check out these favorites:
If you make this recipe please leave a star rating below. I love hearing from you!
Pat the shrimp dry thoroughly with paper towels or a clean kitchen towel.

Place the shrimp in a medium mixing bowl and add the salt and pepper, garlic powder, onion powder, paprika, parsley flakes and red pepper flakes. Mix well to combine.

Heat a 12-inch skillet (preferably cast iron) on medium-high until smoking hot. Add the olive oil and let it heat up for 1 minute.

Add the shrimp to the skillet in a single layer. Let them cook on one side for 3 minutes then flip them to the other side to cook for another 2-3 minutes until the shrimp goes from translucent to opaque.

Serve with lemon or lime wedges and a side dish like steamed broccoli, rice, or mashed potatoes.
Defrosting Frozen shrimp:

Bring shrimp to room temperature before cooking. If shrimp are frozen, place them in a bowl of cool water to defrost for 30 minutes changing the water every 10 minutes.

Shrimp size and cooking time: I used jumbo-sized shrimp here. If your shrimp are smaller, reduce the cooking time to about 2 minutes per side. Shrimp are done when they turn opaque.
Butter for flavor: For more flavor, add 2 tablespoons of butter to the skillet after the shrimp is done, and let the butter melt. Then spoon the melted butter over the shrimp.
Calories: 296kcal | Carbohydrates: 4g | Protein: 31g | Fat: 16g | Saturated Fat: 2g | Polyunsaturated Fat: 2g | Monounsaturated Fat: 10g | Trans Fat: 0.02g | Cholesterol: 286mg | Sodium: 1872mg | Potassium: 304mg | Fiber: 1g | Sugar: 0.2g | Vitamin A: 730IU | Vitamin C: 0.3mg | Calcium: 131mg | Iron: 1mg