Unofficial Slimming World Beef Stroganoff Recipe
My Mushroom Stroganoff recipe is really popular so I thought I would come up with a similar beef Stroganoff for all those who prefer a meat dish. It is really easy to make and all the family will enjoy it. Not only that but as it is made in a similar way to the mushroom stroganoff if, like us, some of the family are vegetarian and some are meat-eaters it is easy to cook them alongside each other in separate pans!
This website is in no way affiliated with Slimming World and no contributors have been trained by them or worked for them. It is the reader's responsibility to check syn values and allowances themselves on the Slimming World website as these are approximate.
Jump to:
Choosing the beef for this recipe
The best beef for this recipe is sliced steak or beef chunks. It is important to avoid stewing steak as this is tougher and works much better in slow-cooked recipes when the beef is slowly stewed.
The beef needs to have all visible fat removed. This is partly to keep you healthy but also to ensure the dish tastes nice and isn't just greasy and fatty unnecessarily!
Enjoying the Beef Stroganoff on Slimming World?
This recipe is perfect to enjoy on Slimming World as in my opinion it is syn free and incorporates lots of your speed vegetables.
To make it even healthier you could serve it with cauliflower rice or add extra vegetables on the side such as broccoli.
Making this recipe – a few easy steps
This is a really easy recipe to make so please don't be put off. If you can make something like a spaghetti bolognese then you can make a beef stroganoff it really is pretty foolproof!
If you are serving it with rice then I would suggest putting the rice on to cook at around the same time as you start the beef stroganoff. If it is cooked sooner it will stay warm so don't worry too much.
Firstly, spray a large frying pan or wok with low-calorie cooking spray and place over medium heat. As it warms up add the beef strips or pieces and fry, stirring occasionally until cooked throughout.
Remove the beef from the pan and empty out any liquid that has come out of the beef and then wipe the pan of any residue before returning the pan to the heat.
Fry the onion and garlic until translucent and slightly soft then add the mushrooms, cooked beef, Henderson's relish or Worcestershire sauce, black pepper, paprika and stock. and simmer until the mixture is warmed through and the mushrooms are cooked.
Remove from the heat and gently stir in the fromage frais.
Serve immediately.
Leftovers of your healthy Beef Stroganoff
Any leftovers of the recipe can easily be put into a microwavable container to reheat in the next 3 days.
The healthy beef stroganoff can be frozen either with or without the rice in portions and defrosted before reheating.
When reheating the healthy beef stroganoff it can occasionally lead the fromage frais in the recipe to split and change the appearance slightly. If this happens it is merely an aesthetic issue and it should still taste good.
Other recipes you might like
If you have enjoyed this healthy beef stroganoff then a few other recipes you might like are mushroom stroganoff, Beef bourguignon and Cottage pie.
For other dishes with rice check out my rice-based recipe guide full of recipes that use rice or can be served with rice you will enjoy.
For an easy foolproof recipe to cook rice check out my guide. Cooking rice is really not difficult, you just need to know the tricks!
Print
Recipe
clock iconcutlery iconflag iconfolder iconinstagram iconpinterest iconfacebook iconprint iconsquares iconheart iconheart solid icon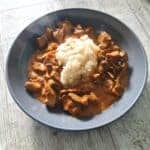 Healthy beef Stroganoff recipe
Author:

JustAverageJen

Prep Time:

5 minutes

Cook Time:

25 Minutes

Total Time:

30 minutes

Yield:

4

portions

1

x

Category:

Main meal

Method:

Hob

Diet:

Low Calorie
---
Description
An easy tasty healthy beef Stroganoff that is low-calorie and perfect for all the family.
---
---
Instructions
Spray a large frying pan or wok with low-calorie cooking spray and place over medium/high heat.
Fry the beef for around 10 minutes or until it is cooked thoroughly then remove from the pan using a slotted spoon and set aside.
Empty any liquid from the frying pan/wok and wipe out with some kitchen roll then replace on the heat.
Fry onions and garlic for around 3 minutes until the onion is soft and translucent.
Add the mushrooms, stock, a few twists of black pepper, paprika, Hendersons relish or Worcestershire sauce, and the cooked beef and simmer for around 10 minutes until the mixture is thoroughly warm and the mushrooms are cooked.
Remove from the heat and gently stir in the fromage frais.
Serve immediately garnished with a little fresh parsley and some freshly cooked fluffy rice.
---
---
Recipe Card powered by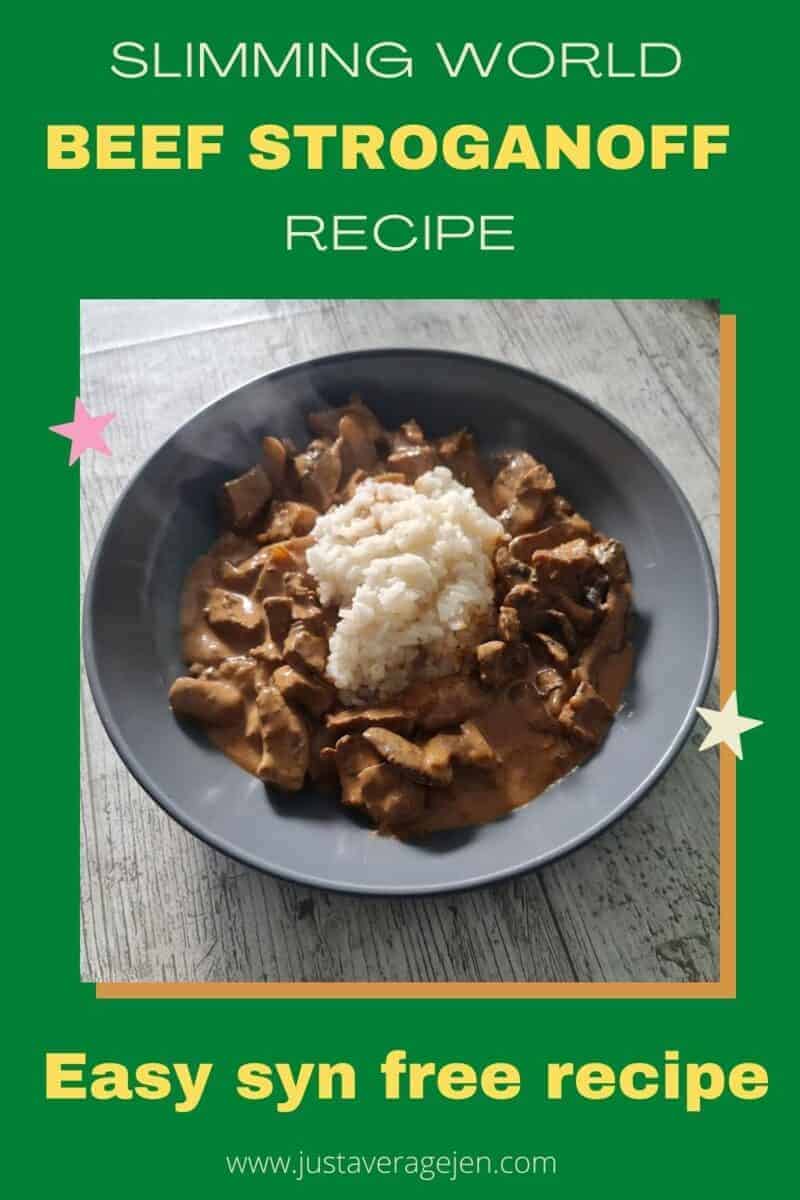 My amazing freebies
I know how hard it can sometimes be to stick to a plan and follow a new routine. Planning is key so here are some weight loss resources that should really help you with that.