Easy Big Mac style rice bowl
This website is in no way affiliated with Slimming World and no contributors have been trained by them or worked for them. It is the reader's responsibility to check syn values and allowances themselves as on the Slimming World website as these are approximate.
Do you love McDonald's but are trying to be healthy? I know how hard it is, there are so many tempting meals out there that are high in calories, points syns or whatever but they are just not good for you. This Big Mac style rice bowl is perfect for a Slimming World friendly McDonald's fakeaway with all the flavour and fewer calories!
Jump to:
How to make the Big Mac rice bowl
This is a really easy recipe to make that will soon become a firm family favourite. If you know that a Big Mac is out of the question so you can stay on plan then this is definitely a recipe worth trying.
Firstly get all your ingredients out to ensure you have everything you need.
Wash the rice well to ensure the water runs clear, this stops the trice from sticking together when cooking and makes the best rice.
Add the rice and water to a medium-sized pan and bring to a boil. Then reduce the heat to a simmer and place the lid on the pan and cook for 16-18 minutes until cooked. Then remove the pan from the hob and set aside.
Whilst the rice is cooking you can start the mince recipe. Using a frying pan, brown the mince and season well with salt and pepper to taste. This should take around 8-10 minutes.
Meanwhile, slice your iceberg lettuce and dice the pickles and set aside.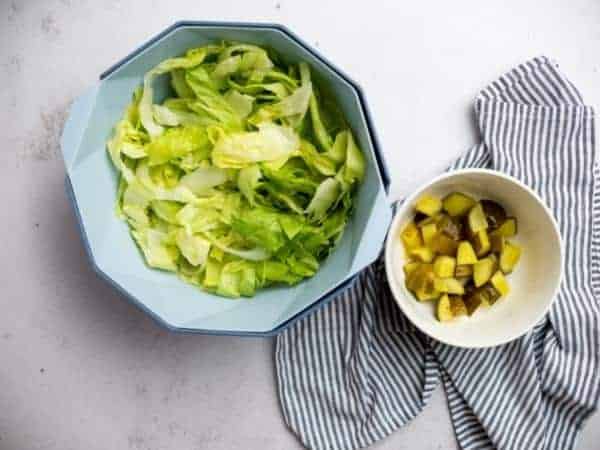 Mix the Big Mac burger sauce by mixing all ingredients in a small bowl.
Assemble the Big Mac style rice bowl in individual bowls with the cooked rice then lettuce, then cooked mince followed by cheese, pickles and the homemade sauce.
Enjoy your tasty Big Mac style rice bowl!
Enjoying this Big Mac style rice bowl on Slimming World
This recipe is predominantly syn free I believe with the only syns being in the mayonnaise. The syns in the mayonnaise vary depending on brand but are minimal at around 1 syn per portion. Watch out for the lowest fat mayonnaise, usually called lighter than light or very low fat.
The cheese you use in this recipe can be weighed and used as part of your healthy extra a allowance for the day or synned accordingly.
If you choose 5% fat mince then this is usually also syn free, if you buy other mince then this will likely need to be synned. Check this in your Slimming World book or with your consultant or online.
Other recipes you might enjoy
If you like fakeaway type recipes then you should try my doner kebab recipe and my Chinese fakeaway recipes as they are reader favourites. Others that are great for fast food fans are KFC fakeaway and fakeaway pizza.
Print
Recipe
clock iconcutlery iconflag iconfolder iconinstagram iconpinterest iconfacebook iconprint iconsquares iconheart iconheart solid icon
Easy Big Mac style rice bowl – a Slimming World friendly McDonald's Fakeaway
Author:

JustAverageJen

Prep Time:

5 minutes

Cook Time:

20 minutes

Total Time:

25 minutes

Yield:

4 portions

Category:

Main meal

Method:

Easy hob recipe

Cuisine:

Slimming World

Diet:

Low Calorie
---
Description
A tasty healthy alternative to a Big Mac from McDonald's with this Big Mac rice bowl fakeaway
---
---
Instructions
• Start by soaking and washing your rice until the water is clear. Drain all access water.
• Add the rice and water to a medium-sized pot and add bring to a boil on high heat. As soon as it starts boiling, bring the heat to low/simmer, cover with a lid, and let cook for 16-18 minutes, until cooked. Then remove from the stove.
• In a pan, brown your beef until cooked and season with salt and pepper to taste. This might take about 8-10 minutes. Remove from hob once done.
• While your rice and beef are cooking, slice your iceberg lettuce and dice your pickles, then set aside.
• Then make your Big Mac Burger sauce by mixing all the ingredients in a small bowl.
• Start assembling your rice bowls. Start with rice, then lettuce, then minced beef, cheese and pickles and top off with your sauce.
• Enjoy!
---
---
Recipe Card powered by
Weight loss Guides
I have a lot of Unofficial Slimming World and weight loss information along with support if you want to exercise for weight loss including if you have a condition like fibromyalgia.
Have a good look around and see how I can help you achieve your weight loss goals. Request my free resources to get you started too!
Here are some quick jump buttons to help you find my most popular Slimming World guides (all unofficial) and be sure to check out all my Slimming World friendly recipes too.
Check out frequently asked syn values here.
My amazing freebies
I know how hard it can sometimes be to stick to a plan and follow a new routine. Planning is key so here are some weight loss resources that should really help you with that.