Baked Cajun Salmon | Precious Core
With only 10 minutes of prep time, you'll have this Baked Cajun Salmon in the oven. 5 simple ingredients and less than 25 minutes later, you are rewarded with a tasty salmon dinner!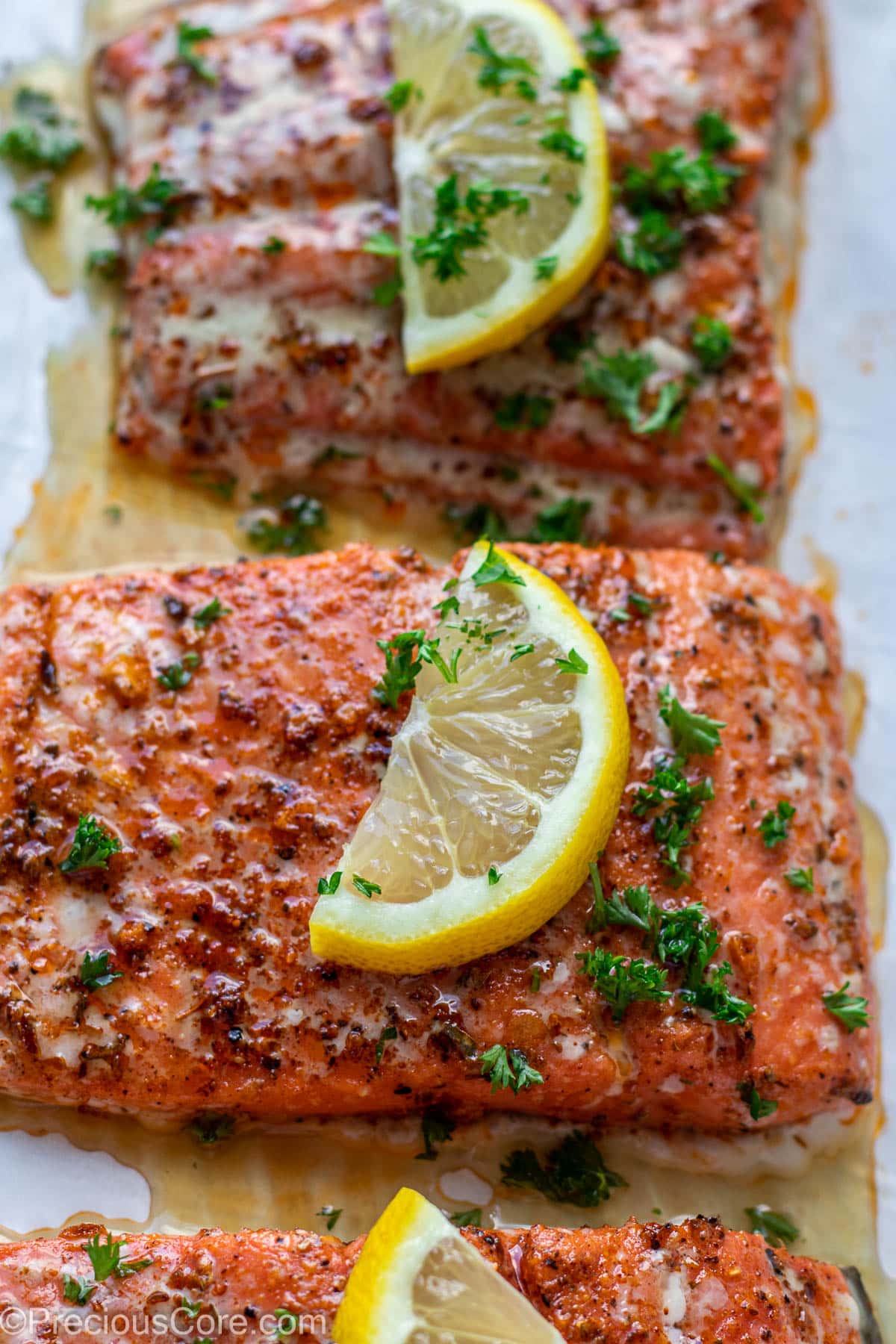 This baked salmon dinner is perfect for weeknights, Sunday Supper, or special occasions. It is so easy yet it makes a great impression.
I've been on a salmon kick lately and I have enjoyed creating so many recipes with this top-tier fish.
In addition to this ridiculously easy and tasty Baked Cajun Salmon, add these tasty salmon recipes to your cooking rotation: Pan Grilled Salmon, Lemon Butter Salmon, Pan Fried Teriyaki Salmon, and Salmon and Broccoli Sheet Pan.
Jump to:
Why This Recipe Works
Ease of prep: I have made salmon a variety of ways and while sometimes it's nice to hover over a skillet pan-searing the fish, sometimes it's also nice to prep the fish and place it into the oven or air fryer to finish the good work you have started.
Cajun seasoning: Cajun seasoning is a spice blend used in cajun cooking. You can either make cajun seasoning at home or you can purchase cajun seasoning from the spice section of your grocery store. Cajun seasoning adds great flavor to the salmon, an already tasty fish.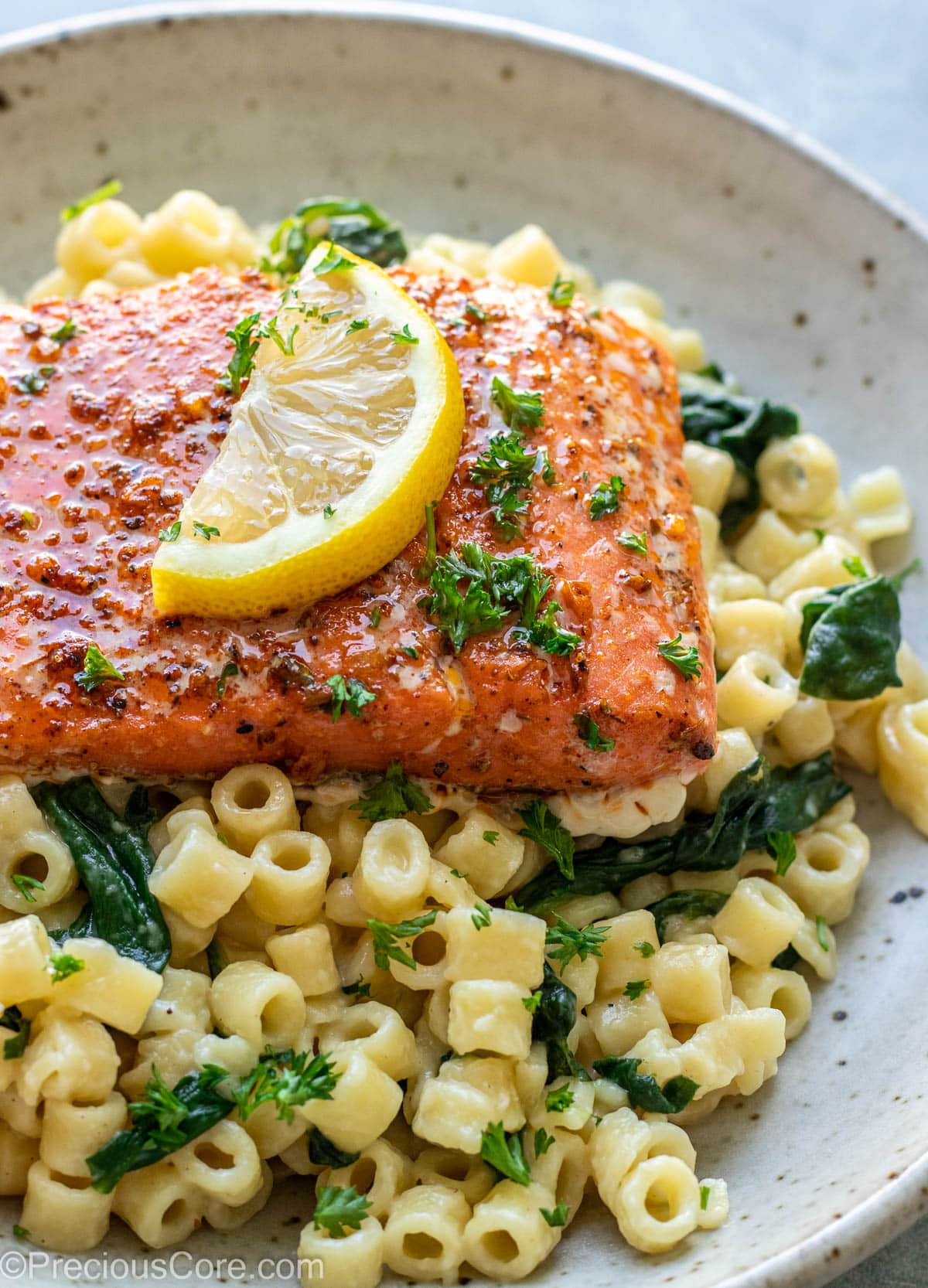 Versatility: The Cajun in this recipe kind of defines the meal but it's the only spice used. But don't let that deter you from sprinkling on some garlic powder, parsley flakes, paprika, dried thyme, and other spices that go well with fish. It's your fish, you can season it how you like.
Oven or air fryer: Still, on versatility, you can make this Baked Cajun Salmon either in the oven or in an air fryer. Just follow the directions to ensure that you are not overcooking the fish. See my salmon cooking guide below.
Perfectly flaky fish: After making salmon umpteen times whether on the stovetop or on the oven, I have finally cracked the code for juicy perfect fish. This recipe shows you how not to overcook your fish. More details on this are below.
Cajun Seasoning
Growing up, I mostly cooked using fresh spices and herbs. While you cannot deny the flavors in fresh spices and herbs, dried spices, herbs, spice blends, and seasonings are a great addition to every kitchen.
So if you've not used Cajun seasoning before, I encourage you to get a jar or 2 and start experimenting with it. Add some to chicken before roasting, add some to fish before pan-searing, and toss some with vegetables before roasting.
Add some to shrimp, steak, or even popcorn!
The ingredients used in Cajun seasoning include garlic powder, onion powder, dried thyme, paprika, dried oregano, and cayenne pepper. The addition of cayenne pepper doesn't always suggest that Cajun seasoning is overtly spice. In fact, most of the brands I have used had a very mild, just delicious spicy kick.
Using Cajun seasoning makes making this Cajun Salmon a whole lot easier! It is a dinner that works for a busy mama like me. I do not need to sort out spices for my fish. Just one scoop of cajun seasoning and my fish has so much flavor!
However, if you are a garlic person, feel free to add some garlic powder to the salmon. It can only make it better.
Ingredients For Baked Cajun Salmon
With such a short ingredient list, there is no stopping you from making Baked Cajun Salmon. Like what is your excuse? Here are the ingredients you need: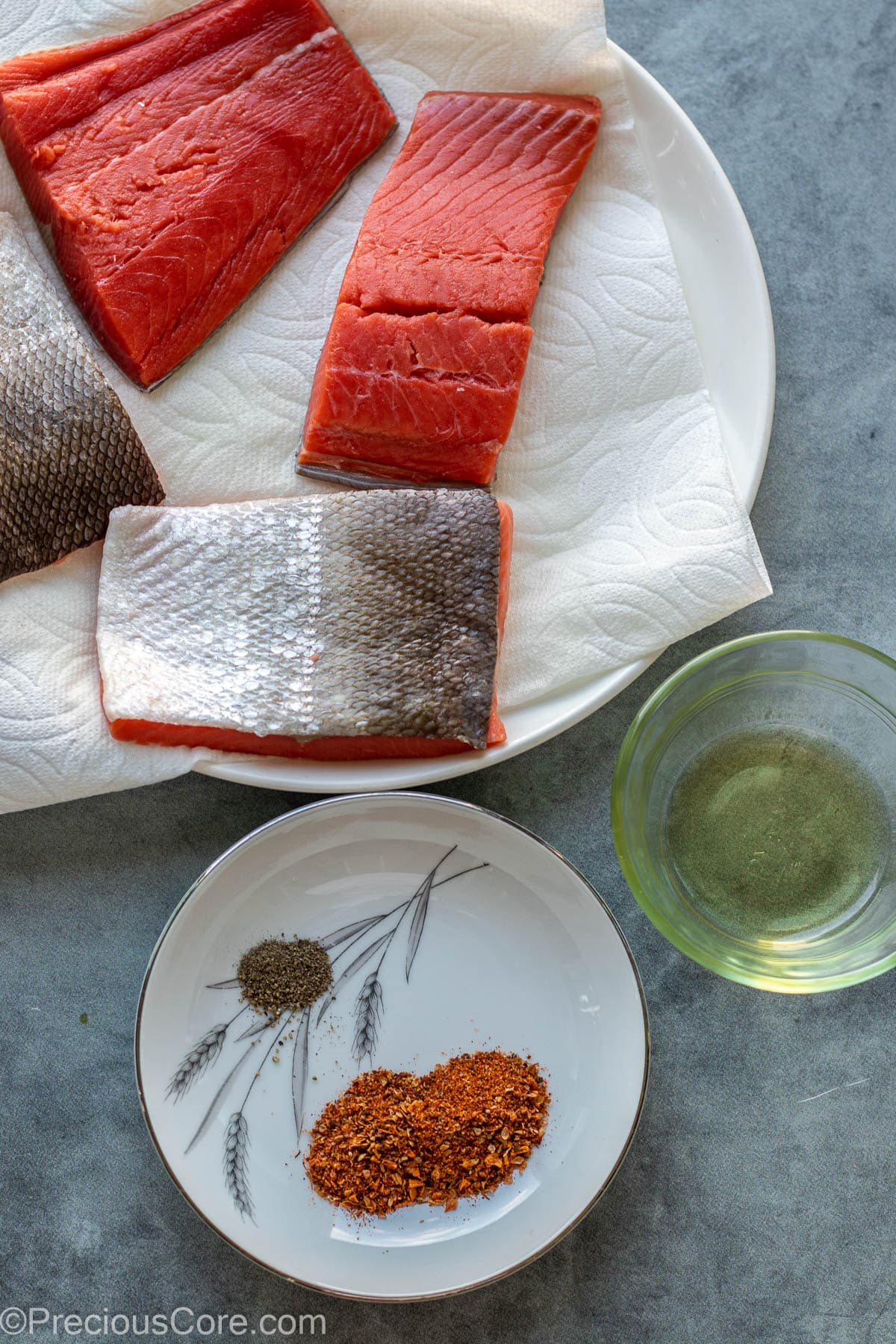 Salmon: Wild-caught is my preference because of its great flavor. But there are some good farm-raised versions of salmon too. The fish should be thawed overnight in the fridge if frozen. If not thaw in cool water at room temperature.
Salt and pepper: If you can lay your hands on white pepper, use it. The flavor profile of white pepper pairs so well with fish.
Cajun seasoning: A great blend of spices and herbs that adds enough flavor to the fish.
Substitutions and Variations
Fish: Substitute salmon with other kinds of fish like trout, halibut, tilapia, or snapper.
Seasoning: Instead of Cajun Seasoning consider using other seasoning blends like Italian seasoning or old bay seasoning.
Garlic butter: Melt some butter, add minced garlic and minced parsley to the melted butter, then pour the garlic butter over the fish when done. This makes a great sauce that pairs well with the fish.
Please also check out this Salmon and Broccoli Sheet Pan which makes a great low carb sheet pan meal.
How to Make Baked Cajun Salmon
In four easy steps, you can make Baked Cajun Salmon.
Step 1: Pat the salmon dry with paper towels.
Step 2: Drizzle the salmon with olive oil.
Step 3: Sprinkle cajun seasoning and salt and pepper on both sides of the salmon.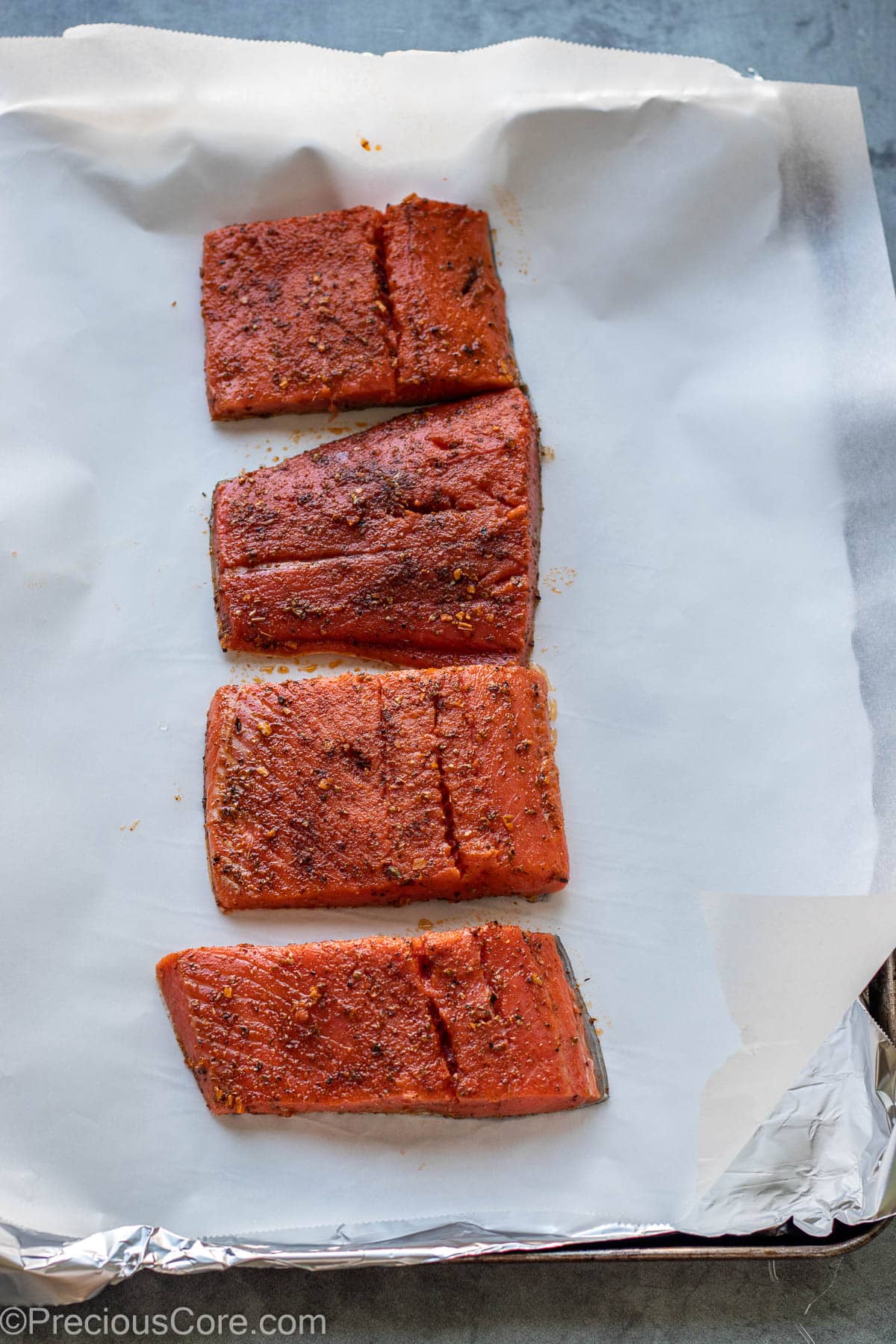 Step 4: Bake in a 400-degree Fahrenheit (200-degree celsius) oven for about 12-15 minutes until the fish flakes easily when pricked with a fork.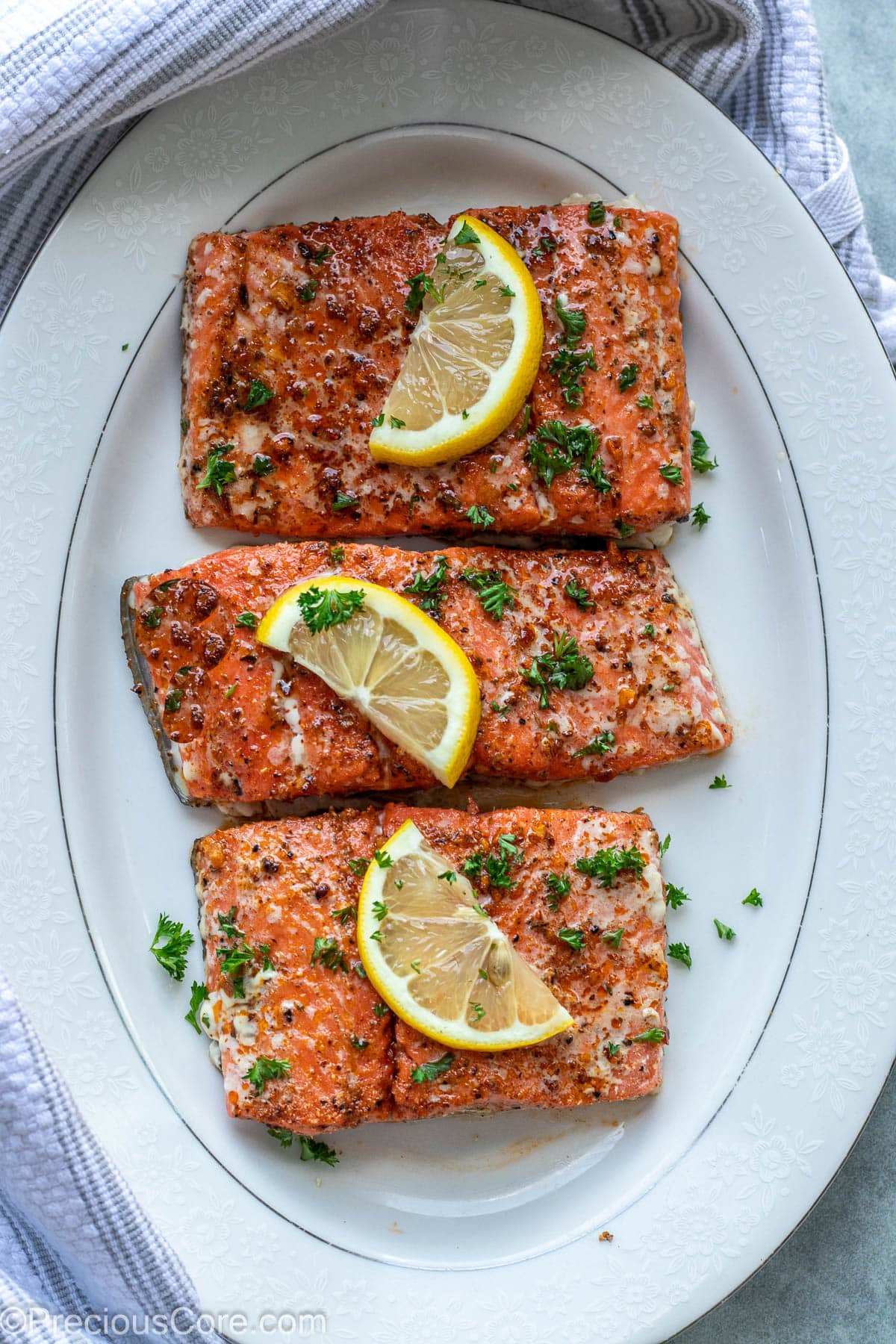 Serving
Serve Baked Cajun Salmon warm with any side you like. Here are some favorite sides to go with salmon:
More Salmon Recipes
If you love this recipe also check out the following well-tested salmon recipes:
If you make this recipe, please consider leaving a comment or star rating below. I love hearing from you!
Recipe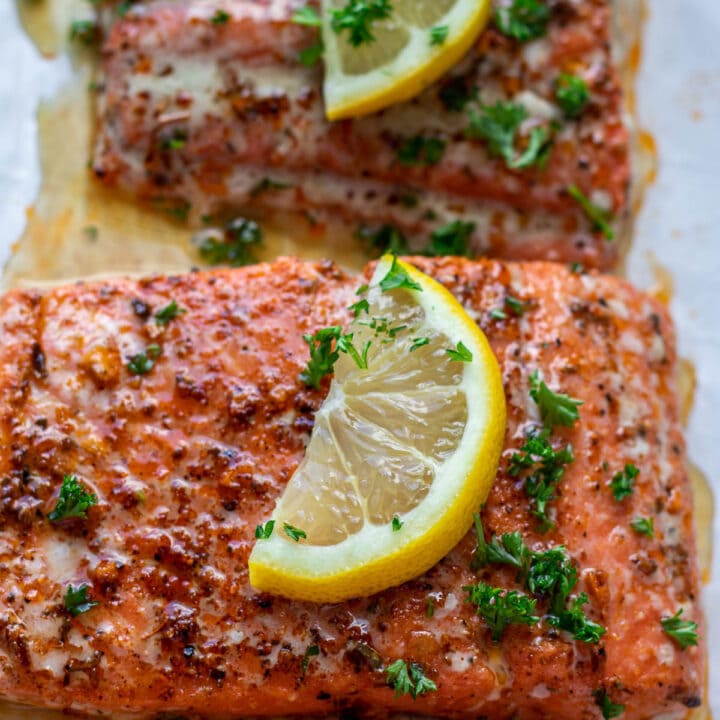 Cajun Salmon
We love salmon in my home. This Cajun Salmon is so good because it is ridiculously easy to make with cajun seasoning. Serve with any vegetable or carb-y side you like.
Servings: 6 servings
Calories: 130kcal
Instructions
Line a baking sheet first with aluminum foil then line the sheet again with parchment paper. The parchment paper prevents the fish from sticking to the foil.

Preheat oven to 400 degrees F (200 degrees C).

Pat both sides of the salmon dry with paper towels.

Drizzle the olive oil on both sides of the salmon.

Sprinkle cajun seasoning, black pepper, and salt (to taste) evenly on each side of the fish.

Place the fish on the prepared tray, skin side down if the salmon has skin on.

Place in oven and let it cook for 12-15 minutes until the salmon flakes easily when pricked with a fork.

Serve warm with your favorite side dish.
Notes
1. Thawing salmon:
Thaw frozen salmon in the refrigerator overnight if you plan a day before. If not, cook the salmon from frozen. It will take a little longer to cook than thawed salmon but it will work. I have done it this way before and it worked well.
2. Salt: Add salt depending on the saltiness of the Cajun seasoning you use. If your Cajun seasoning is significantly salty, add very little salt or skip the salt altogether.
Nutrition
Calories: 130kcal | Carbohydrates: 0.4g | Protein: 15g | Fat: 7g | Saturated Fat: 1g | Polyunsaturated Fat: 2g | Monounsaturated Fat: 3g | Cholesterol: 42mg | Sodium: 34mg | Potassium: 386mg | Fiber: 0.2g | Sugar: 0.1g | Vitamin A: 359IU | Vitamin C: 0.01mg | Calcium: 11mg | Iron: 1mg