Christmas gift ideas for the family
(adsbygoogle = window.adsbygoogle || []).push({});
Sometimes when we are buying gifts we choose to buy something to give to a family to share. It is gifts like that I often get stuck with. It is easy to pop to the supermarket and pick up a tub of Roses or a bottle of wine but it never looks very thought out does it?
Here are some ideas for gifts for a family as a whole. Check out lots of other gift guides and my tips of what not to buy here.
Jump to:
Gifts for a young family
Games for a family with young children
Go Nuts! is a fun game where players make a fool of themselves. Doing silly actions to ask your opponents for cards the objective is to get the most sets of 3. You can't do it though if you are not prepared to act out each of the cards! This game is just £5 on The Entertainer.
Crown the Unicorn is a search and find type game for anyone who is unicorn mad. Ideal for 4-year-olds and over it is easy to plan and simple to set up. £10 on The Entertainer.
Top trumps is a great family gifts with so many varieties available! They do quiz boxes suitable for older children and adults but also the standard Top Trumps which are suitable for all ages once children can read enough in my opinion. These Roald Dahl ones are lovely. Which are your families favourite Top Trumps?
If you are buying for a young family where the children like putting on shows, acting and generally having fun then this might be a nice gift for you to consider. Everyone playing has hidden forfeits to complete such as pulling funny faces and doing animal impressions! It is available from Bright Minds.
Non-game gifts for young families
A household who loves Lion King that you want to buy a gift for, perhaps to go with the card game shared above? This Hakuna Matata hanging art is £26 and would make a lovely addition to their house.
Gifts for an older family or all adults
Games and puzzles for adults or teenagers
Stupid Deaths is a fun game where you guess which of the deaths described are real and which are fake. Moving around the board is only achieved by guessing correctly some of the most bizarre and unusual deaths! Buy it from Wicked Uncle for £22.95.
Pass the pugs would be a great gift for a family with children over 6, essentially it is the same as the pass the pigs game you have probably played before but with pugs! Available for £8.49 from Zavvi.
The Very Merry Christmas Game is a fun Christmassy board game which involves stealing other peoples presents, peeking inside stockings and carol singing. Genuinely a fun game for all the family. Whilst it is recommended from age 8 and above I think with a little support younger children could play it too. Available from Zatu games for £17.63.
Pass the Bomb The Big One is a great family game for those who like a game full of challenges. It is great for children 8+ and 2-8 players or teams! Definitely, one to consider and with new challenges this year it is £20.99 on Amazon and also available on Gibson Games.
Exit the Game is a popular set of exit room type games available from Wicked Uncle, this one involves you having to solve riddles to get out on time, it is just £13.95 so great for a family gift when you do not want to spend too much but would rather avoid a box of chocolates!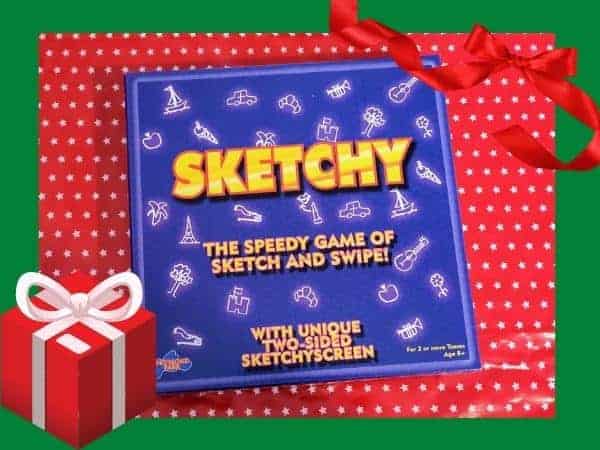 Sketchy is a great family game for those aged 8+ which involves quick drawing so your teammates guess what you have drawn. A race against the clock to draw quickly and effectively 6 different pictures in 30 seconds. No batteries are needed and quick to understand and play. Check it out for £25 from The Entertainer.
This is definitely a game for adults only Sexy Charades is a hilarious game of charades where you are acting out rather adult themes! Perfect for an adult family to share and have fun or even a couple. Available for just £14.99 here.
This is a trivia type game with a difference. Instead of needing to give the exact answer you instead have to give a range. Sure to give a family a lot of fun trying to guess things like how fast a kangaroo can hop! The smaller the range you guess, the more points you get if you are right! I can imagine this being a fun game with teenagers who don't want to play games but can't help themselves joining in! Buy it for £19.99 directly from the Confident shop.
Tension is a great game of naming the top 10 of something. In this foodie edition, you have to name things like the top 10 french wines, foods from a chip shop, etc and all against the clock! This game is £17.99 from Zavvi.
Are you buying for a family who loves a rapid recall game? Trying against the clock to think of as many words as they can link to something? It is one of those games that sound easy until you are playing against the clock and your mind goes blank! It is currently on offer on Zavvi for £17.95 and is ideal for ages 12+.
Are you buying for a trivia loving family? This is a great game where you need to not only be good at trivia but totally on the ball too as you don't give the answer to the question asked but the previous question! Yes, that's right you have to remember the previous question and answer that! Will it catch you out? Buy Out Of Order for a family gift or even for your own family for £16 from Gibsons.
Around The Box is a great game for ages 6+ but I have recommended this for older families as I can't imagine how annoying it would be if a younger child lost a piece! Besides, I hate to admit it but the puzzles are hard and really tested me! Can you see the 4 wooden pieces at the bottom right of the picture above, they are supposed to make a T shape, I refuse to get hints from their site and will keep trying! Check it out here for £30.
Mr and Mrs is a great couples game or one to play as a group, especially after a few drinks. How much do you really know about each other? Available for £20 from The Entertainer.
Gifts for older families that are not games
If you are buying for a family who was a fan of the Hungry Hippos game but has since grown up then this desk tidy is a lovely gift. Whilst it is designed as a desk tidy I think it is perfect to hold sweets over Christmas as you can see! He is just £31.50 from Red Candy and I think amazing and by far one of the favourite things I was sent this year!
For a couple, this candle is a gorgeous personalised present I am sure they will love. It is available in a variety of scents and just £24 from Kindred Fires.
Instead of the usual box of chocolates how about buying a Smash Cake. With different sizes available and the way you can personalise them these would be great for any family who loves chocolate! We absolutely loved trying this out! It was great quality chocolate and so tasty so would be a perfect gift.
The chocoholic smash cake is around the same size as a birthday cake, is full of chocolates and topped with lots of chocolate too! It is £39.99 from Sweet Tree by Browns but in my eyes worth every penny!
Look how amazing it was inside! I am definitely buying these for a few people this year!
I absolutely love this saying, do you? If this would be the perfect gift for a couple or adult family that you are buying for it is just £13 in this size (a little bigger than A4) but available in other sizes too. Check it out here.
If you fancy some brownies as a perfect gift then I can assure you these are amazing. This pack of 4 is £12 from Wild Tea Bar and available to send directly to the recipient and a card that can be personalised. They are so tasty I promise you that they will be gratefully received!
A coffee machine can be a great gift for a coffee-loving family, even if they already have one maybe they are ready for a newer one and this Melitta Enjoy Top Timer coffee machine is perfect. It is a drip-style machine that can make up to 10 cups at once so perfect for big coffee drinkers. I love that there is even a programme to remove limescale so you don't even have to do that! Read more about it on the Melitta website. Check it out on AO on offer at £59 at the moment.
If your recipients already have a coffee machine then maybe a coffee subscription would be a good gift for them? Cafeneo is a popular coffee subscription. Each box contains fresh speciality coffee beans, ground coffee, and a treat for you to enjoy that compliments the coffee well. This may be something like a baking kit. In the first box, you get a free handheld coffee bean grinder. Check out the subscription here.
For a hilarious family gift why not buy this Marvellous Map of Great British place names, with the oddest and rudest names. I have shared a sneak peek image below showing a few of them, it is hilarious you will most definitely love it and want to keep it for yourself. Given the nature of some of the place names I would recommend for older children/families but the choice is yours! It is available in this fold-out version for £14.99 from Marvellous Maps.
Christmas decorations as gifts and gifts for all ages of family
I love the idea of matching T-shirts though with Ben being 6ft 1 now and me having gained weight I am just not sure it is right for me! If you want to buy matching gifts for all the family then these Mummy and Me or Daddy and me t-shirts are gorgeous. Check them out here with pairs for £42.50.
I love the idea of all the family having matching socks and the range from Bare Kind are not just lovely but suitable for everyone too. By buying them you are also helping the animals they feature as Bare Kind donate 10% of sales to charities helping the animals involved. Check out the range on the Bare Kind website.
This pair of wine baubles is a great gift with a wine glass and a white wine bottle. The pair are £15 from Red Candy.
This Prosecco bauble is lovely and much more glittery than the picture shows. It is £10 from Red Candy.
For a fast food loving family how about a burger bauble? Ben thinks this one is amazing! To be honest, I think it is pretty cool too! It is £10 from Red Candy.
Did you know that Santa, angels etc do not need to be white and there are places that make multicultural ones? These angels are just some of the range by March Muses to ensure all children can see representations of themselves and at really good prices they are no more expensive than others you ma have picked up but lovingly made and much more inclusive. Check out the range here.
How about a lovely German Nativity scene? This one is stunning and will last the family for years. A perfect new family gift.
Check out lots of other gift guides and my tips of what not to buy here.
My amazing freebies
I know how hard it can sometimes be to stick to a plan and follow a new routine. Planning is key so here are some weight loss resources that should really help you with that.