Deconstructed cheesecake Slimming World recipe
We all love a berry cheesecake don't we so this guest post from the lovely Kelly is perfect to fill that gap! Just looking at the picture of this deconstructed cheesecake is making my mouth water!
Jump to:
Quark tips
In recipes that need quark there are a few simple things you can do to ensure it tastes good. Quark doesn't have much flavour so ensure you flavour the dish well. In this berry cheesecake, the Options white chocolate is perfect for adding taste.
Flavoured quark is usually synned if you follow Slimming World so instead use flavourings that are syn free or a squeeze of lemon juice perhaps.
Quark is available in most large supermarkets now and even stocked in Aldi and Lidl. You can usually find it near the soft cheeses in a tub similar to that you would buy cottage cheese in.
Due to the low fat content of quark it easily splits if heated too much or has hot water or hot liquid added to it. Be careful and stir in gradually and you should be ok.
Which fruits are best on Slimming World?
This recipe works with any fruits you like but some are better for you than others.
Most fruits are syn free and classed as speed foods on Slimming World. My full list of speed foods on Slimming World is below.
Fruits such as bananas, mango and pineapple may be syn free but are not classed as speed fruits. This because they are more calorie-dense.
If you can choose speed fruits on Slimming World instead of free fruits or free foods such as fat-free fromage frais it is advisable.
Get some tasty speed fruits on your weekly shop and added to your meal plan for the best weight loss. If you want to check out my ready-made meal plans they are here.
If you cook, puree or blend fruit it then has syns on Slimming World. This is because you are more likely to consume more.
It would be so easy to drink a smoothie with a couple of bananas, a mango and an apple in a big glass and still not feel full yet most people would not sit and eat all that fruit in one go whole.
For more recipes using fruits including main meals, breakfasts and desserts check out my Slimming World recipe directory.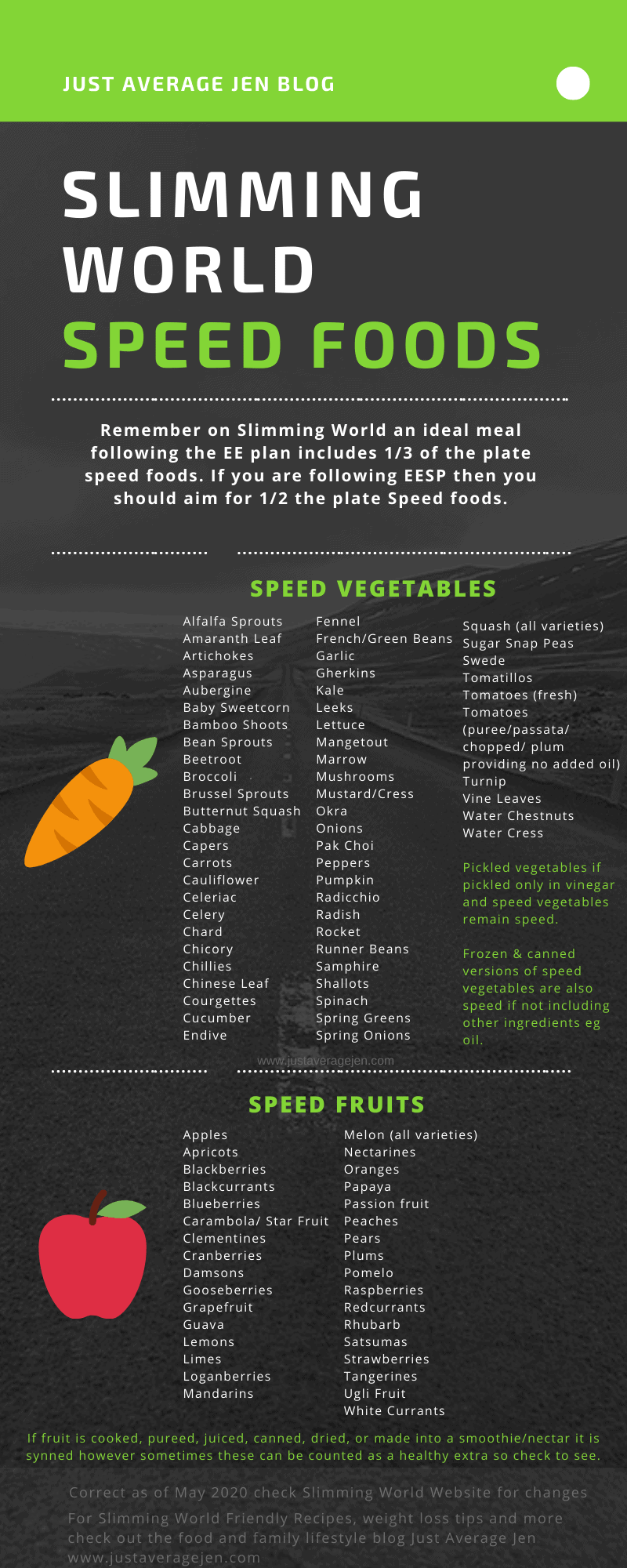 Comfort eating this cheesecake
It is easy when you are trying to lose weight to fall into the trap of comfort eating when you are feeling down. Finding low syn or syn free snack alternatives can help you avoid weight gain.
You do not need to just snack on fruit and vegetables to be healthy, there are so many other alternatives. This frozen berry cheesecake is good as it is comfort food but not too unhealthy either. Of course, you can also use fresh berries if you'd prefer.
If you find that you are regularly feeling down and snacking then maybe you need to address this as possible depression and consider seeing your GP. We all have struggles every now and then so it really isn't something to be ashamed of.
Another option instead of eating at all could be to find something else to do instead of eating when you are feeling down. Give it some thought and see if you can come up with any strategies to help yourself.
About Kelly, the author of the recipe
Kelly is a blogger and has two children and a stepson. She is a stay at home mum/carer to her daughter and has also followed Slimming World. Kelly shares parenting, health and wellbeing, reviews and family travel on her blog. Kelly's daughter has autism. Check her blog out here.
More Slimming World recipes you may enjoy
If this has made you realise you should use quark more and you are looking for more recipes with it in, check out my ultimate quark recipe list.
Other popular cheesecake recipes of mine are baked vanilla cheesecake and coffee & chocolate cheesecake.
Do you fancy looking at the other Slimming World dessert ideas I share? Check out my desserts article with lots of yummy dessert recipes. Have you tried fruit pasta? If not you really should!
I have so many tasty Slimming World recipes that I am sure you will love. Check them all out here.
Weight loss Guides
I have a lot of Unofficial Slimming World guides and weight loss information along with support if you want to exercise for weight loss including if you have a condition like fibromyalgia.
Have a good look around and see how I can help you achieve your weight loss goals. Request my free resources to get you started too!
Here are some quick jump buttons to help you find my most popular Slimming World guides (all unofficial) and be sure to check out all my healthy recipes too.
Print
Recipe
clock iconcutlery iconflag iconfolder iconinstagram iconpinterest iconfacebook iconprint iconsquares iconheart iconheart solid icon
Deconstructed Frozen Berry Cheesecake
Author:

JustAverageJen

Prep Time:

5 minutes

Cook Time:

0 minutes

Total Time:

5 minutes

Yield:

1

portion

1

x

Category:

Desserts

Method:

Mixing bowl

Diet:

Low Calorie
---
---
---
Instructions
1. Mix the yoghurt, quark, and Options until well combined and smooth. Use an electric mixer if you prefer.
2. Spoon over the frozen berries.
3. Crumble over the alpen light bar
For extra yumminess add some choc shot on top for 0.5 syns for a teaspoon.
---
Keywords: Dessert, Slimming World, cheesecake, low syn
Recipe Card powered by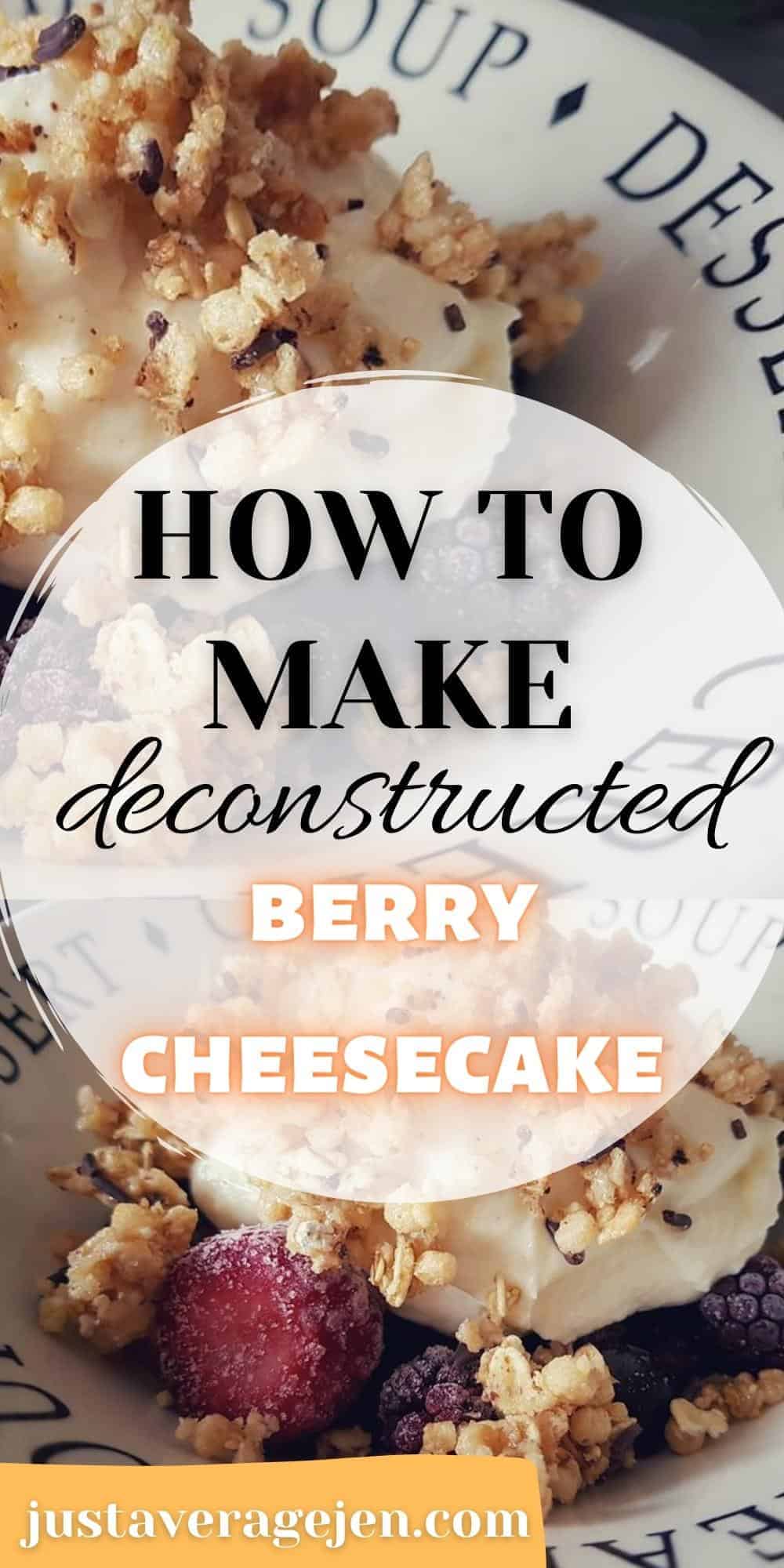 My amazing freebies
I know how hard it can sometimes be to stick to a plan and follow a new routine. Planning is key so here are some weight loss resources that should really help you with that.