Salmon Bites Recipe | Precious Core
This 20-minute Salmon Bites Recipe yields bites of salmon that are well-seasoned. They are so savory and garlicky, and it's hard to stop eating these tasty bites!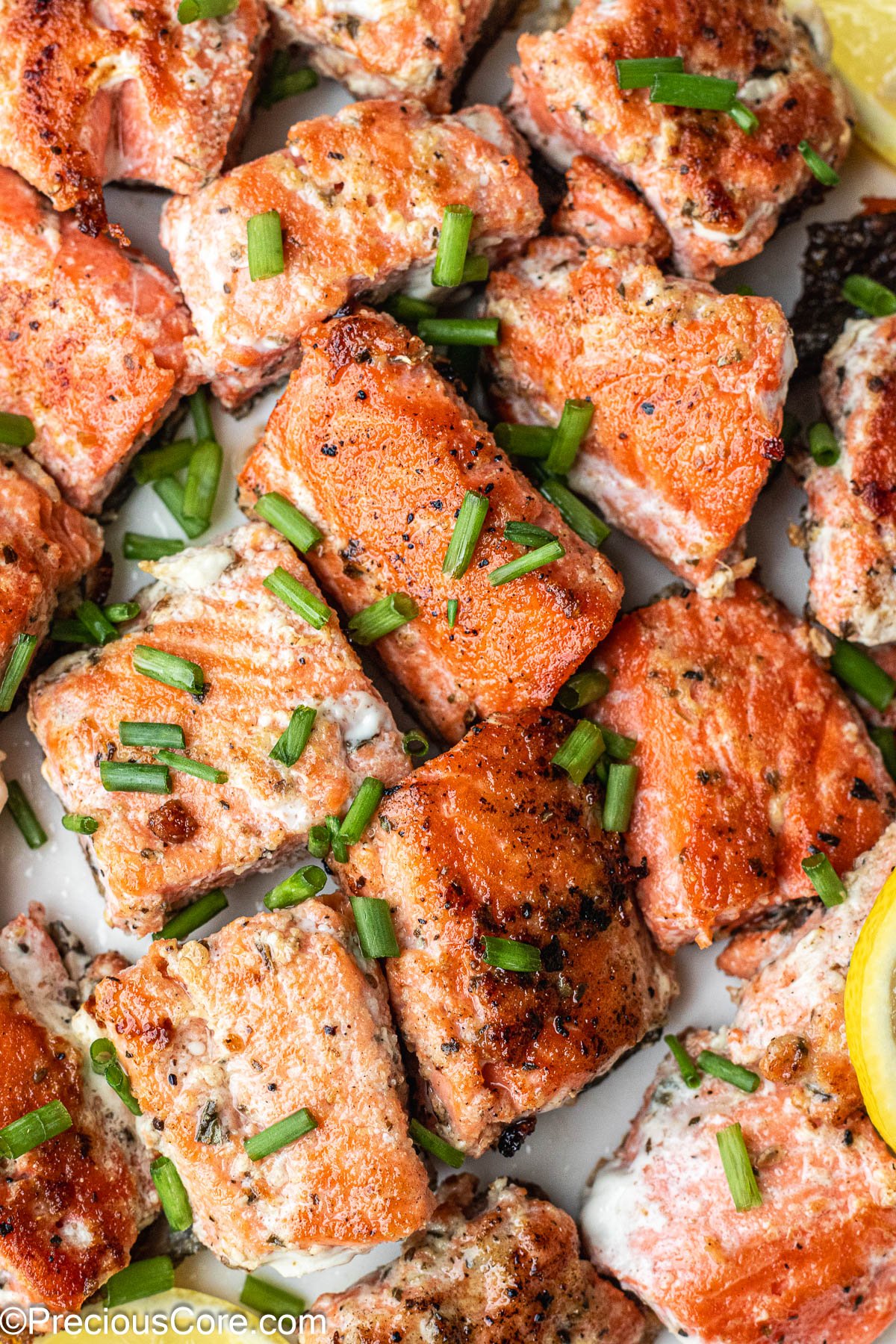 This Salmon Bites Recipe is the perfect appetizer or salmon recipe to serve in fish tacos or with Lettuce Salad. The bites also go well in a salmon bowl with Mango Avocado Salsa and Garlic Herb Rice.
My girls couldn't stop eating these salmon bites and my oldest commanded me to make it more often. Who am I to say no?
If you love salmon, also check out my Grilled Salmon and Grilled Sockeye Salmon.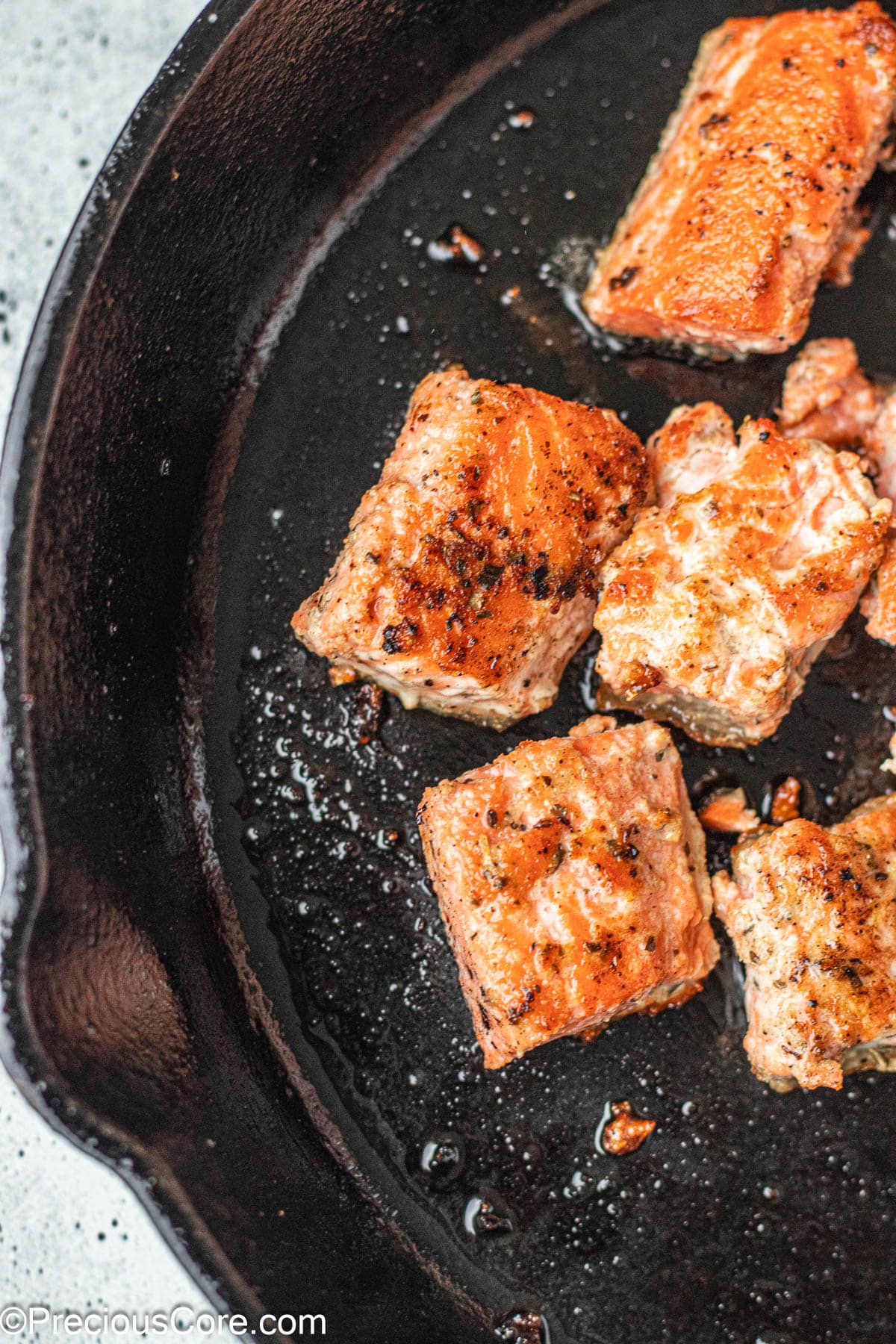 Why This Recipe Works
Salmon Bites can be served with many side dishes! You could even serve them with some pasta tossed with cream sauce. So tasty all around. Serve them with Easy Roasted Potatoes as well. You really can't go wrong with these tasty bites!
Salmon Bites make a fantastic appetizer. These bites have a way of opening up the taste palates. You will want to keep popping them in your mouth.
They are supremely tasty. The bite-sized pieces of salmon allow the seasoning to permeate the fish better than it would larger pieces of fish. No bland salmon here! My simple seasoning blend will give you phenomenally good-tasting salmon!
Salmon bites can be customized to suit your taste buds. See flavor variations below.
Ingredients For Salmon Bites
You only need a few ingredients for Salmon Bites. Open up that spice drawer and let's make some phenomenal salmon!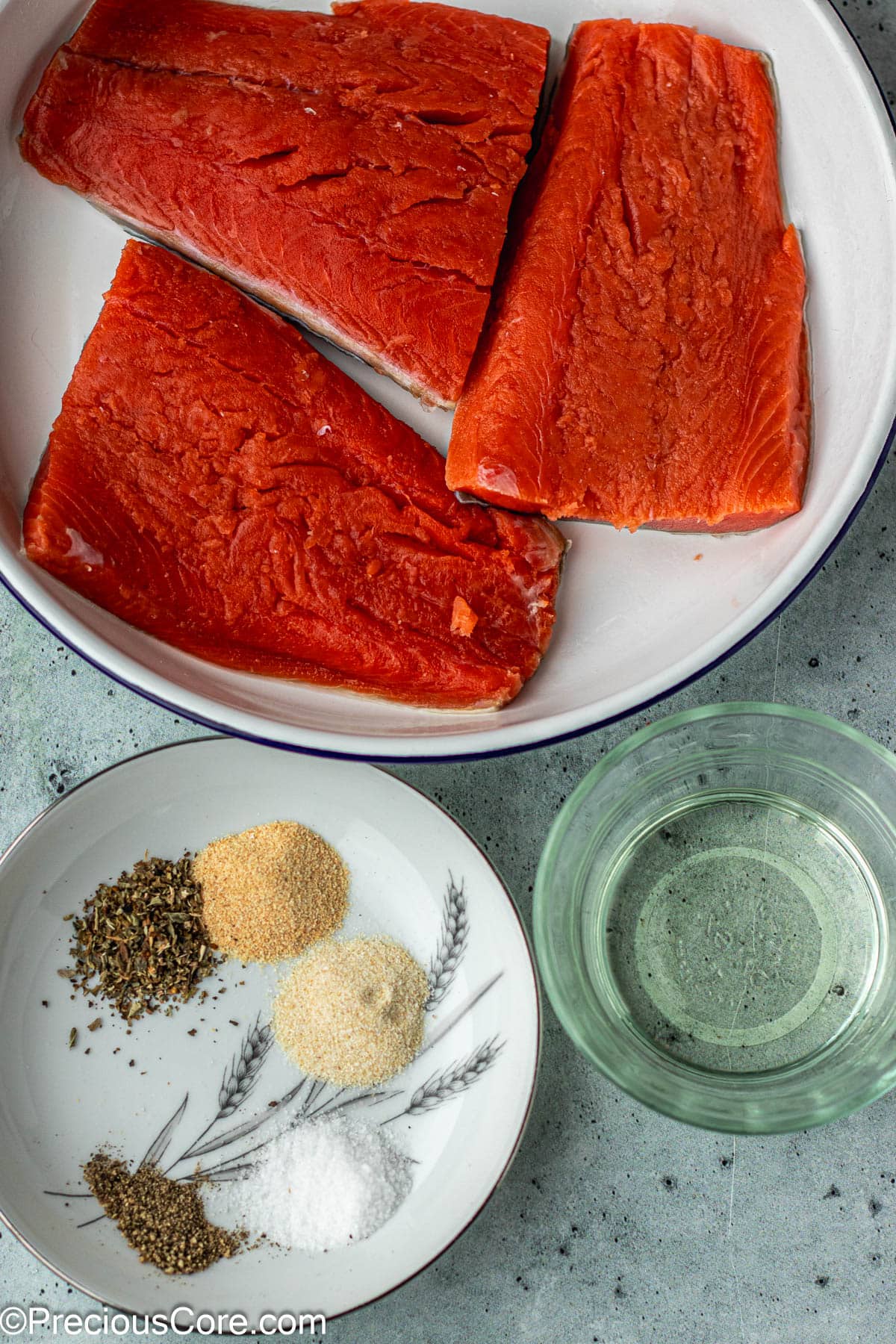 Salmon: Any salmon you have on hand would work. Skin-on or skinless salmon will work here. If you use skin-on salmon, the skin will crisp up as it cooks creating a more delicious flavor. Salmon skin also has important nutrients for you so don't shy away from it.
Seasoning: A simple blend of salt, pepper, onion powder, garlic powder, and dried basil imbues the salmon with so much flavor.
See the recipe card below with a detailed list of ingredients and instructions.
How To Make Salmon Bites
Cut the salmon into about 1-inch slices. A sharp knife will help you get neater slices.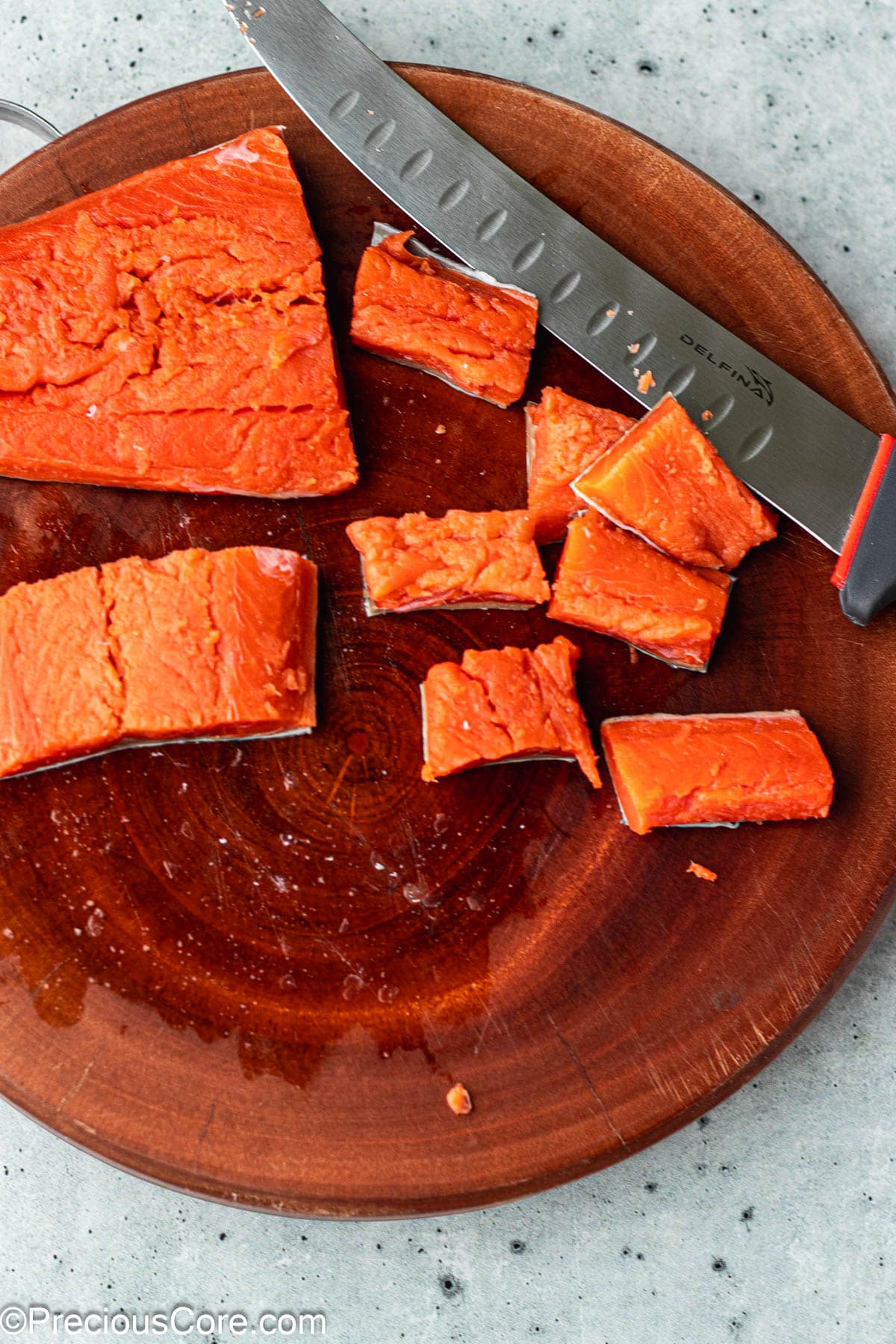 2. Add the seasoning to the fish. Rub the seasoning on the salmon bites to ensure each bite is well coated.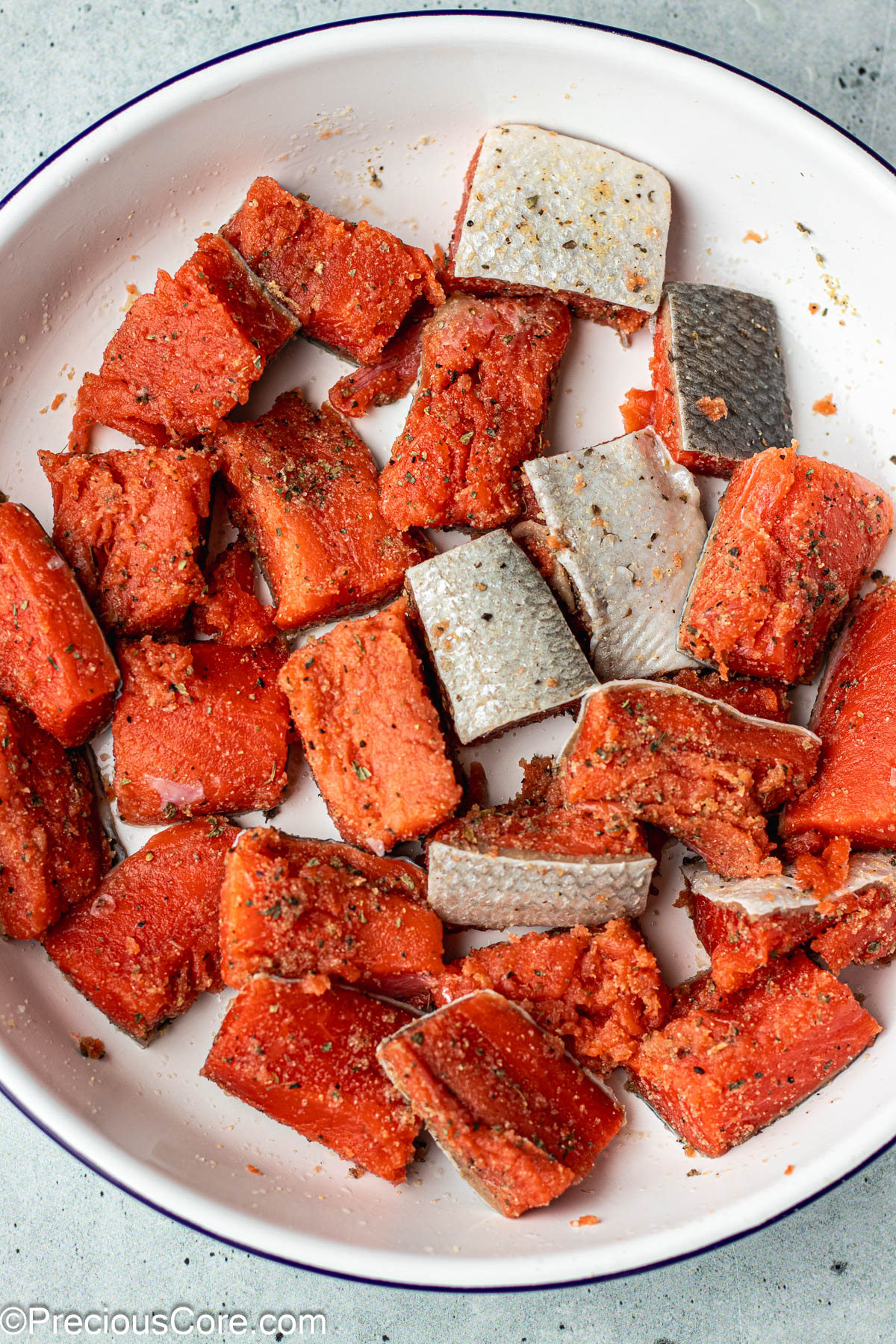 3. Sear the fish in a skillet. Add oil to a skillet (preferably a cast-iron skillet) on medium-high heat then add the salmon bites in a single layer. You might have to cook this in two batches. Cook salmon bites for 2 to 3 minutes per side.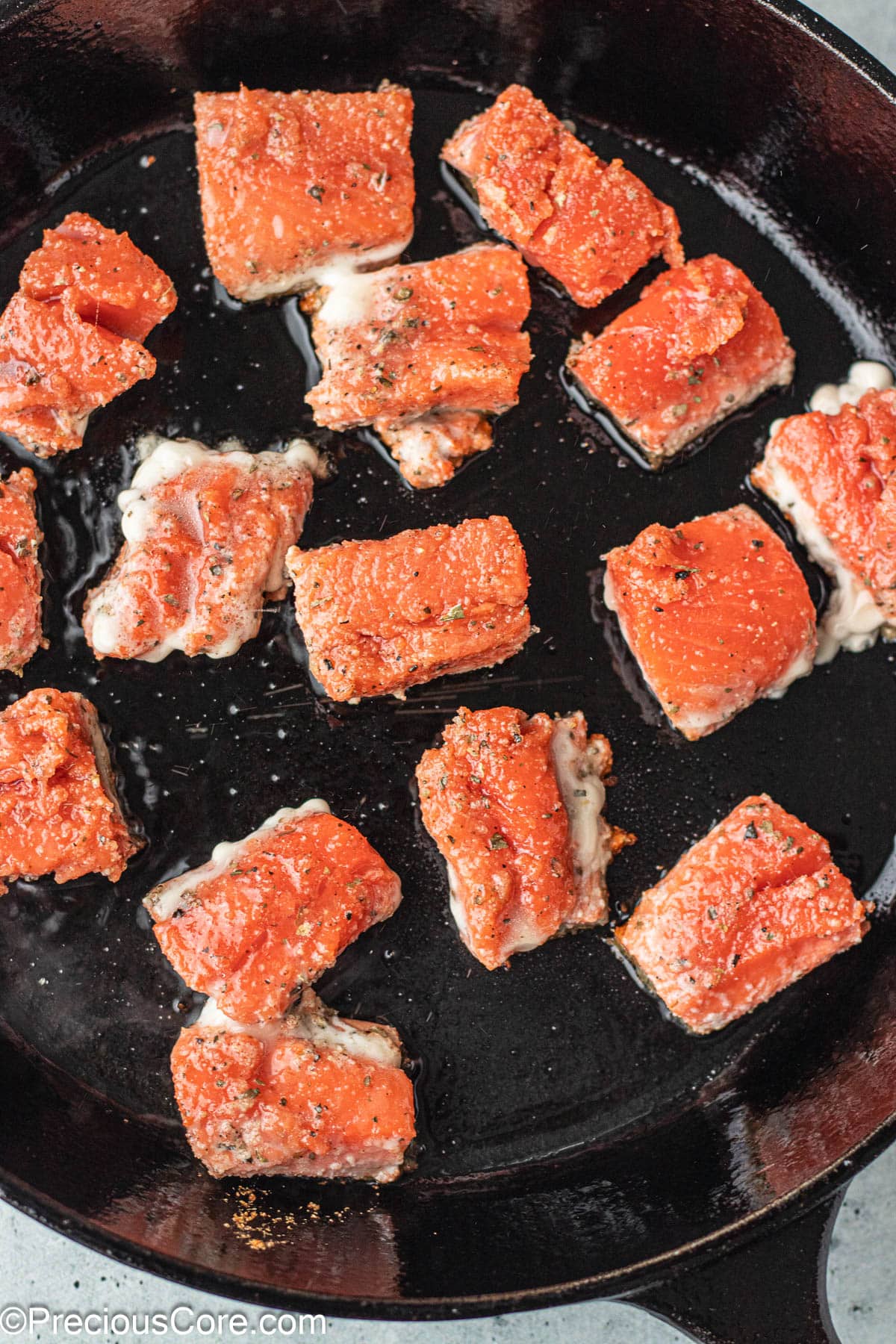 Salmon is cooked when it flakes easily with a fork. The FDA recommends cooking salmon to an internal temperature of 145 degrees Fahrenheit. You can easily measure the temperature of salmon by inserting an instant-read meat thermometer into the fish.
A cast iron skillet is a useful kitchen tool for making quick dinners like pan-seared fish, chicken, or steak. If you don't have a cast iron skillet yet consider getting one. A 10-inch cast iron skillet is a great place to start.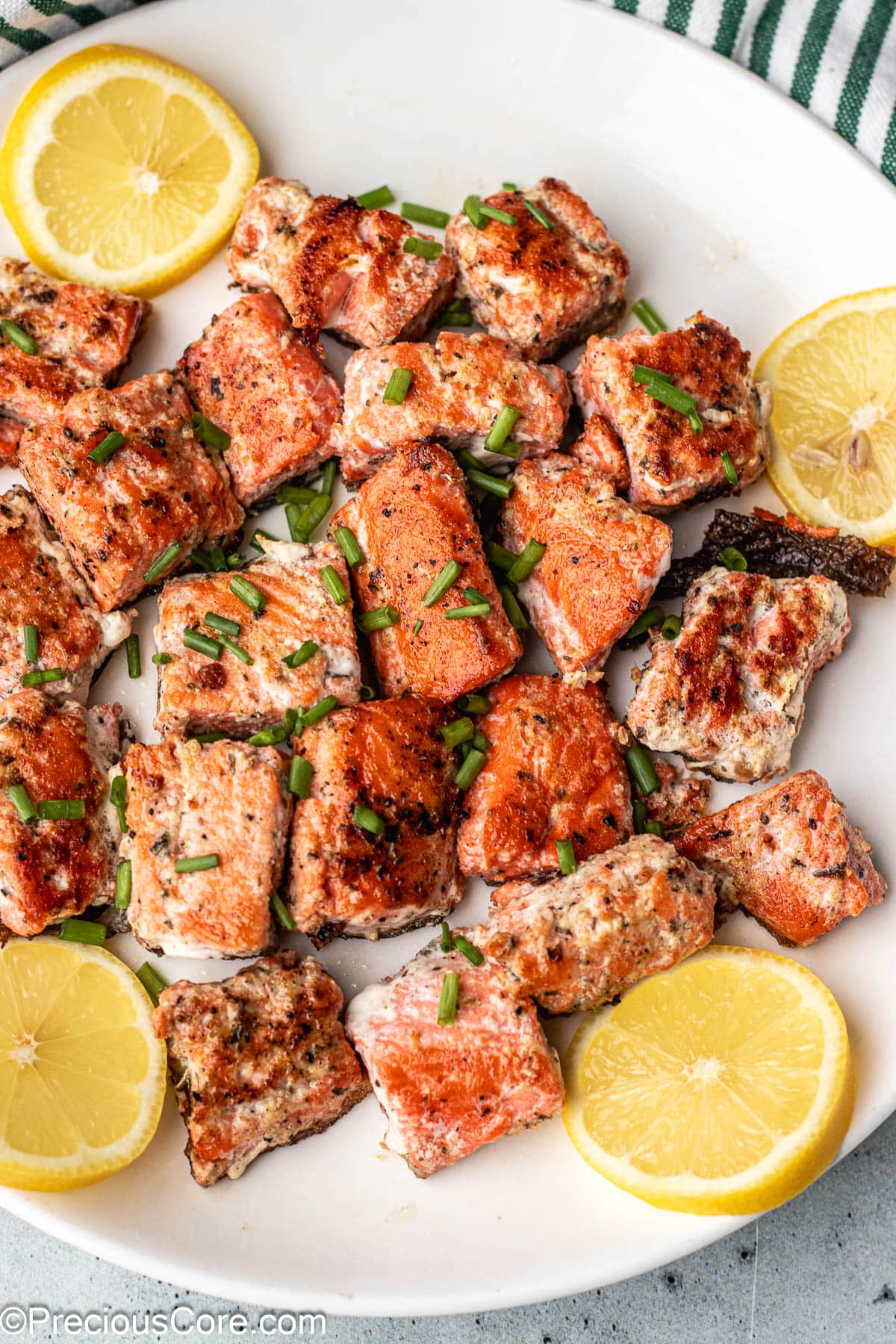 Flavor Variations
You can switch up this Salmon Bites Recipe in different ways. Here are some flavor variations to try:
Blackened Salmon Bites: Season the salmon bites with blackening seasoning instead.
Lemon Butter Salmon Bites: Once the salmon bites are cooked, melt butter in a skillet, add minced garlic and saute for a few seconds then stir in some lemon juice and toss the salmon bites with the lemon butter sauce.
Creamy Salmon Bites: After making the bites, melt butter in the skillet, saute some garlic in the butter then add some grated parmesan to make a cream sauce. Add the salmon bites back to the skillet and combine to coat the bites with the sauce.
Spicy Salmon Bites: Add Cayenne Pepper or crushed pepper flakes to the seasoning for a spicy kick.
Expert Tips For Salmon Bites
Fresh salmon is crucial in this salmon bites recipe. To ensure the salmon is fresh, make sure the flesh bounces back when pressed with a finger and the fish isn't smelly.
Use a sharp knife to easily cut the fish into bites. A butcher knife is an important kitchen tool to have on hand.
Use a cast iron skillet to get a good sear on the fish. My 10-inch cast iron skillet is probably my most used cookware. It works great for searing fish and other protein.
Instead of cooking salmon on the stovetop, you could drizzle oil on top and broil in the oven. Arrange the salmon bites in a single layer on a sheet pan before broiling.
Recipe Commonly Asked Questions
What to use to season salmon?
A simple seasoning of salt, pepper, garlic powder, and onion powder works well with salmon.
How do you make salmon skin crispy up or down?
Always cook salmon skin down first to get crispy skin.
What are salmon bites made of?
Salmon bites are made of salmon and seasoning which can be pan-seared or baked. Salmon bites can be coated with garlic butter sauce or a glaze.
Serving
Here are some favorite side dishes for pairing with this Salmon Bites Recipe:
If you make this recipe please leave a star rating below. Your rating helps others find the recipe plus I love hearing from you! Thank you!
Pat salmon dry with paper towels and cut into about 1-inch cubes. Season salmon with salt, black pepper, onion powder, garlic powder, and basil, ensuring the seasoning evenly coats the salmon.

Heat a 10-inch cast iron skillet on medium-high heat. Add half of the oil, and swirl to coat the pan. Add half the salmon in a single layer skin side down if using skin-on salmon. Let it cook for about 3 minutes then flip to the other side and let it cook for another 2-3 minutes. Repeat the process with the rest of the oil and salmon.
1. I used sockeye salmon.
2. Pat the salmon dry before cooking for great searing. 
3. Skin-on salmon is great to use and the skin is loaded with nutrients so that's a plus!
Calories: 226kcal | Carbohydrates: 1g | Protein: 23g | Fat: 14g | Saturated Fat: 2g | Polyunsaturated Fat: 4g | Monounsaturated Fat: 7g | Cholesterol: 62mg | Sodium: 341mg | Potassium: 568mg | Fiber: 0.2g | Sugar: 0.03g | Vitamin A: 47IU | Vitamin C: 0.1mg | Calcium: 18mg | Iron: 1mg