Slimming World soup recipe – Tasty Tomato and Basil soup
I love soup all year but particularly in the Winter, especially for a warm lunch. This Slimming World tomato soup recipe is perfect to make either on the hob or in a soup maker.
The ingredients are the same either way. I love my soup maker, it is so handy I use it all the time!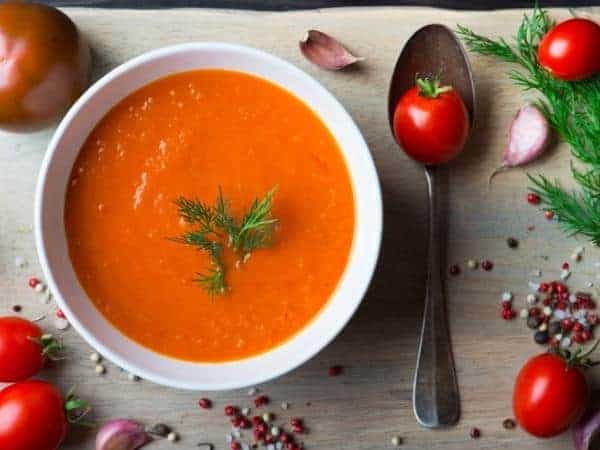 Jump to:
How to make this tomato and basil soup in a soup maker
If you want to make this soup in a soup maker it really is easy, just add all the ingredients to your soup maker and set to smooth.
Remember to leave a few basil leaves aside to decorate the top of the soup when serving.
If you do not already own a soup maker there are lots of amazing ones on Amazon. I love mine using it often and I am sure you would too.
The best tomatoes for tomato and basil soup
The tomatoes I find which are best for making tomato and basil soup are plum tomatoes. They have more flavour and are not too expensive.
Alternatively, you could use vine-ripened plum tomatoes for even more flavour though this tends to push the price up.
Make Slimming World tomato soup on a budget
Instead of using fresh tomatoes, passata works well. Passata is sieved tomatoes so full of flavour and not the seeds!
Simply swap the plum tomatoes in this recipe for another carton of passata.
I always use the cheapest cans of beans and carrots for this so don't worry about buying the supermarket value brands you really won't taste any difference.
Often fresh herbs are reduced at the end of the day in supermarkets. If you spot a pack of basil for a couple of pence this is a great recipe to make with it.
Alternatively pop it in the freezer for next time you make this recipe. It works great with frozen basil too as all blends down the same!
Why you need vegetables to lose weight
If you follow the Slimming World diet you will instantly know what I am talking about when I say speed vegetables. On other plans, it could be considered a free extra or just classed as non-starchy vegetables.
Whatever it is referred to as you need to eat veggies to lose weight on the whole because they are healthy and filling for very few calories! You can try swapping things like potatoes for butternut squash and add fried onions or mushrooms to other meals.
Check out my ready-made meal plans to help you along the way with lots of my delicious Slimming World friendly recipes perfect for any diet, weight loss plan or just a healthy lifestyle!
Remember to keep a check on the vitamins and minerals you consume and ensure you are eating a healthy amount of everything including calcium, vitamin c, iron, vitamin d, vitamin b12 and fibre as well as eating plenty of vegetables and fruit!
How many vegetables should I eat?
Most healthy diets and weight loss plans encourage you to eat lots of fruit and vegetables. Slimming World for example advises you to ensure that ⅓ of every meal is made up of speed foods. Other than possibly for breakfast this is likely to be vegetables! Even if you do not follow Slimming World this is still great advice for healthy living. Other plans suggest different methods of deciding on the food on your plate but all diets I have seen include a large number of vegetables.
The best vegetables are those that have a low-calorie density. Slimming World call these speed foods, other diets say non-starchy vegetables or other similar phrases. Basically, we are talking about the healthier vegetables – potatoes don't count but butternut squash is much healthier for example!
This means if you eat 100g of spinach, for example, it is just 23 calories and obviously, 100g of anything would fill you up significantly. On the other hand, 100g of crisps, which would be just as filling, is around 536 calories!
What nutrients are in vegetables?
Whether you follow Slimming World, Weight Watchers, Noom, or any other diet, adding vegetables to your meal not only adds vitamin C and all the other nutrients that vegetables contain but will also help you lead a more balanced healthy lifestyle and potentially lose weight!
Many vegetables are also high in B vitamins, vitamin A, iron and other nutrients.
Don't forget too that vegetables are high in fibre and as such you are less likely to get constipation and need my constipation tips!
Are frozen or canned vegetables healthy?
As long as they are not cooked or canned in any oil etc, frozen or canned vegetables have roughly the same nutritional value as of fresh vegetables and are a great way to save money and time.
If you buy vegetables that have been reduced at the end of the day you can always freeze them to use in a recipe in the future.
More Slimming World recipes you might like
If you are a soup lover like me but are looking for new recipes to enjoy or ways to make your current recipes more filling don't panic.
I have a whole post full of all the tips and tricks you need to make the best soups ever! Check it out here including a rich tomato soup, mushroom soup and pasta soups.
This is a great recipe for an easy lunch if you follow Slimming World. You can find more lunch ideas here.
This is a great budget meal to make on Slimming World, you can find lots more here.
If you, like me, love to find syn free recipes so that you can save syns for desserts, chocolate or gin then pop and check out these syn free recipes.
Weight loss Guides
I have a lot of Unofficial Slimming World and weight loss information along with support if you want to exercise for weight loss including if you have a condition like fibromyalgia.
Have a good look around and see how I can help you achieve your weight loss goals. Request my free resources to get you started too!
Here are some quick jump buttons to help you find my most popular Slimming World guides (all unofficial) and be sure to check out all my Slimming World friendly recipes too.
Check out frequently asked syn values here.
Print
Recipe
clock iconcutlery iconflag iconfolder iconinstagram iconpinterest iconfacebook iconprint iconsquares iconheart iconheart solid icon
Slimming World tomato soup recipe syn free
Author:

JustAverageJen

Prep Time:

5 Minutes

Cook Time:

15 Minutes

Total Time:

20 minutes

Yield:

4

Portions

1

x
---
Description
This syn-free easy Slimming World tomato soup is like Heinz soup and easy to make!
---
---
Instructions
Chop basil and plum tomatoes roughly
Pour all ingredients into a large saucepan
Bring to the boil then simmer for ten minutes
Blend fully or until desired consistency
Add more water if required
Serve
---
---
Keywords: soup, tomato and basil, easy soup, Slimming World, syn free,
Recipe Card powered by
Pin This!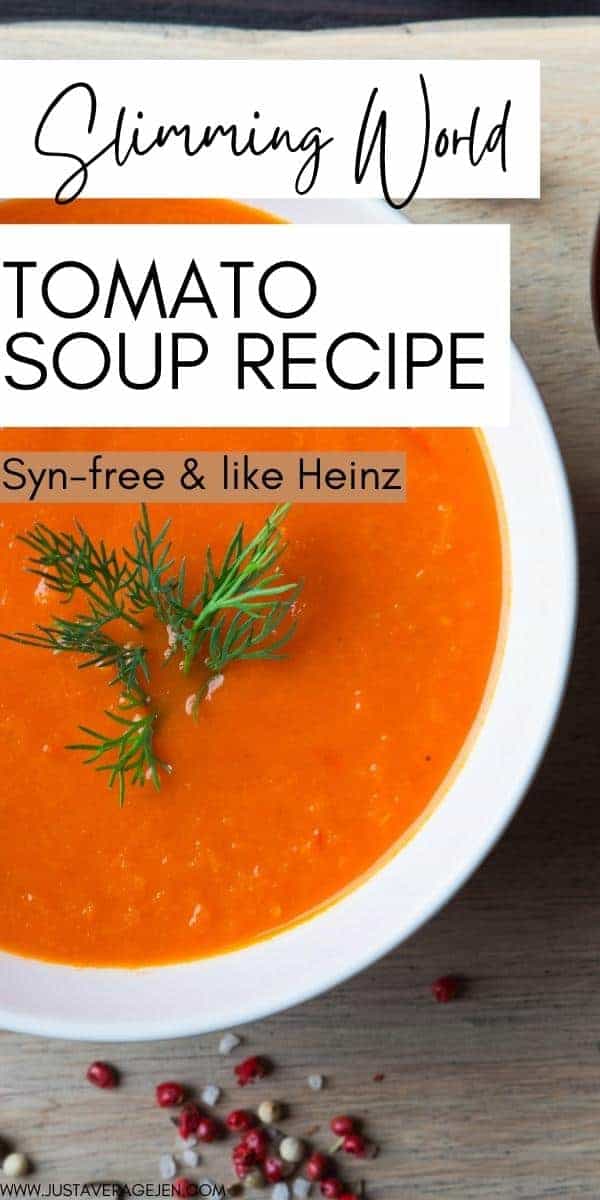 My amazing freebies
I know how hard it can sometimes be to stick to a plan and follow a new routine. Planning is key so here are some weight loss resources that should really help you with that.