Southern Lemon Pound Cake Recipe
This Southern Lemon Pound Cake Recipe is the best you will ever make! It is buttery and moist with just the right amount of fresh lemon flavor! Serve it with some whipped cream and fresh fruit and everyone will love this dessert.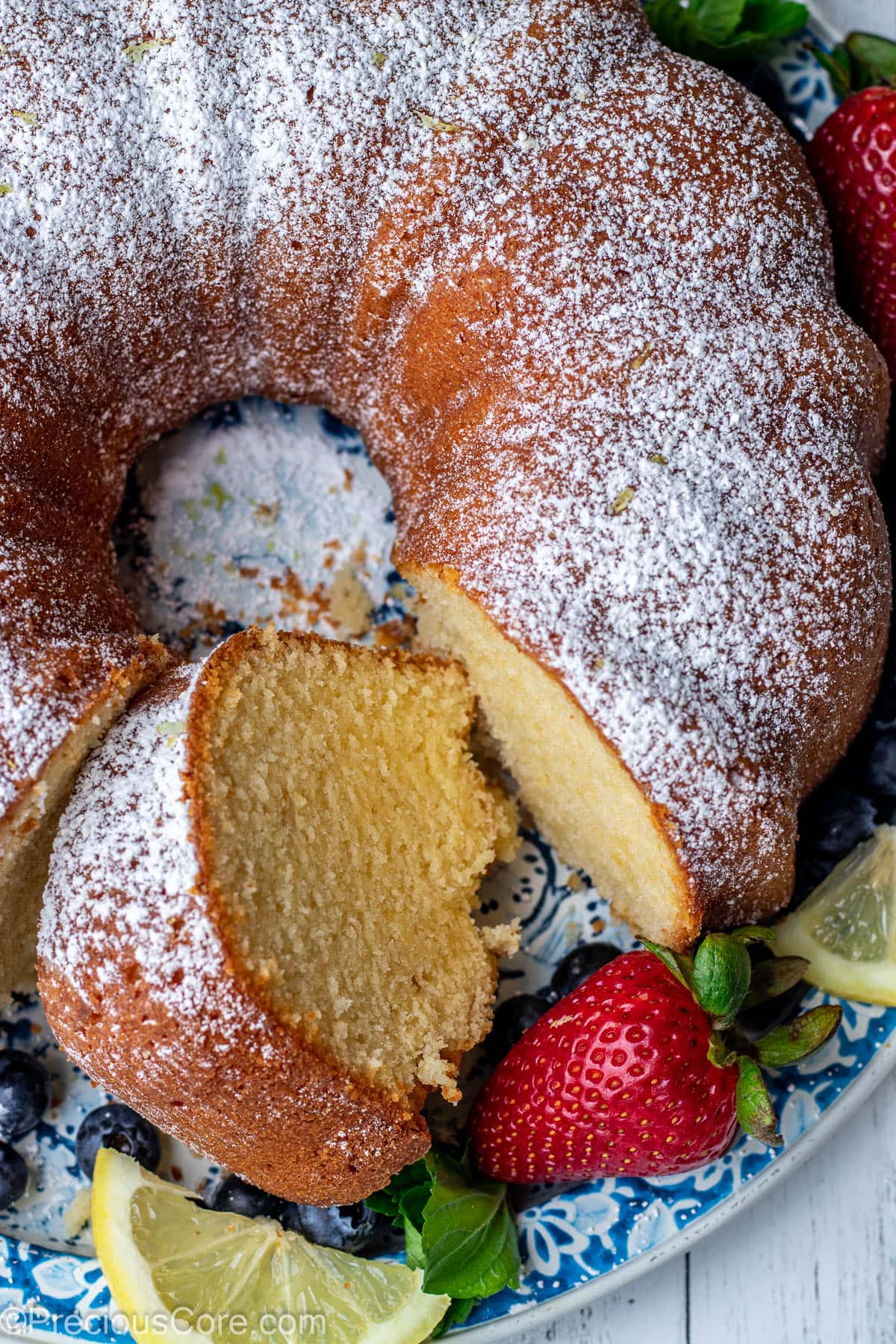 Pound cakes are my specialty! I have been making them for years in different flavors and let me just say NO storebought cake beats a good homemade pound cake.
I have made this Southern Lemon Pound Cake Recipe for parties and at home several times and every time it flies off the table! Make this and you'll be known for your pound cakes!
If you love pound cakes, also check out my Vanilla Pound Cake and Yogurt Cake.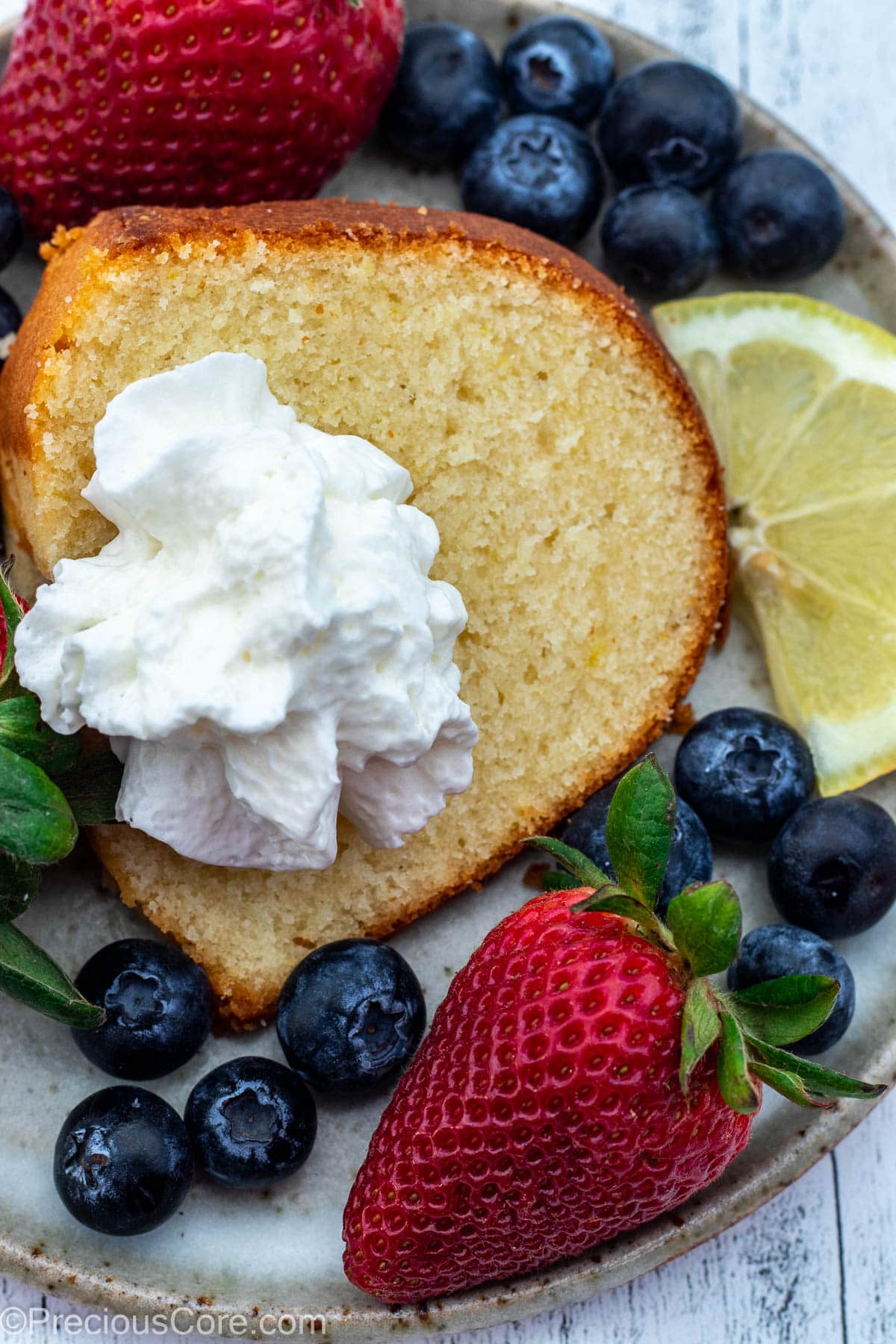 Why This Recipe Works
Easy enough for beginners: Just like my Perfect Plain Cake, this Lemon Pound Cake is easy enough for beginner bakers to bake.
Lemony and citrusy: The lemon flavor is bold and present. You mix the cake batter with a decent amount of lemon juice and lemon zest (the grated skin of lemon). That's what gives the cake its glorious lemony flavor.
Enough cake! This recipe yields a large bundt cake that makes lots of slices to feed a small crowd of 15 to 20 people.
Sweet but not too sweet: This cake has just the right amount of sweetness so you can enjoy all the other lovely flavors. It is good enough for breakfast, dessert, or pairing with afternoon tea!
Great for special occasions! A great cake for celebrations, parties, brunches, or the holidays!
Versatility: You can bake this Lemon Pound Cake in a 10-1nch bundt pan or in 2 9 by 12-inch loaf pans. You could also add loads of different flavors to it. More on this below!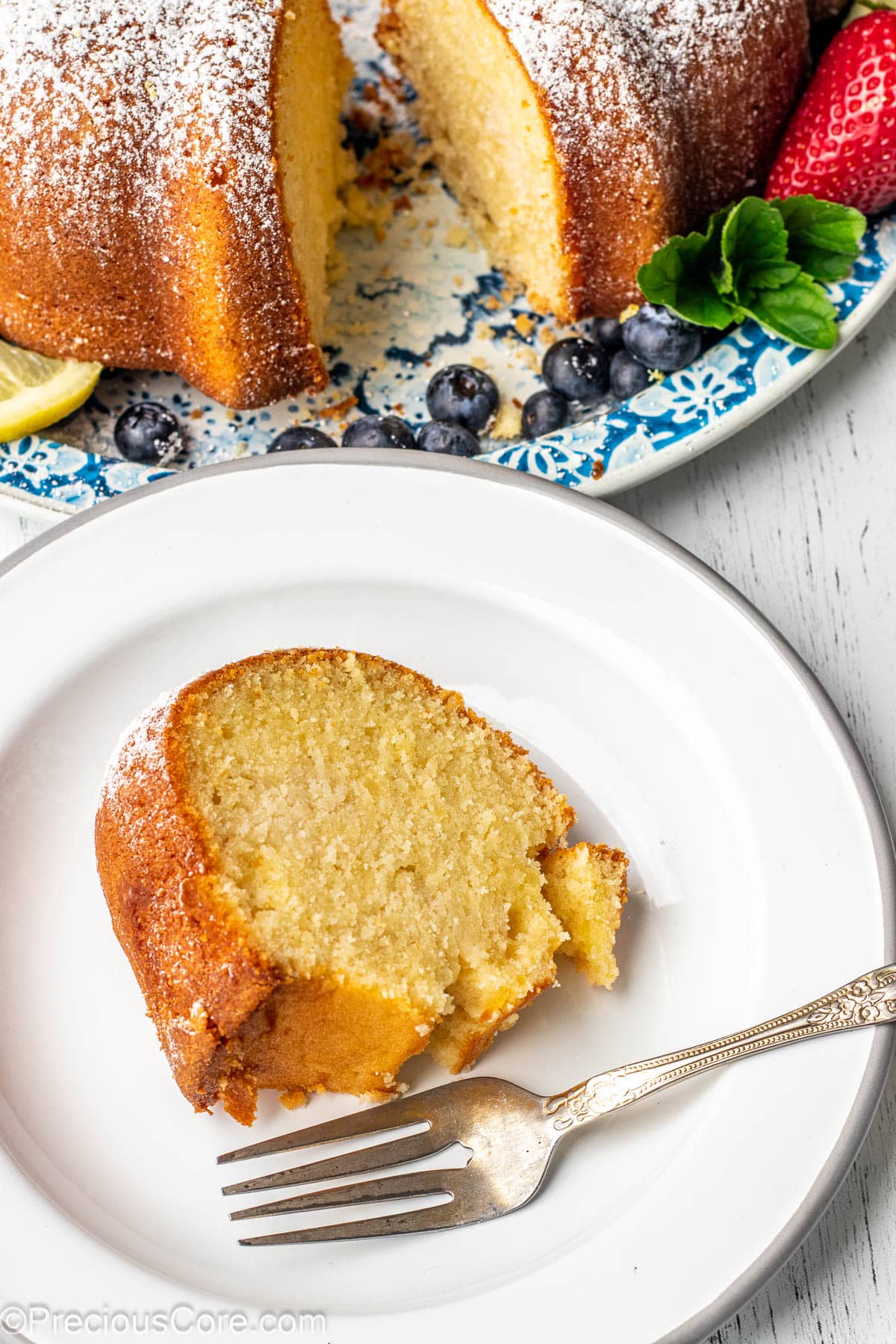 If you make the cake in loaf pans you could freeze one cake for later and enjoy one now! Here is the same recipe made in 2 loaf pans: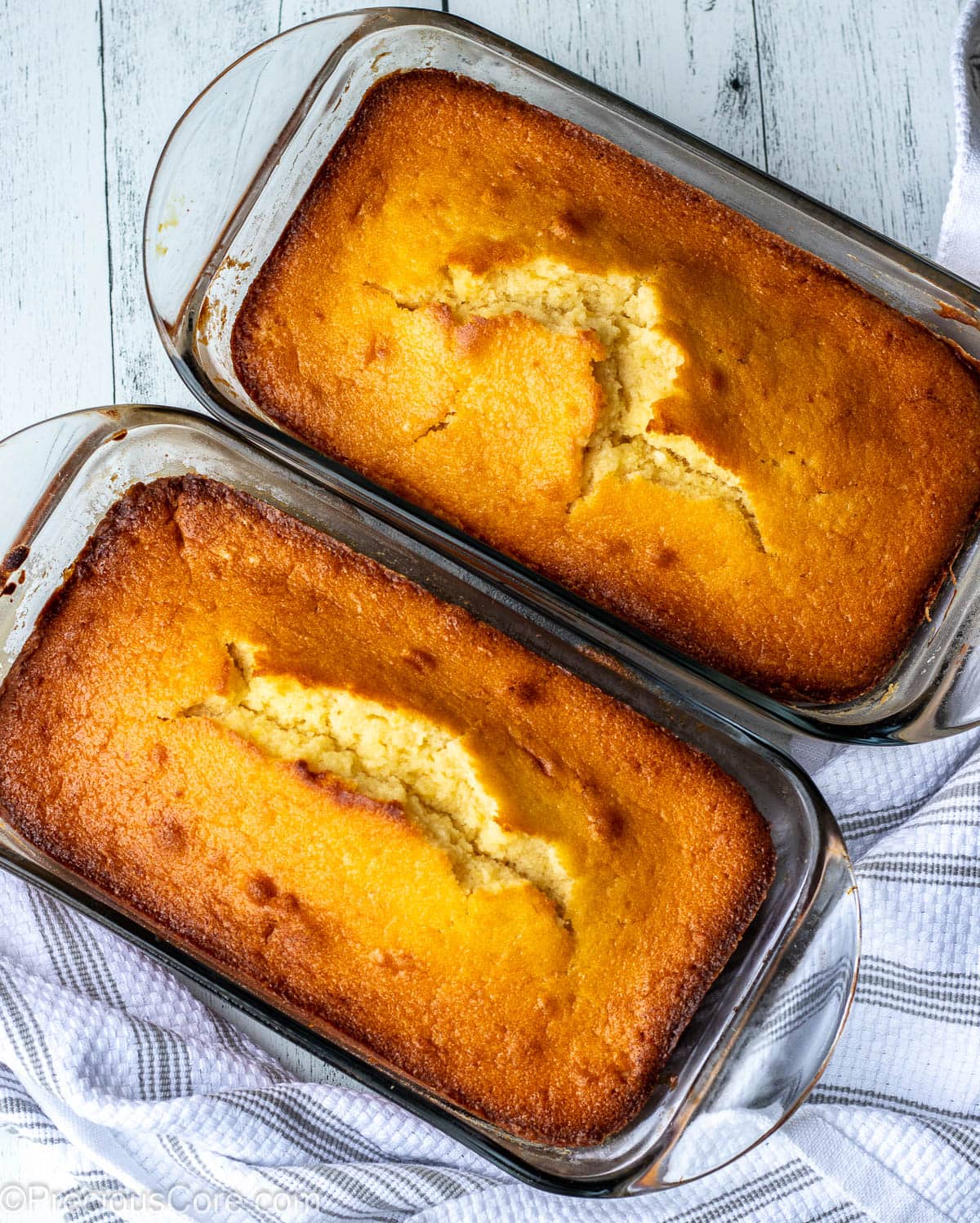 Ingredients
Here are the simple ingredients you need for this Southern lemon pound cake recipe: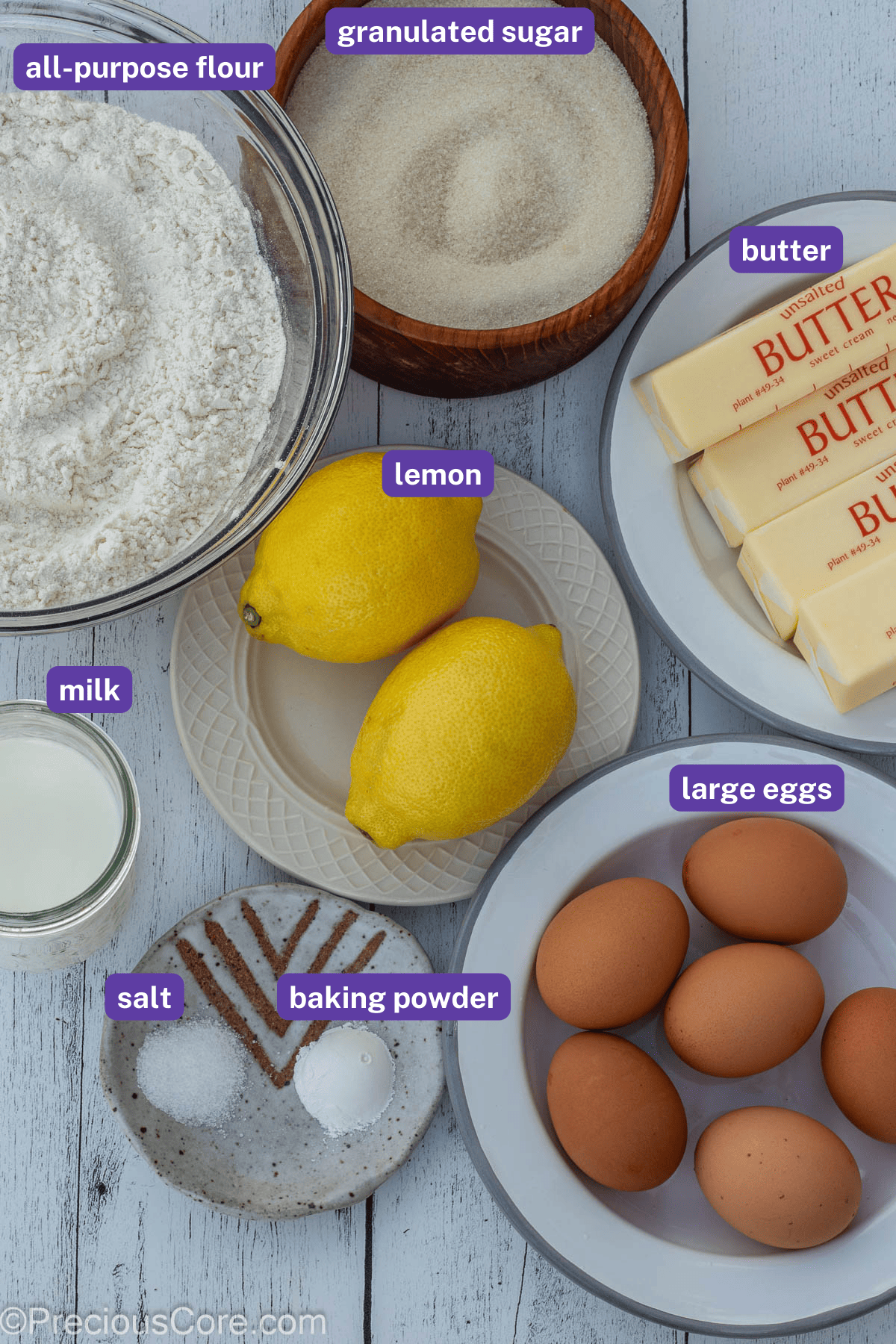 Here are some notes on key ingredients:
1. Flour: Just good old all-purpose flour works well in pound cakes.
2. Butter: Any butter you have on hand would work. If you use salted butter, omit the salt in the recipe.
3. Fresh lemons: Crucial for imbuing lemon flavor into the cake batter. First, zest the lemons so the zest can add lemon flavor without tang to the batter. After zesting the lemons, you juice them.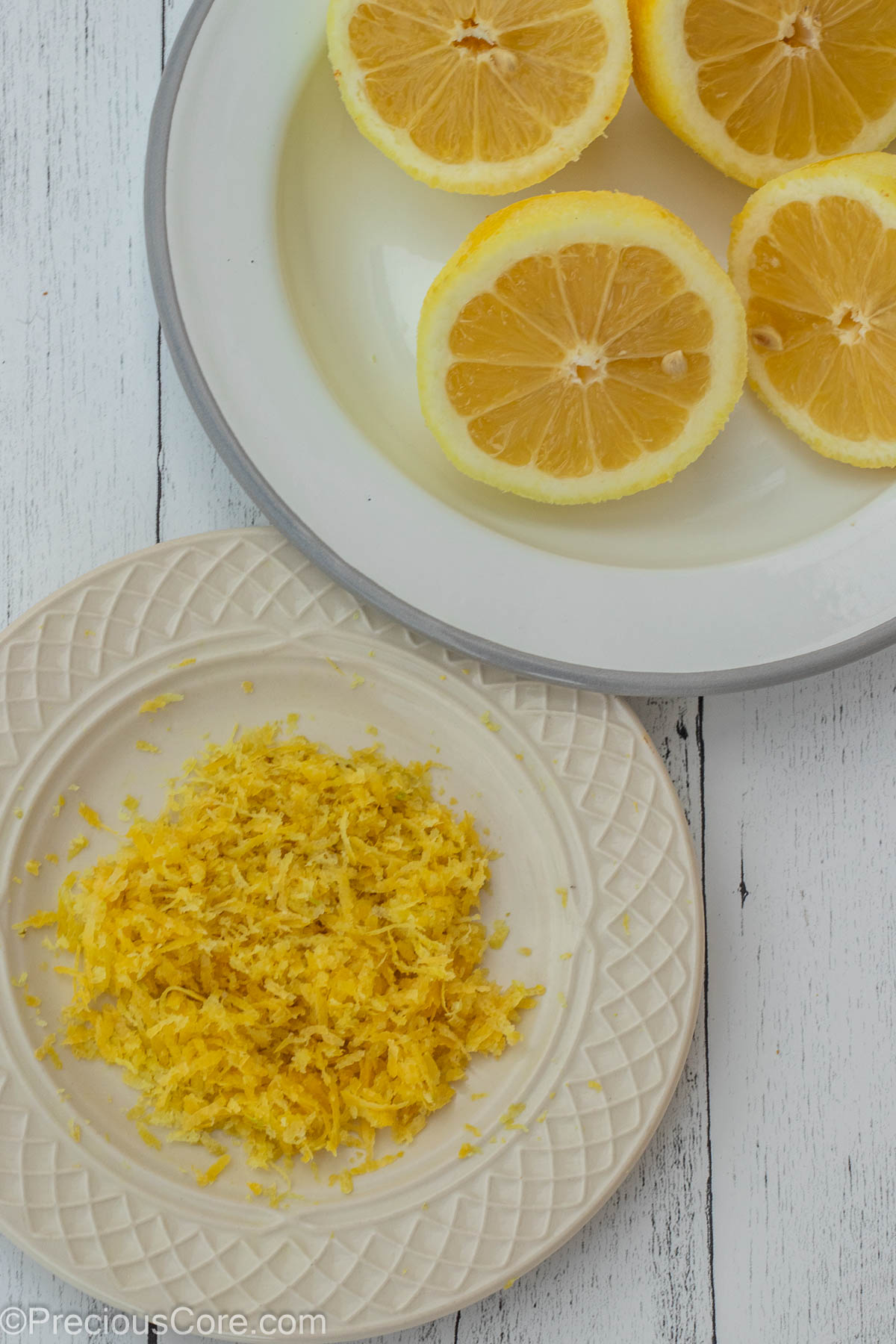 Substitutions and Variations
Other Citruses: Love other citrus flavors? Substitute the lemon for lime or orange.
Lemon Extract: Add lemon extract to the cake for an extra lemony flavor.
Yellow Coloring: Add a little yellow food coloring to Lemon Pound Cake to give it a little yellow hue.
How To Make Southern Lemon Pound Cake
This is an easy cake recipe that starts by creaming the butter and sugar and then gradually adding all the other ingredients. You could mix the batter using a stand mixer, a hand mixer, or even by hand. Here are the steps involved: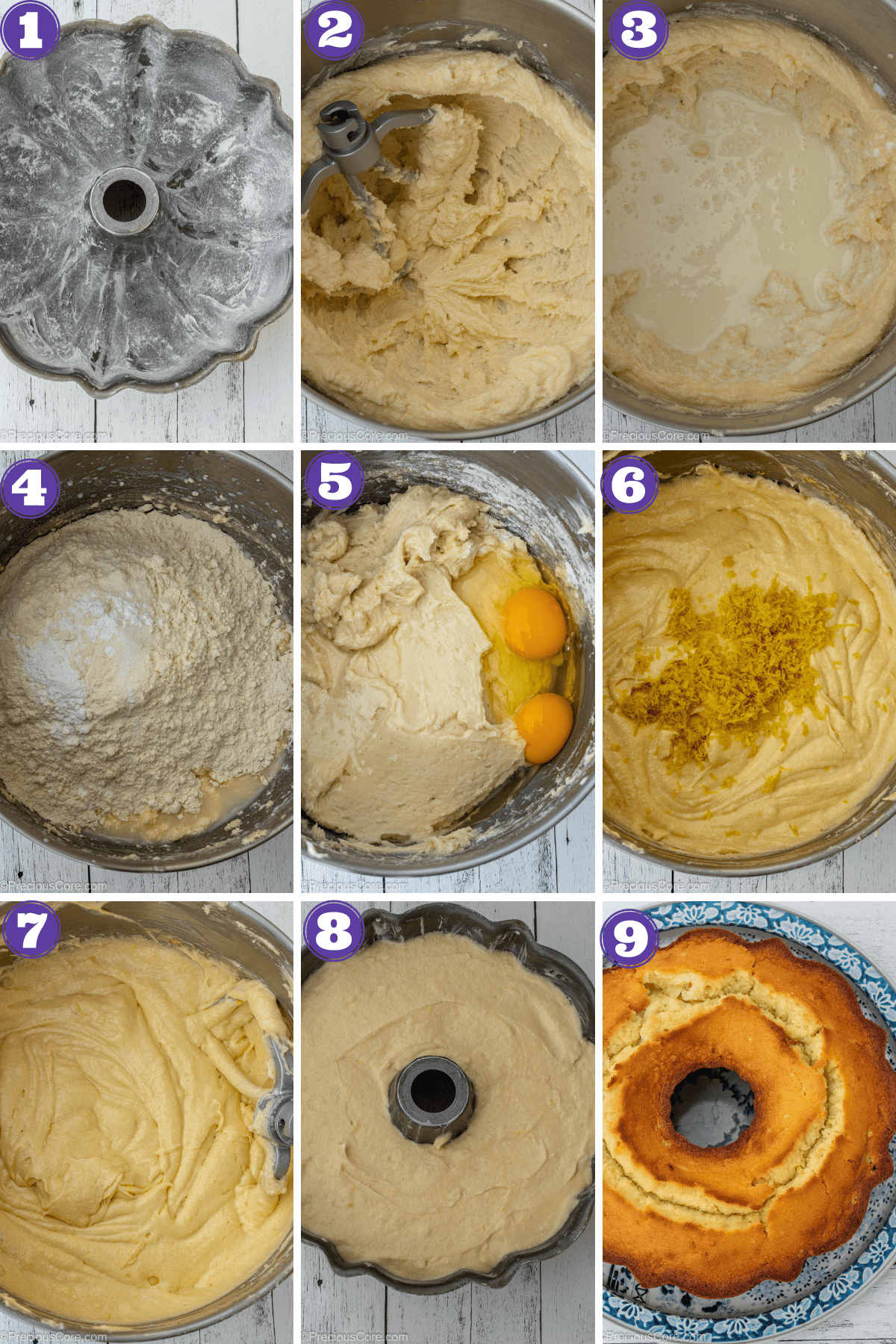 Grease and flour pan – first generously rub softened butter all over a 10-inch or 12-cup bundt pan then sprinkle flour into the pan and tap to ensure the flour coats all of the inside of the baking pan.
Cream together the butter and sugar until light in color and fluffy.
Combine milk and lemon juice, let it sit for 5 minutes then add it to the creamed butter and sugar. Mix to combine.
Add the dry ingredients – add the flour, baking powder, and salt then mix to combine.
Add the eggs two at a time, mixing to combine every time.
Add lemon zest and mix to combine.
Beat or mix the batter to combine all the ingredients then stop mixing. Don't overmix.
Pour the batter distributing it evenly into the prepared bundt pan then level the top with a rubber spatula.
Bake at 350 degrees Fahrenheit or 180 degrees Celsius for about 1 hour and 5 minutes until a toothpick inserted into the middle of the cake comes out clean. Let the cake cool in the pan for about 10 minutes then turn onto a cooling rack and let it cool completely.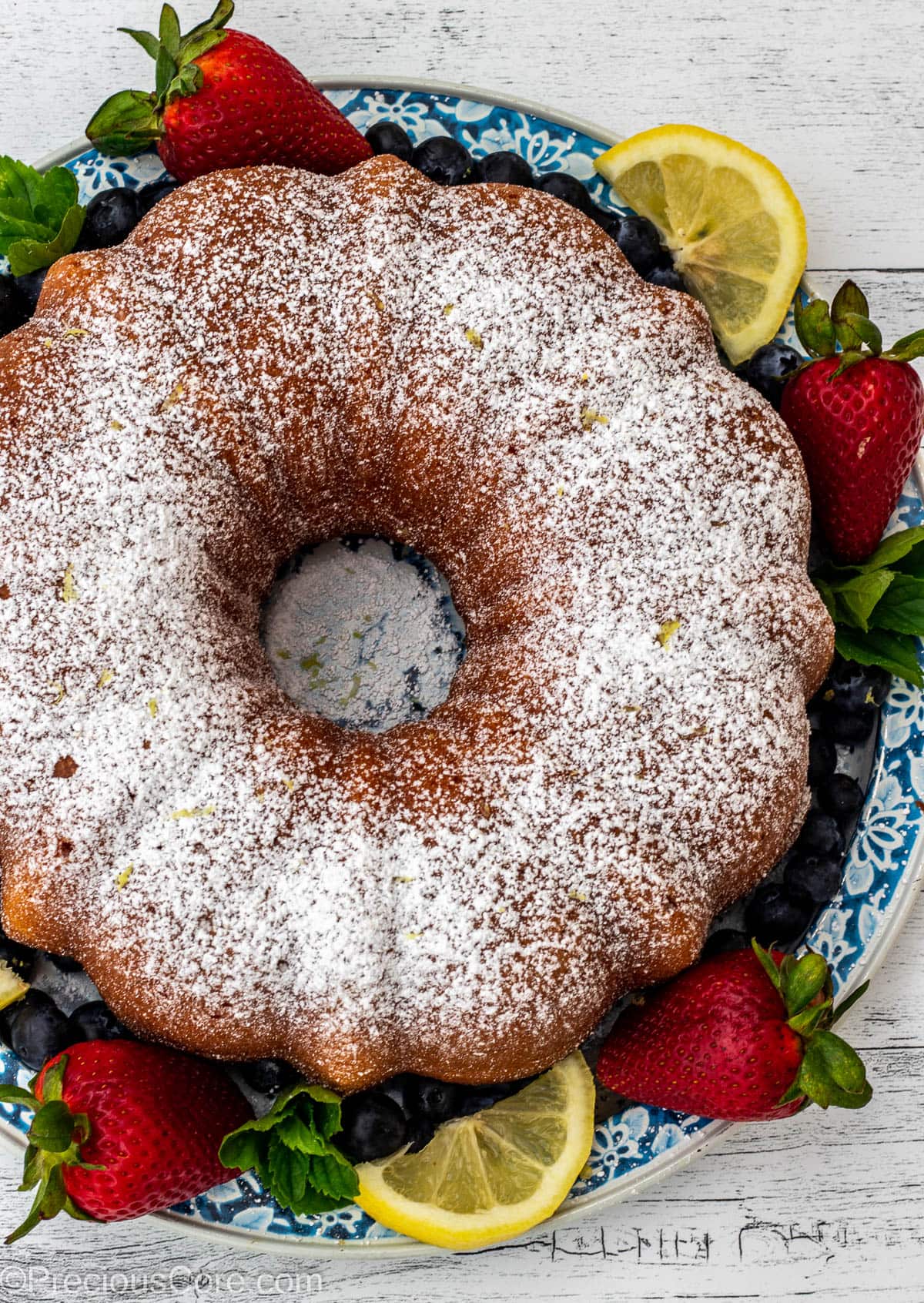 Lemon Glaze For Pound Cake
You could serve this pound cake dusted with some powdered sugar and with some lemon zest sprinkled on top. Or you could make a really simple lemon glaze to drizzle on top.
To make the lemon glaze, combine 1 cup of powdered sugar with 3 tablespoons of lemon juice and mix well to a dripping consistency.
Drizzle the glaze over the cake. I tell you what, this lemon glaze is so lemony and so good. Here is the same recipe, made into 2 loaf cakes and drizzled with lemon glaze: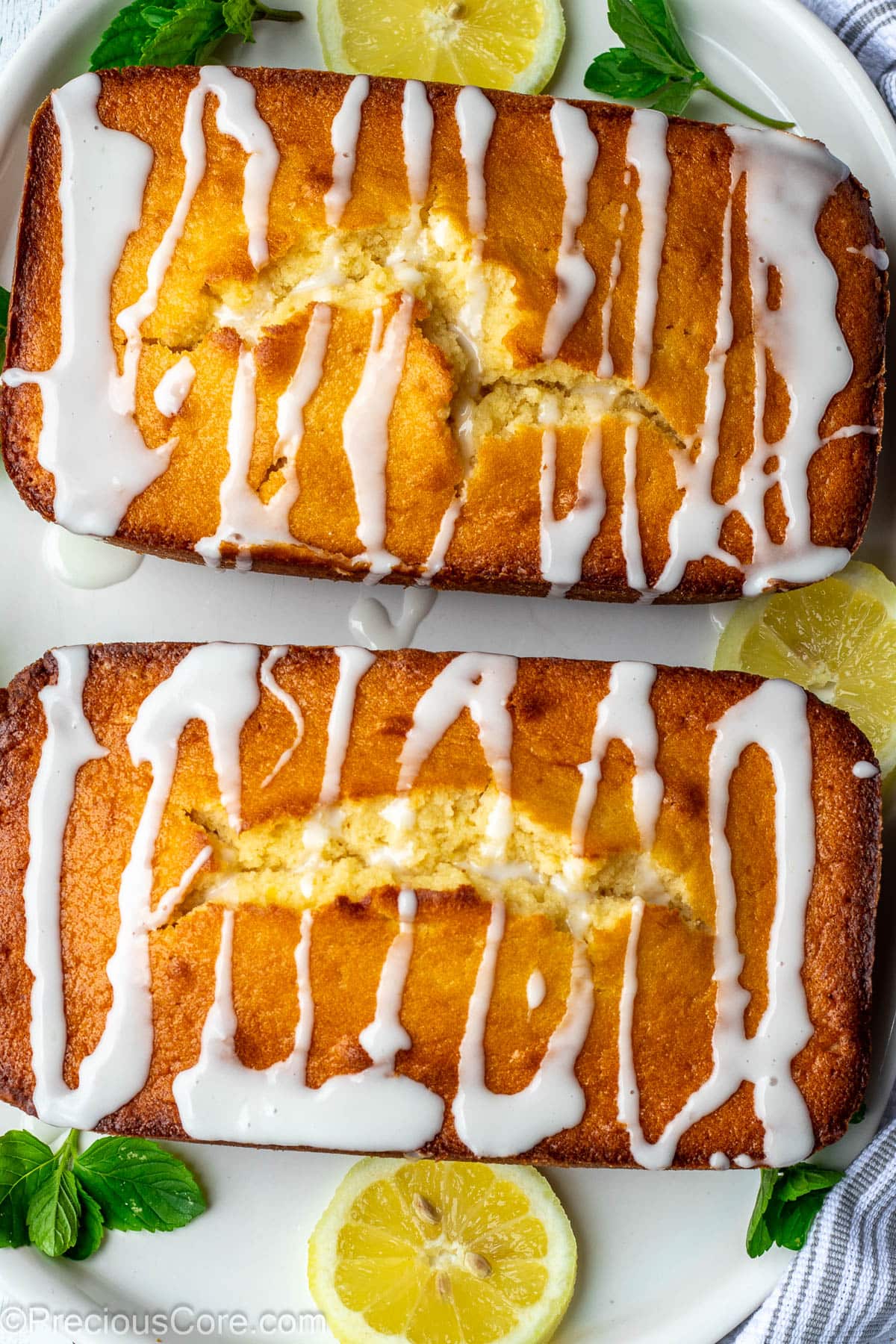 What To Serve With Pound Cake
Pound cakes are great eaten on their own but if you want to take your pound cake to the next level, here are some serving suggestions:
Whipped cream and fruit: This is my favorite way to serve pound cakes. Storebought or homemade whipped cream will work here. I love to set up a "pound cake station" at parties with whipped cream, fresh berries, and sliced pound cake. It is always a hit!
Sour cream: My family loves smearing some sour cream over our pound cake slices to enjoy. I mean, Lemon Pound Cake is great on its own but that smear of sour cream elevates the taste.
Ice cream: Serve this Southern Lemon Pound Cake topped with a scoop of good ice cream. So good!
Fruit sauce: Make a simple fruit sauce and serve it with pound cake. An easy fruit sauce is strawberry sauce which you can make by just simmering together sliced strawberries, and sugar for five minutes.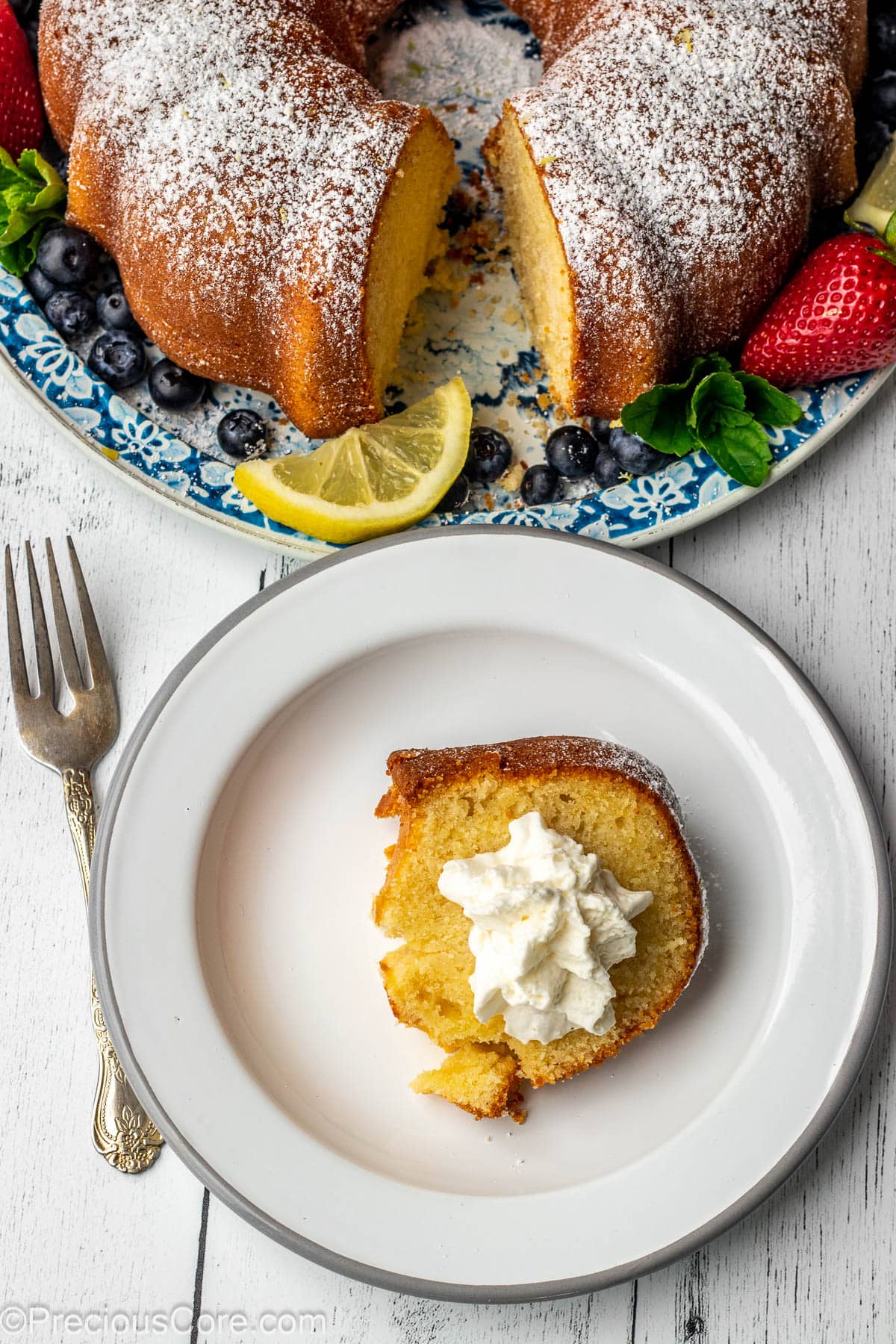 Recipes Frequently Asked Questions
Why is my pound cake tough?
Overmixing the batter or overbaking will result in a tough pound cake. Do not overmix or overbake.
Do you cool pound cake before removing it from the pan?
Yes, let the pound cake cool for 10 minutes in the pan before turning it onto a wire rack to cool completely.
How can pound cake be made lighter and smoother?
Traditional pound cake recipes do not call for baking powder but adding a little baking powder leads to a lighter cake. For a smooth cake, use softened butter and cream the butter and sugar together until light and fluffy.
More Easy Cake Recipes
If you love this pound cake recipe also check out these easy cake recipes:
If you make this recipe, please leave a star rating ⭐⭐⭐⭐⭐ below. I love hearing from you!
Butter and flour a 10-inch bundt pan and set aside.

Zest two or more lemons to get 2 tablespoons of lemon zest. Then squeeze out ¼ cup of lemon juice from the zested lemons.

Preheat oven to 350° Fahrenheit (180° C). 

Add the ¼ cup of lemon juice to the 1 cup of milk and set aside.

In the bowl of a stand mixer or in a large mixing bowl, using a hand mixer, cream together the room-temperature butter and granulated sugar until light in color and fluffy.

Add the lemon juice and milk mixture to the creamed butter and sugar and beat until just combined.

Add the flour, baking powder, and salt and beat until just combined.

Add cracked eggs 2 at a time and beat each time until incorporated. Add the lemon zest and beat to combine.

Pour the batter into the prepared bundt pan making sure it is distributed evenly. Gently tap the pan to spread the batter evenly and level the top of the batter with a rubber spatula.

Put the bundt pan into the preheated oven and bake for 1 hour, 5 minutes, or until a skewer or toothpick inserted into the middle of the cake (in 3 different spots) comes out clean. Loosely cover the cake with aluminum foil when it has been in the oven for 50 minutes to prevent over-browning.

When the cake is done, remove it from the oven and let it cool in the pan for 10 minutes. Then gently run a knife around the edges and turn the cake onto a cooling rack and let it cool completely for one hour.
Lemon Glaze
Add 3 tablespoons of lemon juice and 1 cup of icing sugar to a small mixing bowl. Mix until combine and a dripping consistency. Add more lemon juice if the mixture isn't dripping.

Drizzle the lemon glaze over the cooled cake.

Slice and serve this Southern Lemon Pound Cake warm or completely cooled topped with whipped cream or ice cream with some fresh berries on the side.
1. Lemon Zest:

You get lemon zest by grating the back of the lemon. I love using a microplane zester for this. You could get out the lemon zest using any small grater you have on hand. Avoid grating the white part as that is bitter.
2. Storage: To store this cake let it cool completely then tightly wrap it with plastic wrap. Store at room temperature for up to 2 days, in the fridge for 1 week, and in the freezer for 3 months.
3. Halfing the recipe: You could cut all the ingredients in half and make one cake in a 9 by 5 inch loaf pan.
4. Two Loaf Pans: You could make this recipe in two 9 by 5 inch loaf pans instead of one bundt pan.
5. Recipe Update: This recipe was first posted on April 19, 2019. I have refreshed it with a slight tweak to reduce the number of eggs used and included even more lemony flavor by increasing the amount of lemon zest used! You'll love this updated and improved version!
Calories: 341kcal | Carbohydrates: 43g | Protein: 4g | Fat: 20g | Saturated Fat: 12g | Polyunsaturated Fat: 1g | Monounsaturated Fat: 5g | Trans Fat: 1g | Cholesterol: 99mg | Sodium: 106mg | Potassium: 69mg | Fiber: 1g | Sugar: 21g | Vitamin A: 659IU | Vitamin C: 2mg | Calcium: 44mg | Iron: 1mg