Fried Carrots | Precious Core
Fried Carrots are a simple 15-minute side dish perfect for Thanksgiving, Christmas, Easter, or everyday dinner. You only need 3 ingredients for this quick and easy side dish!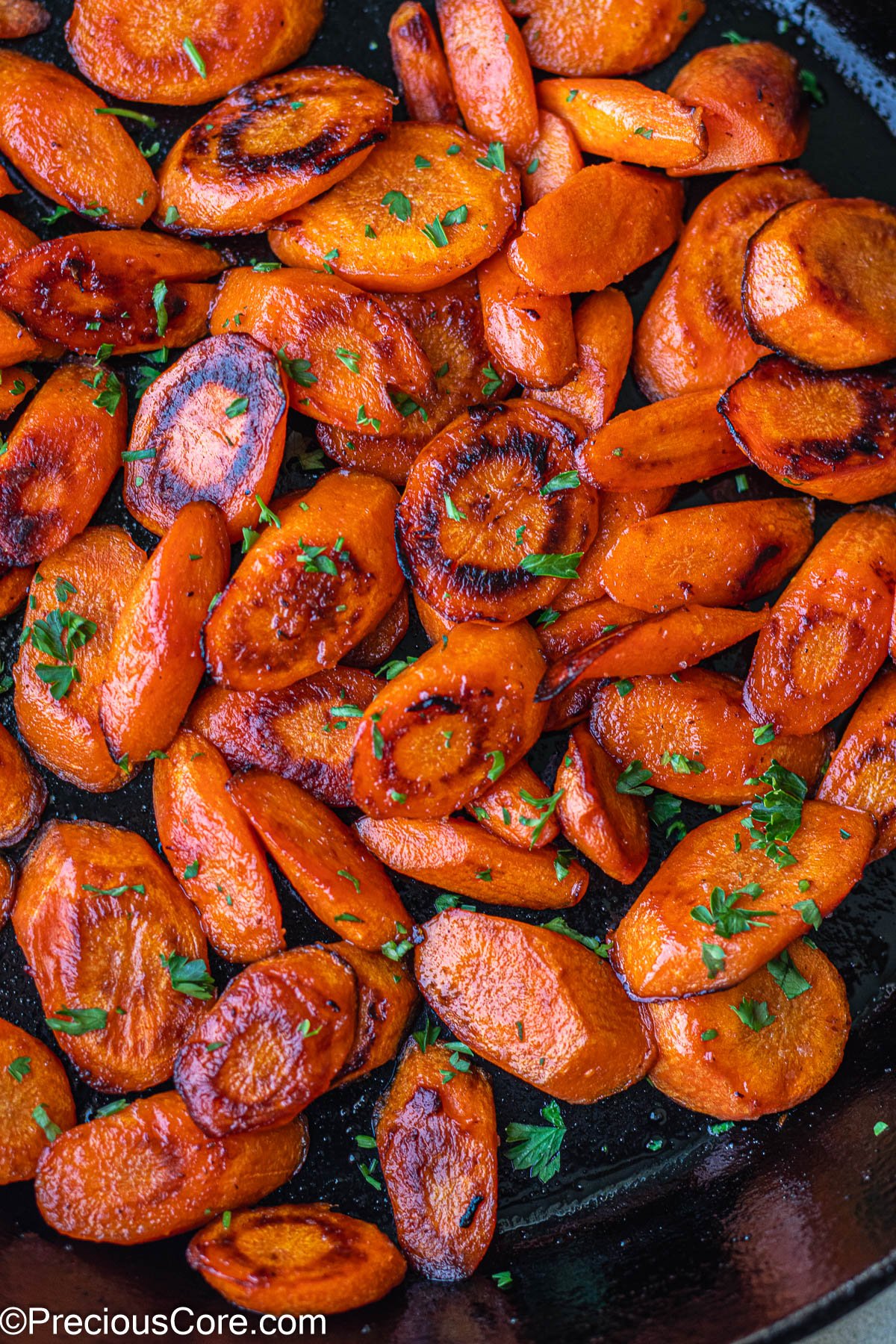 If you want a quick tasty carrot dish without any added sugar, this recipe is the one to make! The carrots crisp around the edges as they fry in the pan, their flavor deepens, and they shrink, taking on a potato-like texture. Just delicious.
As I made these carrots, we kept snacking on them as they were just too good. Enjoy them as is or serve them alongside Pan Seared Lamb Chops and Rosemary Garlic Mashed Potatoes for a 5-star dinner.
Why This Recipe Works
Minimal ingredients: This recipe only calls for 3 ingredients. It is a really simple recipe to make if you want a quick and easy vegetable side dish and you are short on time. It only requires minimal prepping too so it's a timesaver!
Good for you: Carrots are an excellent source of Vitamin A and also contain Calcium, Iron, and Vitamin C, among other nutrients.
Unconventional and tasty! No need to drown your carrots in brown sugar or honey. This unconventional method of cooking the carrots without any added sweetener allows the natural flavor of the carrots to shine.
Ingredients For Fried Carrots
You only need 3 ingredients to make scrumptious Fried Carrots. With these 3 ingredients, you'll get carrots that taste good, you'll want to keep eating them. Here is all you need: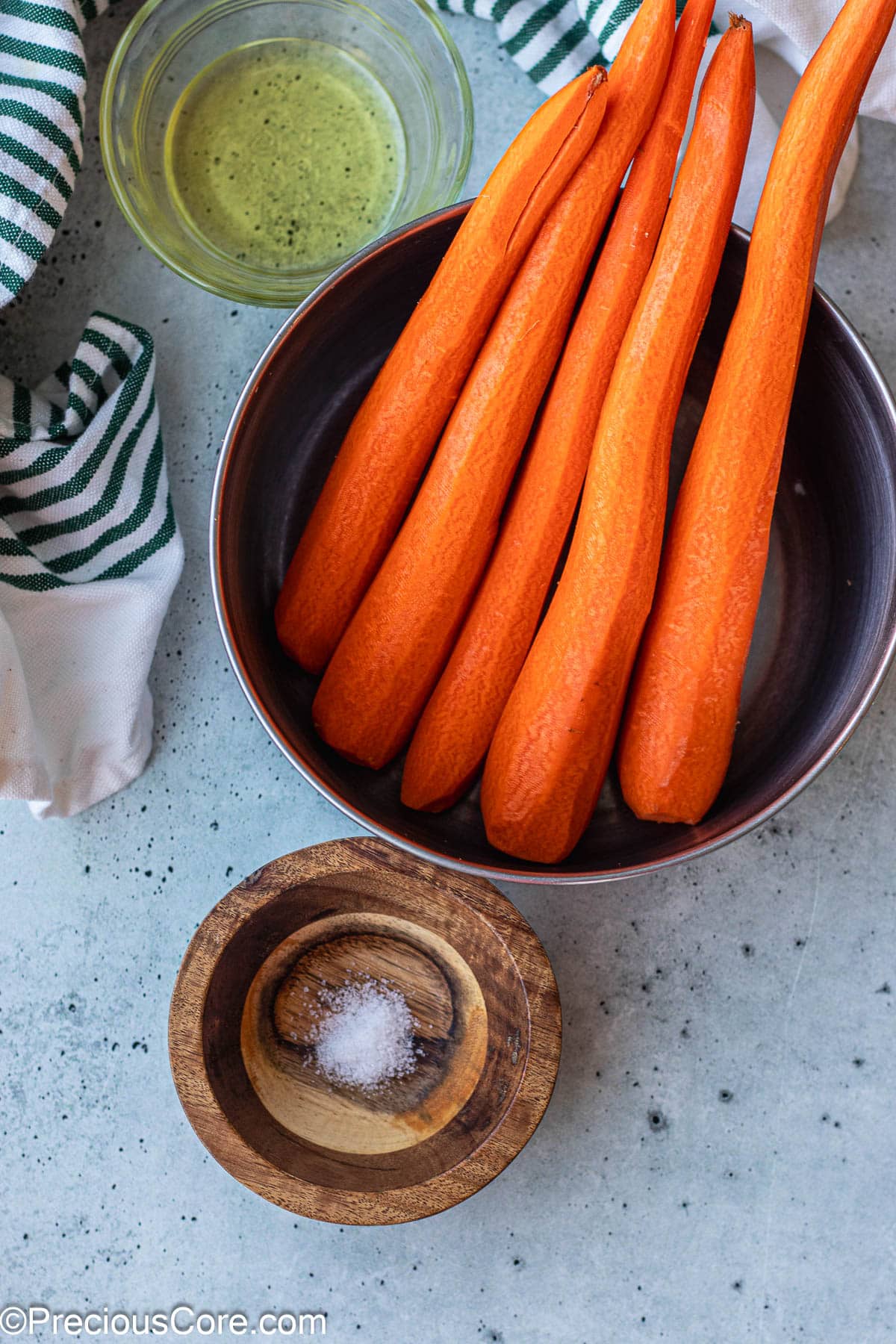 Carrots: Use organic carrots if you can for the best flavor. Organic carrots are inexpensive and they make all the difference here. The taste of the carrots is so good, that it doesn't need masking with a glaze.
Olive oil: For frying the carrots in the pan so they get a good sear on the outside. Feel free to replace olive oil with butter.
Salt: A little sprinkling of salt at the end brings out the flavor of fried carrots.
See the recipe card below with a detailed list of ingredients and instructions.
Optional Ingredients To Add
Here are optional ingredients you could add:
Crushed pepper flakes for a spicy kick and the look of pepper specks on top.
Chopped parsley or chives as a garnish.
Bacon bits for meaty fried carrots.
How To Cut The Carrots
Before you start cooking make sure you wash, peel and cut the carrots. Place the carrots on a chopping board and cut them /into diagonal pieces that are about a quarter inch thick each.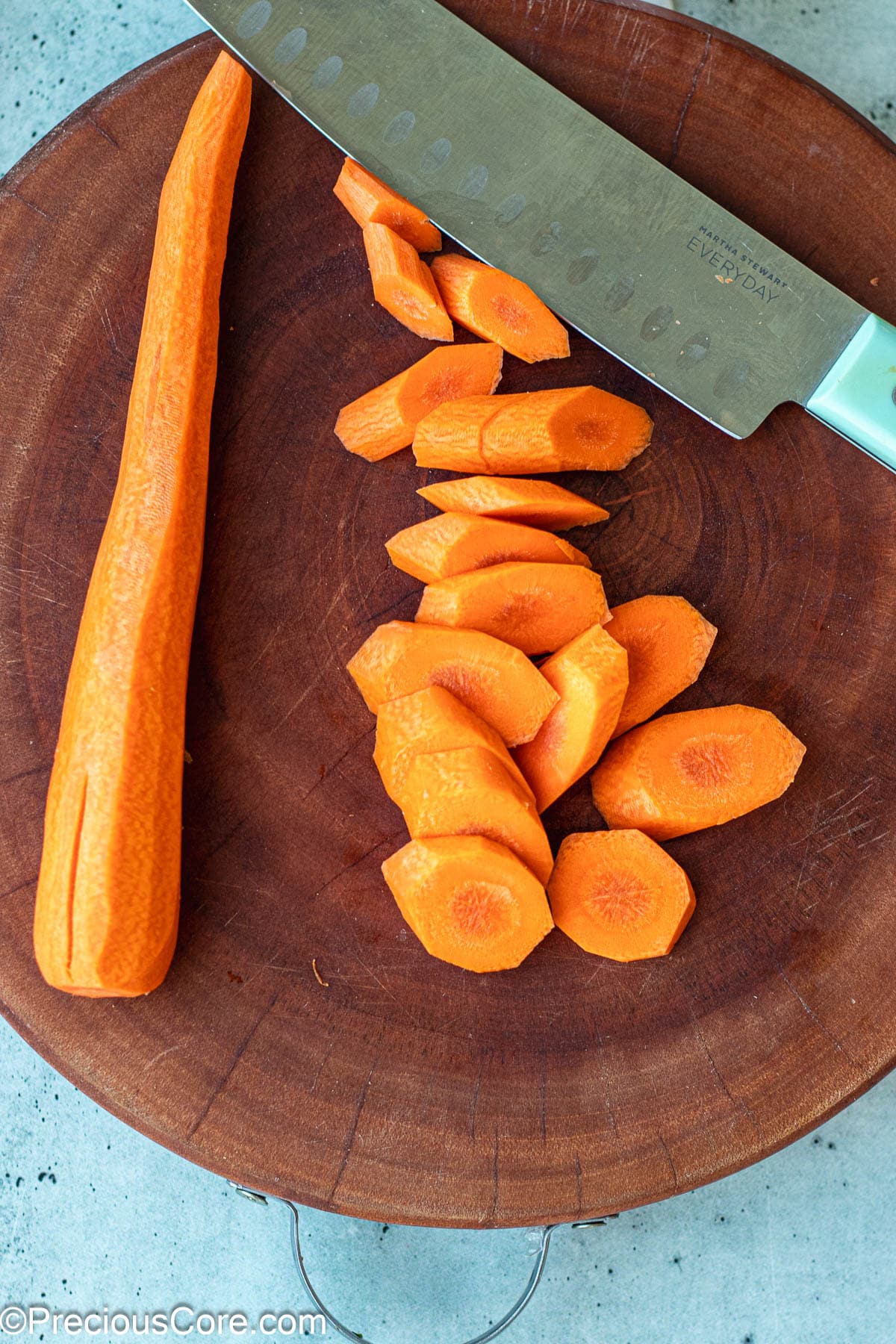 If you cut the carrot pieces too thin, they will break while cooking. If you cut them too thick, they will not cook through.
Cutting to the right thickness is key so the carrots are crisp around the edges and creamy in the middle.
How To Make Fried Carrots
Heat oil in a skillet. Add olive oil to a skillet on medium-high heat and let it heat up for 1 to 2 minutes.
Add the carrots to the skillet and let them fry for about 10 minutes. Stir from time to time as the carrots fry.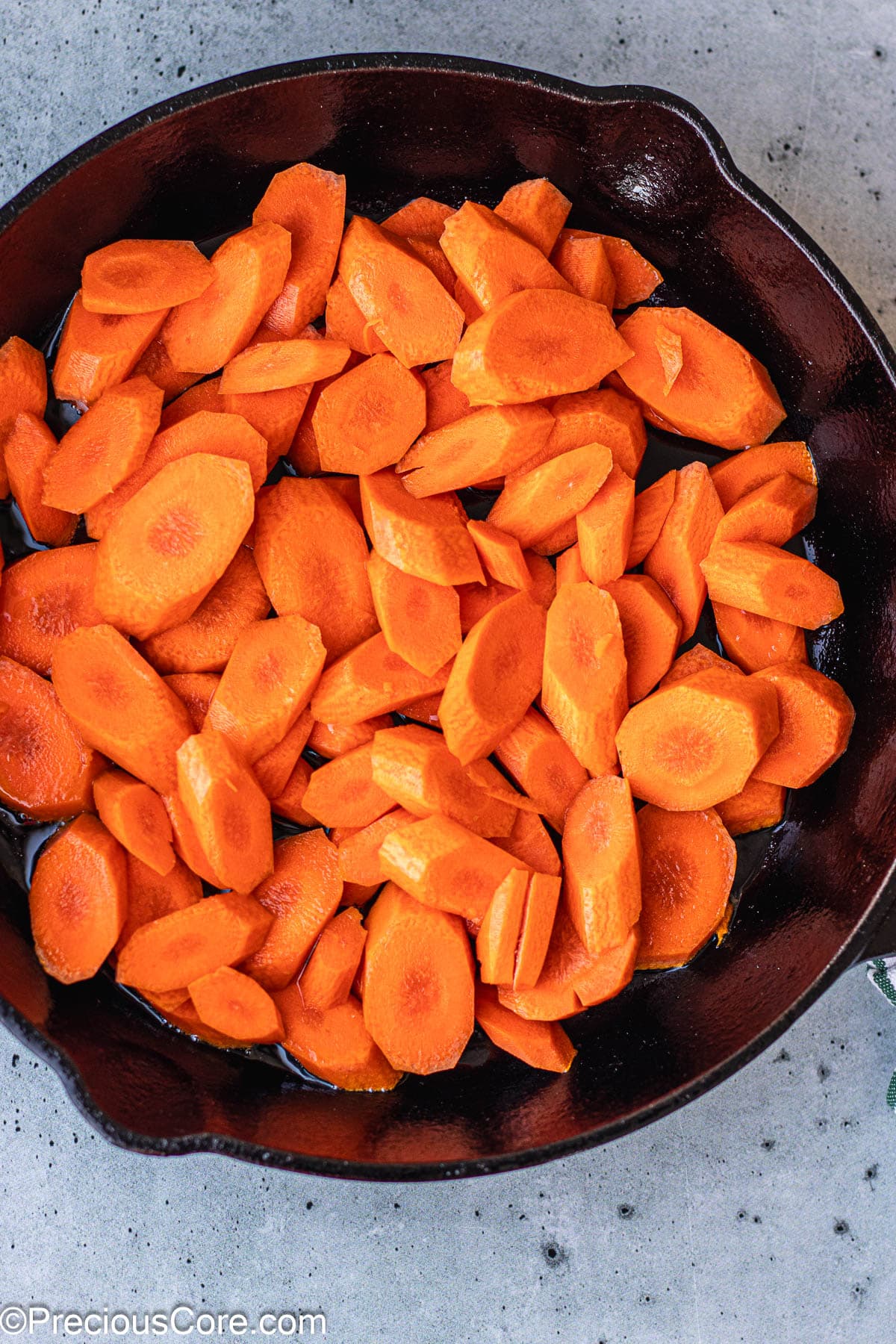 Season with salt. Sprinkle salt over the carrots and stir to combine.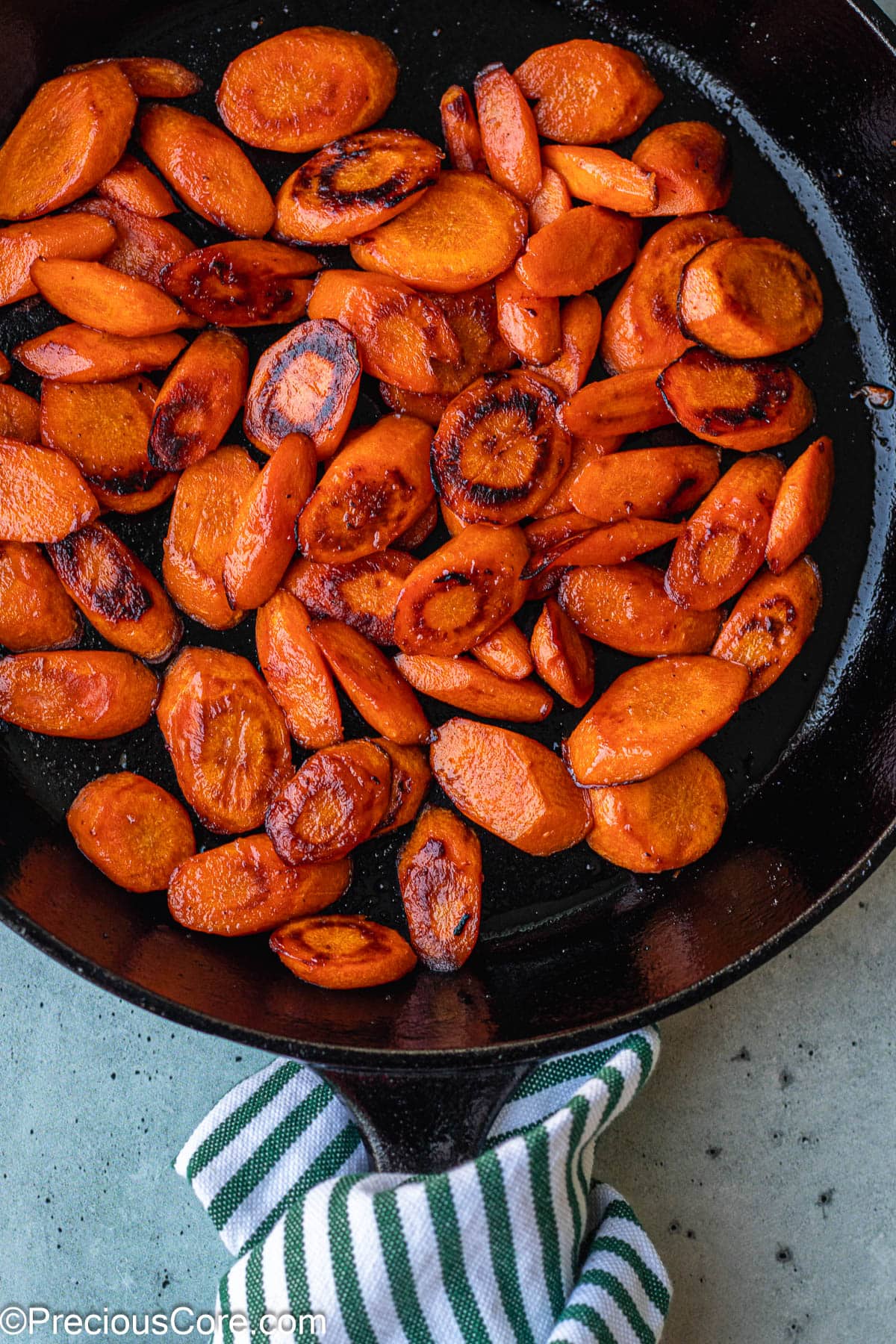 When the carrots are ready, garnish with minced parsley or chives and serve warm. You could make these carrots and just snack on them. They are that good!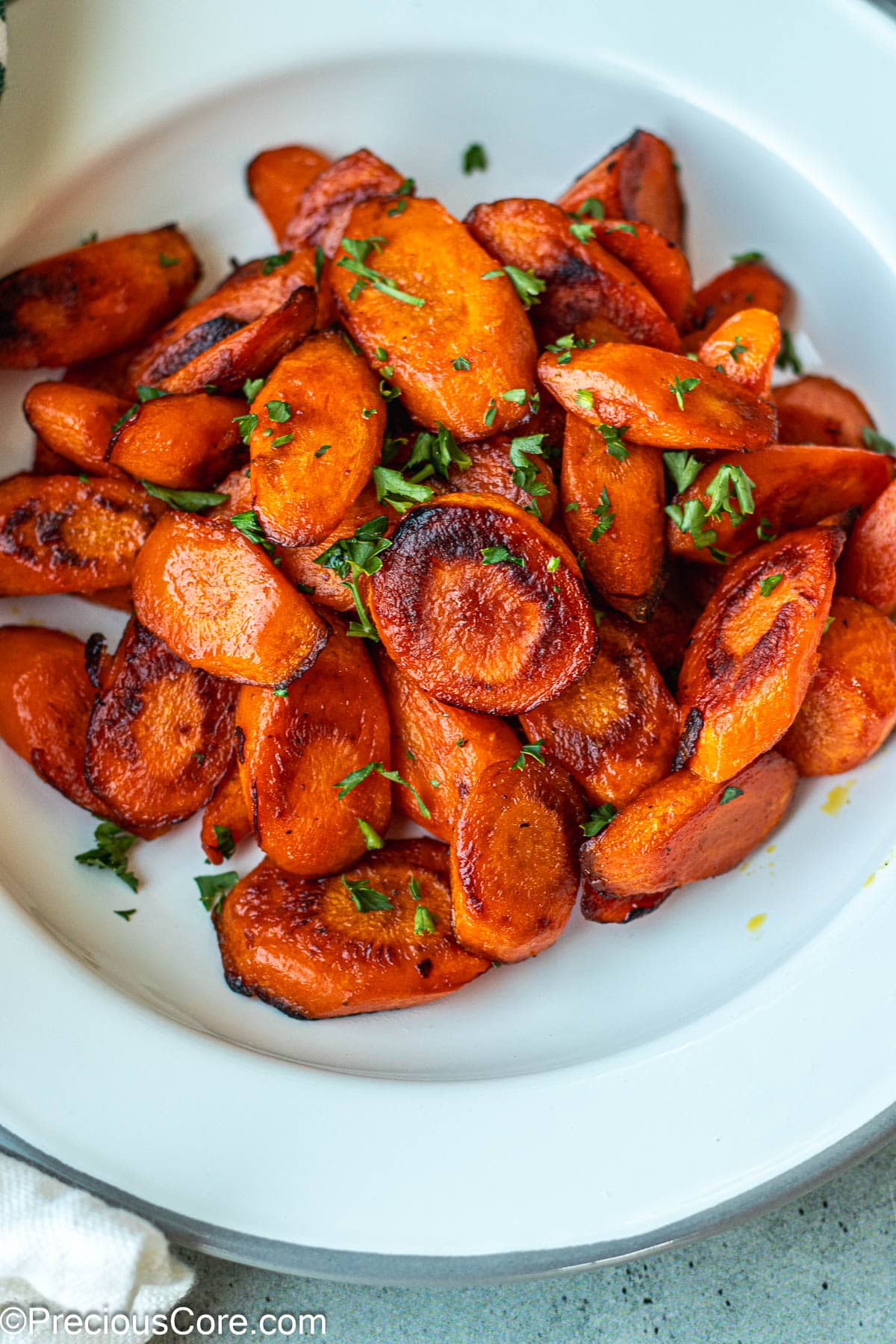 Recipe FAQs
Do you have to boil carrots before frying?
There is absolutely no need to boil carrots before frying them. If you fry the carrots at a steady temperature while stirring constantly, they will cook through as the edges crisp up.
Are fried carrots healthy?
Yes, pan-fried carrots are a healthy snack or side dish. The body can absorb more nutrients from cooked carrots than raw ones and several studies show the nutritional benefits of carrots.
Can you fry carrots to soften them?
Frying carrots in a little oil or butter is one of the best ways to quickly soften your carrots. In 10 to 15 minutes, the carrots will soften.
Serving
Serve Fried Carrots with the following dishes for a satisfying dinner:
More Side Dishes
Love this carrot side dish. Here are more side dishes to try:
If you make this recipe please leave a star rating below. Your rating helps others find the recipe plus I love hearing from you! Thank you!
Place a cast iron on medium-high heat. Add the olive oil to the pan and heat up for 1 minute. Add the carrots to the pan and let them sit for 2 minutes. Then let them cook while stirring from time to time to avoid burning them. Allow the carrots to have a little char on the outside but do not burn them. Cook for about 10 to 12 minutes in total.

Sprinkle the salt over the carrots and stir to combine. Turn off the heat, garnish with chopped parsley if desired, and serve warm with your favorite main dish.
Carrots: For the best flavor, use organic carrots if you can.
Butter: Feel free to substitute the oil with unsalted butter. If you choose to use salted butter, omit the salt.
Calories: 108kcal | Carbohydrates: 11g | Protein: 1g | Fat: 7g | Saturated Fat: 1g | Polyunsaturated Fat: 1g | Monounsaturated Fat: 5g | Sodium: 224mg | Potassium: 363mg | Fiber: 3g | Sugar: 5g | Vitamin A: 18944IU | Vitamin C: 7mg | Calcium: 38mg | Iron: 0.4mg